Law students at the University of Toronto will have the unique opportunity to be involved with a new legal clinic focused on significant constitutional law issues.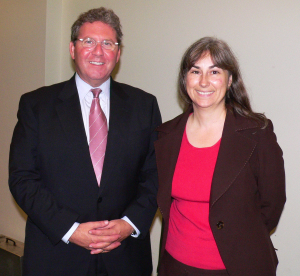 The clinic will be part of the new David Asper Centre for Constitutional Rights at the University of Toronto Faculty of Law. Cheryl Milne, the centre's inaugural executive director, explained that the clinic portion will be starting in January and should offer students a wide range of options for getting involved in Charter challenges.It plans to offer a four-credit course along with non-credit options for those who are looking to volunteer their time.

The centre officially opened last Friday, when it hosted a colloquium filled with high-profile panelists who have played a leading role in shaping Charter interpretation in Canada. Participants included Raj Anand, former chief commissioner of the Ontario Human Rights Commission, Lorraine Weinrib, law professor at U of T, human rights lawyer Mary Eberts, and Rabinder Singh from the U.K. who has advocated before the House of Lords and the European Court of Human Rights.

The first part of the panel focused on past developments, and the second looked at where Canada is (and where it should be) heading.

David Asper was also on hand to be recognized for his $7.5-million donation that made the centre possible.
The panelists provided several examples of the challenging work they hope to delve into through the centre and the clinic. "One of the things . . . the people were talking about on the panel were things like, at what stage do you try to influence government, for example, in terms of Charter issues?" says Milne.

"There are policy stages, there are representations to committees, that sort of thing that students can be involved in."

Involvement with the clinic will include muchh more than Charter litigation. Constitutional law research will be another focus. Milne says she hopes students can be involved with the creation of the centre's website, which will serve to fill some gaps in spreading knowledge about Charter cases.

There is also the possibility of students being matched up with practitioners working on key cases.

"The idea is that we can get them involved in not just constitutional litigation, although that's an ideal, but also constitutional advocacy and research in a more broad sense," says Milne.

Access to justice for Charter litigants was a common theme over the course of the afternoon, and will certainly be given plenty of thought and discussion by scholars and students at the centre.

One panelist pointed out that such a large donation would be beyond the dreams of many Charter litigants, and they have high hopes for what the centre can accomplish with these resources.

Milne joins the center after almost two decades of practising with Justice for Children and Youth. During that time she had plenty of experience with Charter cases, and has appeared before all levels of court, including the Supreme Court of Canada.

Of the work she hopes students can be involved in, she says, "It's what I've done as social advocate, a social justice advocate, for 17 years."

For law students looking to be at the leading edge of constitutional law issues, the David Asper Centre should certainly be on their list.

As Mayo Moran, dean of the University of Toronto Faculty of Law, pointed out in her opening remarks, the centre is the first of its kind in Canada and one of only very few in the entire world.