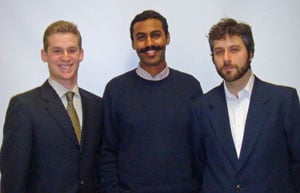 A group of five students at Université Laval have been working hard to resuscitate the student-run law review. Nelson Peters, Colin Standish, Senai Iman, Adam White, and Adam Martincak formed a friendship early in their studies at Laval and had been searching for an academic activity to participate in during law school, but had not been satisfied with what they found.
One day in the law library, they discovered old copies of the
Revue juridique des étudiants et étudiantes de l'Université Laval
, which had been published from 1986 to 2006. The group immediately sprung into action trying to find out what they could about the defunct publication. Recognizing they would need faculty support to restart it, the group approached professor Michelle Cuymn, then editor of the faculty-run law review. Peters, former editor in chief of the
Revue
, says Cumyn was the "lynchpin" to the project, and she immediately became the informal adviser.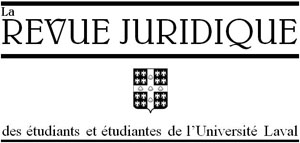 "Here is a group of students who decided that they would prove their commitment to Laval by rescuing a prized institution of our faculty," says Cumyn. "They exhibited skills that . . . students (and professors and administrators) seldom possess, notably the ability to network and raise funds for an organization."
After this initial meeting, the students proceeded with a flurry of activity to re-establish the journal. They tracked down the previous president to get a copy of the bylaws, gained access to the journal's former offices, and held a first annual general meeting to amend the bylaws and establish a new executive. Their initial priority was established: to become the premier student-run civil law review in Quebec and Canada. Ideally, the journal would be used to highlight high-quality work from law students, but would retain its tradition of being cited in doctrine and judgments. In other words, legitimacy and integrity were at the forefront of their concerns.
The next challenge was to get access to the bank account, as even the world of academic journals revolves around funding. They put their business law skills to work registering the
Revue
as a company and reviving relationships with publishers, the student government, and others. The executive immediately began fundraising and was fortunate to receive support from the original founding president of the Revue, Michel Gagné, now a partner at McCarthy Tétrault LLP in Montreal. According to Peters, Gagné "gave his stamp of approval, as well as rallied other former executive members and his firm to come up with our biggest donation."
The next step to legitimacy was launching the web site and getting faculty support. After a meeting with law dean Sylvio Normand, who provided moral support as well as a substantial amount of seed money, other faculty members showed interest in the project. Even though the
Revue
was to highlight the work of law students, and not that of professors, support from teachers was key in promoting the journal to their students.
The call for submissions then went out around campus via professors, the web site, e-mail, and posters in the law building. While quite a few students submitted their work, the selection process of the essays was long. After receiving the final versions in the fall, work has finally moved to the copy-editing stage, which was handled by student volunteers.
Editor in chief Standish says it's been a long year-and-a-half journey to publication. "It is not for the faint of heart. Vision, persistence, and remaining goal-oriented will be key to your eventual success. I would encourage students interested in founding a law review to do it, and to start new ones in specialized areas of law where reviews already exist," he says.
While it may sound like all work and no play, the executive of the
Revue
did have fun along the way. They enjoyed late-night brainstorming sessions in pubs in Old Quebec and have most likely forged friendships that will transcend their legal careers.
Currently, the publication is officially in French, but it does accept English submissions as well. Law students at Laval (and other Quebec law schools) are required to obtain an intermediate level of bilingualism in order to graduate. Peters says Quebec schools have long recognized "the importance of English as a tool for global communication." No such requirements exist at law schools outside of the province. "[This] means that a lot of useful judgments and commentary from Quebec attract less attention, or worse, are ignored."
A feather in any law student's cap, the
Revue
have received letters of support from Quebec Lieutenant Governor Pierre Duchesne, a Supreme Court of Canada judge, several senators, and other prominent Laval law alumni. Quebec's Ministry of Justice has already requested a copy of an article from the upcoming issue.
The
Revue
will be launched Feb. 9, and officially kicked off with a party at the Museum of Fine Art on the Plains of Abraham in Quebec, where Duchesne will be the keynote speaker.
Heather Emptage graduated with an LLB from Université Laval in 2010, completed a DESS in 2011 at Université de Montréal, and is currently an LLM candidate at Université de Montréal.