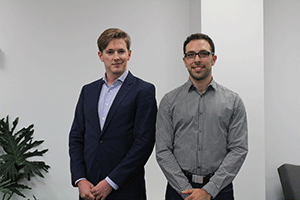 Notice Connect, a website for estate trustees in Canada to post legal notices to creditors upon someone's death, has been recognized by the Ontario Superior Court on July 7, in a court order, as satisfying requirements of the Trustee Act for the estate trustee's duty to advertise for creditors.
The decision is significant because it confirms that
NoticeConnect.com
is an accepted platform for advertising to creditors, something that has traditionally been done in newspapers.
"To get a court to sign off on it like that is very special for us because we really feel that we've created a new convention under the common law. That's pretty exciting," says the website's co-founder, Patrick Hartford, business partner of Ori Barbut.
The Trustee Act has never specified which methods are acceptable for advertising to creditors, but under common law it has now been confirmed that using Notice Connect as a means to post these notices is allowed in the eyes of the law. This also furthers access to justice because it is an affordable alternative (the fee is $130 plus tax). Hartford adds that often estate trustees forgo advertising to creditors because of the hefty cost that can be in the thousands of dollars, which leaves them liable.
"What we were doing was in the spirit of the Trustee Act and that's why once we had enough momentum, we went to court and got that last seal of approval," says Hartford.
Previously, Notice Connect had been accepted by the Superior Court regarding waiving administration bond requirements, but according to Hartford, that decision was "very implicit" rather than this "direct" decision for satisfying the Trustee Act.
David Mills, partner at Mills and Mills LLP, represented Notice Connect and Justice Barbara Conway was the judge who issued the decision.
"It does feel good to be pushing the boundaries a little bit. Just to be making something efficient and effective feels really good," says Hartford.