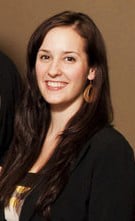 Throughout my journey at the Community Legal Clinic - Simcoe, Haliburton, Kawartha Lakes, I've had a wide array of experiences and opportunities that have enabled me to grow as a young legal advocate.
I went to law school because I wanted a career in social justice and I was very eager to start my legal career through the articling fellowship at CLC. While I had previous experience in social justice work from the student-run legal clinic at my law school, my articling experience at CLC really taught me about the unique barriers that exist when serving clients from such a rural and remote area.

I have learned about the importance of reaching out to our wide population of clients to ensure that all low-income residents and community organizations in our area are aware of our services and how to get legal help.

Recently, I was tasked with organizing and implementing a series of public legal education seminars on housing issues for youth, funded by the Advocacy Centre for Tenants Ontario. The seminars were delivered at schools and organizations that provide youth services across Simcoe County, Haliburton County, and the City of Kawartha Lakes. In total, we were able to reach more than 200 young people.

The goal of the seminars was to educate at-risk youth and first-time renters about their rights and responsibilities as tenants. We hope that the seminars empowered this extremely vulnerable population. Most importantly, we hope that by engaging youth at these speaking events they will learn about CLC and be encouraged to contact us for help when they are faced with a legal problem.

During my articles, I realized that when serving low-income and rural populations, it is not only important to reach out to the clients, but also to establish and build relationships with the community agencies that serve them. As part of this work, I organized day-long seminars in Minden and Lindsay, Ont., where clinic staff presented on an array of legal topics to community workers and provided information about the areas of law that we specialize in. These types of workshops help to ensure that agencies in our area are aware of our services and will refer their clients to us when a legal problem arises.

Not only have my articles taught me how to engage our clients, but I have also developed strong advocacy skills. I had the unique opportunity to work on a successful criminal case at the Ontario Court of Appeal, which involved assisting with legal research, drafting the factum, and attending the hearing. I also worked on an appeal at the Divisional Court of a Landlord and Tenant Board decision.

Throughout my articles, I have carried a large number of my own files in various areas of law including employment law, consumer law, human rights, victims' rights, and disability law. While working on these files, I conducted legal research, drafted pleadings and demand letters, negotiated with opposing counsel, and represented clients at tribunals.

These experiences have instilled in me the legal skills necessary to assist clients, along with how to properly manage a file, how to interview clients and prepare them for hearings, and how to best assist those who suffer from disabilities. I believe that these are invaluable skills that I'm fortunate to have learned at such an early juncture in my career.

Now that my articling experience is complete, I feel that my time at CLC has left me well armed to tackle the many opportunities and struggles I'm sure I will face as a young lawyer. Most importantly, my work with the CLC team has ingrained in me the belief that tangible, positive change can be attained for our clients and our society when we are dedicated, hardworking, and push the boundaries of our legal system. These are lessons that I will take with me throughout my legal career.

Student-at-law Holly Gomes was awarded a Connecting Articling Fellowship, funded by the Law Foundation of Ontario, for her articling term at the Community Legal Clinic - Simcoe, Haliburton, Kawartha Lakes.