After years of undergrad and law school, cramming for tests and hanging out with friends in your favourite jeans and sweatshirt, the thought of dressing up for an interview at a law firm can seem daunting. But it doesn't have to be if you treat shopping for career clothing as a professional development activity, says 4Students' fashion panel.
For the most part, your typical law student may only have one graduation/wedding/funeral suit. When undertaking to fill out your closet with law firm-friendly clothing, your mantra should be: "quality, fit, and classic."
"The career co-ordinator at [the University of Windsor] was really good about giving tips on what to wear in terms of wearing dark suits and wearing something very professional, so I always had that in the back of my mind," recalls Faithlyn Hemmings, an associate at Blaney McMurtry LLP in Toronto.
Kinji C. Bourchier, who does presentations at the University of British Columbia law school on how to interview successfully — which includes advice on what not to wear — says dressing conservative is key. "There's nothing wrong with having personality, especially in what you wear, but you don't want to stand out for a negative reason," says Bourchier, an associate at Lawson Lundell LLP in Vancouver.
With interviews coming up for summer and articling positions, you can't go wrong with the classics, says Ed Liston, merchandise manager of the designer collection at Harry Rosen.
"I would say, in general, the number-one suit that we see here, the tried-and-true, would be the plain, navy blue suit," he says. "As far as the co-ordination, the natural is the white shirt with a burgundy or wine or red tie," he says.
Bourchier agrees and says he always recommends a student wear a conservative two- or three-button navy blue or charcoal suit with a white or blue shirt and a tie "and the tie shouldn't be a fish tie," he laughs.
"You want to be known for being presentable and looking sharp, in terms of the suit fits you and it's a nice suit and your shoes are polished. I don't think it's necessary to go out and spend $3,000 on a suit."
---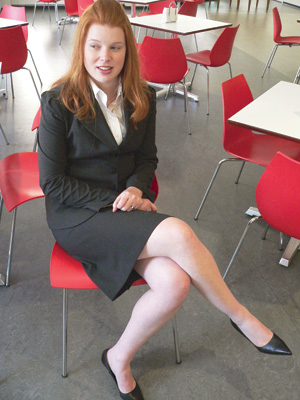 Building a wardrobe
Now that you've landed that plum summer or articling position, the fail-safe charcoal or navy suit isn't going to take you through an entire work week. When building a professional wardrobe, choose your pieces thoughtfully and learn to maximize your wardrobe, says Hemmings.
"When I'm buying a suit I try to buy three pieces — the skirt, the pants, and the jacket. Right there you have two suits," she says. "Rather than spending the money on two separate suits you've got a two-in-one suit."
Bourchier recalls that as an articling student he had two suits and would rotate them with a variety of shirts and ties.
"My general advice for students is that you should have one or two nice suits and they should be blue and charcoal, because you can interchange the parts and you can create bold expressions by changing your shirts and ties and it gives the impression you have more clothes than you actually do," he says. "As you get older and have more resources you can buy more suits."
Liston says the once inappropriate black suit has made a big comeback over the years, and it offers the versatility that a young lawyer may want.
"Today, more than in the past, black suits are acceptable," he says. "I think for a young man, a black suit is multi-purpose. It can serve in both daytime and in the evening. He can wear it for daytime and then it's a great suit for events or if he does want to go out at night. It's good for both business and social."
Hemmings says she sticks with classic items to prolong the life of her wardrobe, rather than picking up trendy sales items. "Classics are important because you can't afford to be shopping every season. You want things that are going to last for the next five years."
When it comes to selecting a suit, the cut, fit, and fabric should be at the forefront rather than the cost or brand name. "It depends on what your resources are. If you have the resources to spend $1,200 on a Hugo Boss suit, sure, go ahead," says Bourchier. "But I can tell you I work at a large downtown law firm in Vancouver and I don't look at someone and go 'Oh, because they don't have an [Ermenegildo] Zegna suit on, they're not worth interviewing.'
"Be aware that you're going to have to purchase, both male or female, one or two suits at least so what I would do is after Christmas, when you know you have interviews coming up the next year, see if you can buy a suit when it's going to be on sale. Don't buy something trendy, but something that's going to last you a couple of years." Conversely, don't just buy something because it's on sale, he says.
Hemmings says when she's shopping for a suit she focuses on quality, classics, and sales. "In terms of quality, you can have a suit on and if it's not good quality it just doesn't look good," she says. "I always look for good materials, I don't necessarily want polyester." And if you do choose a polyblend, it's important that the garment has a good shape, she notes.
---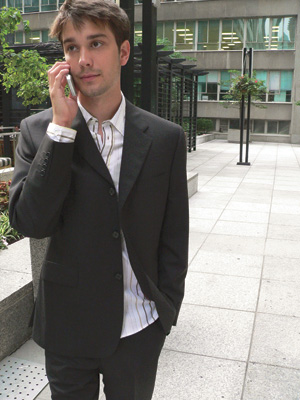 Being Yourself
While there are traditional wardrobe staples, it doesn't mean you have to look like a corporate drone. There are ways to maintain a professional look bringing out a bit of your personality.
Liston advises men to work up to it. "Don't do the big leap right away. Start with a couple of white shirts or white with stripes, then move into blues, then a blue stripe, and then once you start to build in your accessories, be a little adventurous with pinks and lavenders."
Hemmings says she thinks the times have changed and young lawyers can be a little more funky in their approach. "You don't always have to wear the black suit, the navy blue suit, and you can still come as looking very professional and very put together," she says. "For me, the big thing is shoes. Shoes can really jazz up what would otherwise be something very plain and something very boring. Colour in shoes is great and that's where I put a lot of my personal style."
Bourchier advises against jumping on anything that may be too trendy if you don't have the resources to be continually buying new outfits. "There's certain trends like a one-button suit, I would stay away from that. If it goes out of style and you're a student, you can't afford to drop another $1,000 on a suit," he says.
He says to be wary of fads like the Regis Philbin (monochromatic shirt-and-tie combo) or the Lee Iacocca (two-tone, French-cuff shirt) because they look dated.
"Some classic looks never go out of style. It might not be as cutting edge but bare in mind that you're a lawyer and not a Hollywood movie star who's going down the red carpet everyday," he says.
Liston says the double-breasted suit is not happening these days and that the style for a young man is a look that's "that's trimmer, more sleek, modern, contemporary. Less is more. It's almost a throwback to the '50s, retro but done in a modern way," he says.
---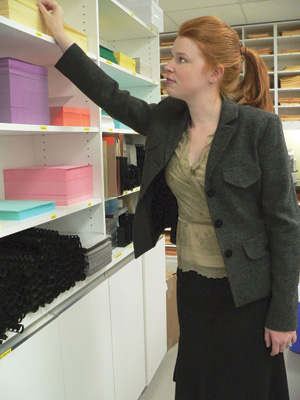 Help Wanted
Both Hemmings and Bourchier enjoy shopping but what about those who break out in a cold sweat at the very thought of clothes shopping?
"If you're just starting out, you really have to just suck it up. I have a lot of friends who just aren't shoppers. They don't enjoy it," Hemmings says. "If you can, take along someone with you who knows what looks good on you and who will be honest with you.
"You're not going to do it often so you go once and say you're going to spend whatever amount of time on shopping and then you don't have to do it again for another six months."
Liston recommends that someone who doesn't like to shop find a sales associate he or she can trust. "Find a place with the right sales associate, someone you feel comfortable with who's not going to sell you something just for the sake of selling you something. At Rosens, our ultimate goal is to make somebody feel comfortable and sell them what they need."
He says sales associates at Harry Rosen will ask clients about their lifestyle, line of work, travel activities, and social calendar, to determine what the client will require.
Bourchier agrees and says he has lots of friends at Holt Renfrew and Harry Rosen and suggests the anti-shopper "find someone at those stores, because they do a really good job of having you in rather painlessly and getting you outfitted."
He says if a person is that adverse to shopping and is oblivious to what suits them, the worst thing they can do is go it alone. "Ask a friend at law school who enjoys shopping and go together for an hour," he says.
---
Casual Fridays
Now that you've got your professional look down pat, enter casual Fridays. While policies vary from firm to firm, it's the general rule that things are a little more relaxed come Friday. But that doesn't mean your judgment should go into the closet along with your suit and tie at the end of the week.
"You always have to use your common sense," says Hemmings. "I myself don't typically wear jeans on a Friday, it's just not my thing. But once in awhile when I do wear jeans, I typically pair them with heels and a jacket. You never know what's going to happen. You never know if a client's going to pop in to see you, and if they do, you want to look presentable.
"You want to look like a professional for your clients at all times. That's the thing I always want to keep in the back of my mind: I'm trying to represent my firm and I'm trying to represent myself to people out there, and I like looking good."
Bourchier is on the same page and says on Fridays he will stick with a button-up shirt, polo shirt, or sweater paired up with dress pants — no jeans, no sneakers.
Liston says that in the last few years companies, and clients, have moved away from the very casual look because a) some employees took it too far and b) fashion has moved toward a more dressed-up look. "We always recommend a jacket, a blazer, or a sport coat as a base to any outfit on the casual side. He can wear a nice cotton pair of trousers or if he still wanted to be on the dressier side, a shirt with no tie," he says.
"The shirt may not be as business-like, you might want to play with a little colour here with these new shades of pink or lavender but it's still a crisp, clean shirt."