Caroline Mulroney was appointed Ontario's attorney general June 29 and some lawyers say they'll be watching for her to examine the inefficiencies of the legal system — and they are divided on how she could fix it.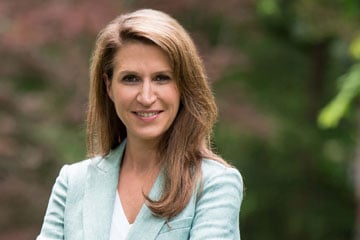 Caroline Mulroney was appointed Ontario's attorney general June 29 and some lawyers say they'll be watching for her to examine the inefficiencies of the legal system — and they are divided on how she could fix it.
Finding "efficiencies" was a campaign focus of the Progressive Conservative party under Doug Ford. As such, streamlining the justice process and improving access to justice should be a top priority for Mulroney, according to Chris Bentley, managing director of the Legal Innovation Zone and Law Practice Program at Ryerson University.
Bentley, who served four years as attorney general under the Liberal government of Dalton McGuinty, says that issues such as delayed bail hearings and the criminal delays highlighted in R. v. Jordan show the need to "cut the paper, cut the steps, get the decision point faster."
While technology and modernization had been a key focus under Attorney General Yasir Naqvi, there are steps that can be taken without spending a lot of money, Bentley says. He pointed to Justice on Target, a strategy his office implemented to reduce delays in Ontario's criminal courts.
"We have a new government — very much a government that is going to be looking at the everyday issues of Ontarians. And, frankly, this is an everyday issue for a lot of people. New attorneys [general] have an ability to change the approach," Bentley says.
While Bentley says that investments in technology should come second to other procedural reforms, Brooke MacKenzie, litigator at MacKenzie Barristers PC, says she hopes that Mulroney advances investments in technology started under Naqvi. Reducing the paper burden on court staff, extending WiFi to courtrooms and online dispute resolution are some of the initiatives that have made progress, MacKenzie says.
"Investments in court technology would be an upfront expense," she says. "In the medium to long term, improvements in court technologies would pay for themselves."
Finding money for those initiatives might prove easier said than done.
"The challenge will be to compete with other ministries, first of all, to see if there are more dollars available for the justice sector and keep cuts from being made from an already embattled court system," says R. Lee Akazaki, lawyer at Gilbertson Davis LLP. "I suppose that might be the most significant challenge the minister faces."
Mulroney, 43, will also be minister of Francophone Affairs. The appointment to the office of attorney general comes after her victory in June's election when she won the riding of York-Simcoe. A graduate of New York University's Law School, Mulroney was an associate at Shearman & Sterling LLP in the compensation and governance group. She interned at the New York Attorney General's office, but she has also worked as an investment executive and in the non-profit world.
MacKenzie says that Mulroney might bring her business acumen to the position as she looks to make things run smoothly. However, she says Mulroney might face a learning curve in some day-to-day aspects of the Ontario court system, having practised in New York.
"The sooner she goes out to meet Crown attorneys first-hand, the better, because outside of the bigger municipalities, the Crown attorney is a leader within the community and offers a perspective on what's happening in the justice system," says Michael Bryant, executive director of the Canadian Civil Liberties Association, who was attorney general between 2003 and 2007 also under McGuinty. "[Mulroney could talk to] local members of the bar, to get the defence perspective as well. I always benefited from hearing from all sides."
Mulroney has the opportunity to enter the role with a blank slate under newly elected Premier Doug Ford. But like all attorneys general, she will have to navigate a role that, at times, requires her to stand up to political leaders, says Bryant.
"She is stepping into an office with an excellent civil service group of professionals, many of whom are lawyers and a thousand of whom are prosecutors, so she will be well served," Bryant says. "The day one person's name goes off that door and another goes on, it's a moment of high humility. You realize your time there is limited. I did want to be an activist attorney. I don't know what an ambitious justice agenda would look like for her or the Ford government."
Mulroney is the daughter of former Prime Minister Brian Mulroney, whom Bryant says took the role of the attorney general seriously during his time in government. Bryant says it's yet to be seen on what issues Mulroney might choose to be an activist.
"It's a cabinet post that involves a very complex, many-faceted machine," Akazaki says. "Understanding all those moving parts is going to be the most significant challenge that she has."