Jennifer Taylor argues Canadians can't trust the Tory leader on his promise to avert the anti-abortion movement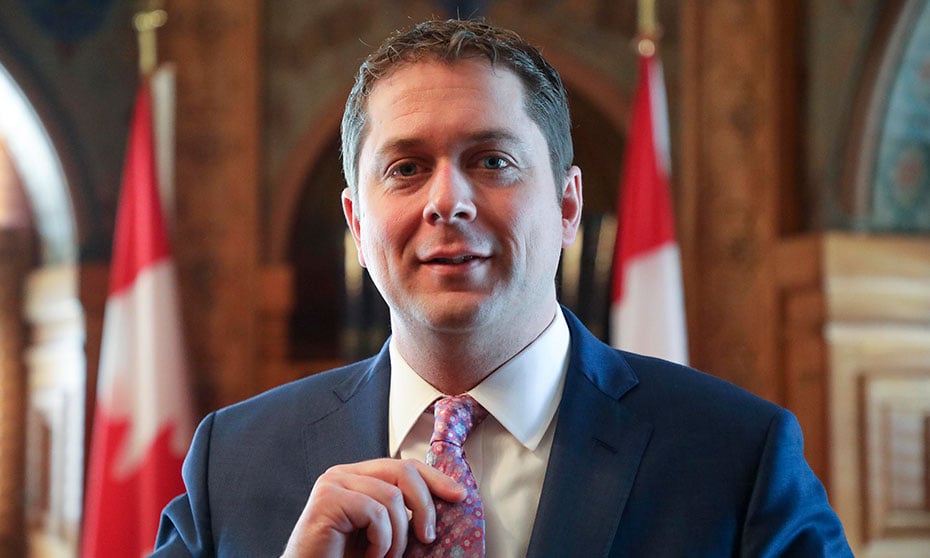 It's been 50 years since abortion was partly decriminalized in Canada, and 31 years since R v Morgentaler, the Supreme Court of Canada decision that struck down the remaining Criminal Code restrictions. Surely, in 2019, Canadians have accepted that there is a constitutional right to abortion access in this country, and abortion is a publicly funded health care service – not a subject for debate. We've moved on. Right?
Unfortunately, not.
While abortion should not be an election issue in 2019, we can't ignore the fact that it has become one. The federal election campaign has already produced many headlines about abortion – focusing, in particular, on the Conservative Party of Canada's distressingly shifting stance.
Conservative leader Andrew Scheer is personally anti-abortion and, to put it generously, has been "struggling to explain himself" now that abortion has become an election issue. Importantly, if Scheer became prime minister, he would let Conservative MPs (at least, the ones who aren't in Cabinet) introduce bills designed to restrict abortion. As HuffPost Canada recently reported: "Scheer, who became the Conservative leader in 2017 in part by courting the support of anti-abortion activists, has never said he would prohibit or attempt to prevent his MPs from introducing anti-abortion legislation. He has said the opposite."
Those groups are still doing the dirty groundwork of trying to get more anti-abortion MPs elected. One of them, called Right Now, is engaged in a campaign titled "Operation 50," with the goal of electing 50 Conservative candidates who would push for federal legislation restricting abortion. It's all explained in a slick video pinned to Right Now's Twitter page.
Conservative MPs and candidates have not been shy about their anti-abortion views, either.
At least a dozen Conservative MPs, including then Status of Women critic Rachael Harder, attended an anti-abortion rally in Ottawa this spring. Over the summer, MP Brad Trost used Twitter to promote screenings of the anti-abortion propaganda film Unplanned. Unsurprisingly, Maryam Monsef, then the Minister for Women and Gender Equality, had a better take on the film.
According to the Globe and Mail, Rachel Willson, the Conservative candidate in York Centre, can be seen in a 2017 video saying "she was 'shocked' to learn that Canada has no legal restriction on abortion and that she is part of a 'no not this one' prayer campaign, which involves trying to find the names of women who are considering having an abortion."
With all these receipts, why give the Conservatives the benefit of the doubt on abortion? They certainly don't deserve it. I'm probably not alone in picturing Scheer with his fingers crossed behind his back when he says that a Conservative government would not "re-open the abortion debate" — which, again, should not be a debate in the first place.
We don't need to look far to see what happens when right-wing agendas clash with reproductive rights.
Canada's conservative trends trickle up from the U.S., and 2019 has been a horrendous year for abortion rights in Trump's America. So far this year, 12 states have enacted abortion bans (although they are not yet in effect).
I tend to believe our legal system is more robust in Canada, and that our constitutional law, as interpreted by our independent judiciary, can withstand right-wing political winds better than our neighbour's.
But we should not be naïve enough to think it can't happen here. There is a slippery slope between a backbencher's bill in 2019 and government-backed legislation to recriminalize abortion by 2023.
We might think any such legislation would be quickly challenged in the courts and ultimately struck down. And yet, if the last three years have proven anything in politics, it's that we can't necessarily trust our systems to protect us. We have to keep doing the work ourselves.
This Fall, part of that work is voting. The Abortion Rights Coalition of Canada has a document to help confirm where candidates stand on abortion. And candidates' views might be surprising. Take the Green Party: despite their progressive brand and official pro-choice stance, leader Elizabeth May has said Green MPs would be free to present anti-abortion bills in the House of Commons (and some anti-abortion candidates slipped past the vetting process). May attests to being pro-choice herself but has not always been consistent on the issue.
The NDP platform contains a welcome focus on access, and states that: "It's not enough for elected officials to say that they won't reopen the abortion debate – we need leaders to take action to improve access to services."
While in government, the Liberal Party stood up for reproductive rights, and helped to fill the gap in international funding for abortion and related medical services after U.S. President Donald Trump reinstated the global gag rule (and recently announced an increase in funding for reproductive rights worldwide).
But many barriers to access remain, especially for those in rural, Indigenous, and Northern communities. (Here in Nova Scotia, surgical abortion is not available on Cape Breton Island. The closest hospital providing surgical abortion is in Truro – over 300 kilometres away.) Recent media investigations have revealed that many Canadian doctors refuse to prescribe Mifegymiso for medication abortion, and that dozens of Canadians travel to the US every year to access abortion services that are not available here (ironically enough).
While the Liberals have talked a good game on feminism and reproductive rights, those words have not necessarily resulted in action on access. We are not much closer to true reproductive justice.
And now, following the recent distressing news that Justin Trudeau has previously appeared (multiple times) in blackface and brownface, some may rightly question his commitment to a broader understanding of reproductive justice – a movement that centres people of colour. Trudeau has called himself a feminist many times, but anti-racism is an essential part of feminism. It seems that part has been lacking for Trudeau.
So where does that leave us?
When we vote on October 21, many of us may be choosing the least worst option. And that's ok; this is, unfortunately, an election for realists, not idealists. But when it comes to issues of racial and reproductive justice, let's honour the legacy of Morgentaler and start demanding more.
Jennifer Taylor is a lawyer in Halifax, NS. She can be found on Twitter @jennlmtaylor. The views expressed here are her own.