Time at the office must no longer be a measurement of career advancement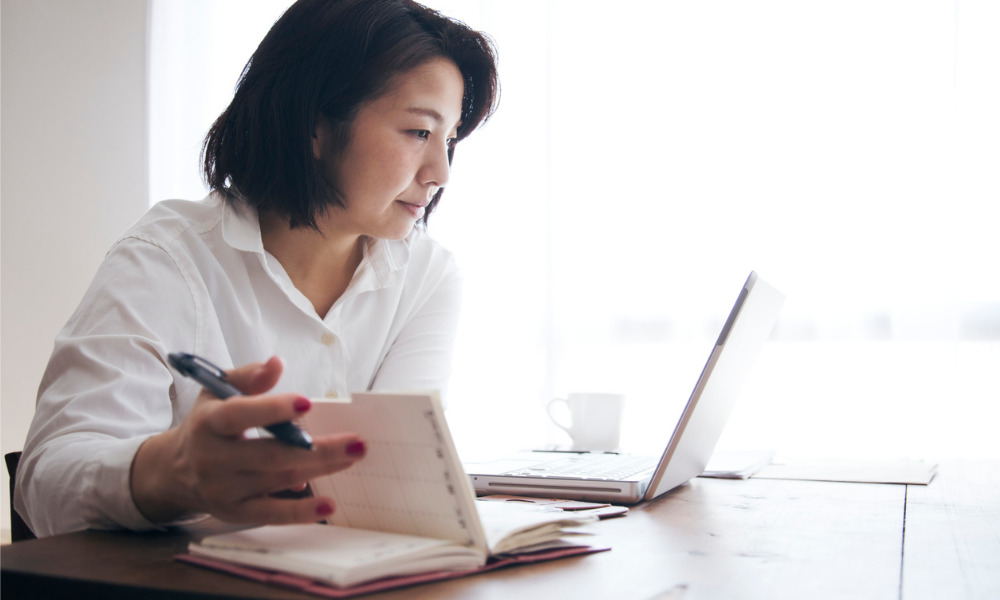 Although we female lawyers were declared "persons" last century (recall Alberta's Famous Five), reviewing each new study predicting that it will take another century before we reach equity is disheartening. In my logical mind, given women are at least half of the law school graduates and it might take them a half decade or so to achieve partnership, the profession should have achieved these goals before I was admitted to the bar some decades ago.
We work hard, we sacrifice as much, and our work is good. We must use every tool in the toolbox to maintain our career trajectory. The rule of law and access to justice also depends on keeping legal talent from throwing up their hands due to an inflexible system staying grounded in past centuries as the world evolves. Only the most resilient or fortunate female lawyers achieve what the average male lawyer might take for granted.
The disproportionate attrition rate of women in law, especially at the senior leadership level, represents a significant barrier to achieving gender equality in the legal profession. While women account for nearly half of the entry-level workforce at North American law firms, only 19 percent make it to equity partnership. The representation of women of colour declines even more rapidly, dropping more than fivefold from the junior associate level to the equity partner level (ibid).
With technology, this no longer needs to be the case.
We need flexibility for success, and the legal profession is famous for being stuck in the past. But that is a choice. While many law firms have undertaken to dramatically scale equity, diversity, and inclusion initiatives in the past couple of years, maintaining a hybrid work model can be the key to achieving gender parity in the legal sector.
Remote work improves work-life balance
Among other things, women lawyers are limited in their career progression by the disproportionate burden of domestic, childcare, and eldercare duties. In 2015, women in Canada spent an average of 1.5 hours per day more on unpaid childcare and housework than men. But the flexibility of remote work makes it possible for women with caregiving responsibilities to integrate it into their schedules. For example, you can step out to provide transportation for your elderly parents before a client meeting or get dinner started while reviewing a document. Further, the time you save not commuting allows for more time with friends and loved ones, which is essential for maintaining wellbeing.
Remote work capacity also provides all working parents, regardless of gender, the flexibility to better serve their families and clients (and themselves). It increases productivity (if we don't also forget the need to disconnect). Law firms that want students and associates conveniently sitting in their offices to address senior lawyers' whims can still use texting, videoconferencing, chat rooms, etc.
Better retention decreases turnover costs
Law firms continue fiercely competing for talent, another reason to keep the hybrid work model. Doing so will allow firms to retain female talent who must balance the demands of family life and a legal career while avoiding attrition costs. One estimate puts the cost of turnover in the legal sector at $9.1 billion annually for only the 400 largest firms in the United States.
A common argument against remote work is that new lawyers will miss out on critical face time with senior lawyers and partners and risk stunting their career progression. The hybrid model still allows lawyers to forge relationships with senior leadership several times a week.
Once law firms accept that being flexible will increase profits and talent retention, they can adjust their traditional face time expectations (and can still, literally, FaceTime).
Technology adoption is pandemic's the silver lining
As the world becomes increasingly complex and to keep up with clients, lawyers need to increasingly be able to digitally transform their workflows which can be stored in the cloud and accessed from anywhere. Lawyers can also succeed from anywhere regardless of what their physical worlds demand (i.e. childcare, illness, natural disasters).
Law firms can no longer afford to be a one-size-fits-all model. The legal profession is further diversifying, and what works for some men does not necessarily work for women or Black, Indigenous and people of colour. The old model that equates time at the office with career advancement is losing relevance.
After all, time is all we have. Why not free up more of it by adopting a permanent hybrid work model so everyone can do more of the things they love?
Jillian Tomimoto, Innovation & Technology Legal Intern, assisted with this article.