Views on allocating risk for project delays, cost overruns are changing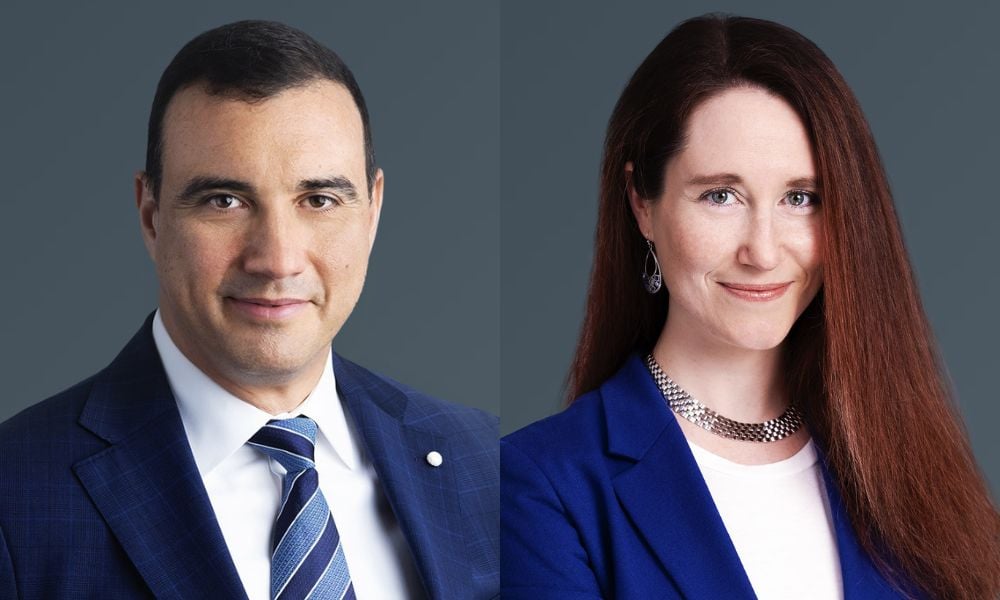 Players in the construction industry must get accustomed to how COVID-19 has changed the landscape for negotiating contracts and settling disputes, say the national infrastructure and construction group co-leaders at McMillan LLP.
"The whole concept of risk transfer in the construction is changing," says Jason Annibale, a litigator who works with clients to resolve disputes. He adds that construction projects have always had disputes over delays and cost overruns "dating back to the pyramids." However, the pandemic exposed the challenges of assigning who should bear the risks of rising costs and delays.
"Contractors in particular are resisting the traditional allocation of risk," Annibale says. "They are saying, 'It's not working for me anymore.'" Even on massive private-public partnership (P3) projects, contractors are "increasingly reluctant to enter into arrangements where all the risk is transferred on to the private sector to deliver a project on time and on budget."
Annibale says there is a movement towards an "integrated project delivery" model. It uses a single contract to design and construct a project, with shared risks and rewards, guaranteed costs, liability waivers between team members, an operating system based on lean principles, and a collaborative culture.
The construction industry works best when parties "collaborate and innovate," says Annibale. "And we are seeing the best of the construction industry do that.
"Of course, as a litigator, I also see the worst of it – parties entrenched in their positions and holding on to their contract wording, and the other party looking for an edge in the contract language to gain some sort of footing to claim costs in some ways."
Construction projects a 'complex ballet'
A construction project is a complex ballet with many players and unexpected delays, says Annibale, as what happened during the COVID epidemic is a reminder of just how integrated a dance is.
"Nobody thought that the pandemic would "unfold in a way that would see construction stopped as it was, leading to all parties fumbling through their contracts about how 'force majeure' should work.
Traditionally, risk allocation between owner and contractor on construction delays would be settled along the lines of contractors "getting more time, but not extra money." That was seen as fair to both sides when neither was at fault.
"But the reality is that COVID did increase contractor costs," which has led to new ways of negotiating contracts for situations like supply-chain disruptions and inflation. "There's been a rethinking because the fallout from COVID did increase costs for the contractor, and deliveries of materials did get delayed."
Says Annibale: "All of the things that happened during COVID have had an impact on construction projects, and so parties will need to get accustomed to the reality. "It's going to cost more. It's going to take longer, and contracts are going to look a bit different."
A shift in how contracts are put together
Annibale's colleague Annik Forristal, who focuses on the "front end, contract side" of construction law, says there is "definitely a shift in how contracts are put together." A good example is how contract wording has changed to deal with cost overruns and supply chain issues, she says, and the move away from "fixed pricing."
Traditionally, "a contractor or their trades partners would get locked into the pricing agreed upon at the outset of a project for costs and labour," she says. If there were overruns, the contractor would have to bear that cost, whether it was the impact of exchange rates, inflation, or supply shortages.
But as the balance of power in the owner-contractor relationship shifts somewhat in favour of the contractor these days, Forristal says, more contracts are moving away from fixed pricing towards "costs plus," so that a contractor can get compensated for their actual costs.
"It allows more flexibility for pricing as the market changes and moves some risk away from the contractor and towards the owner."
Even fixed-price contracts are seeing a change, Forristal says, with the inclusion of escalation clauses. "For example, if there is a shortage of readymix concrete in the Toronto area, the owner is to provide schedule and cost relief under the contract," she says. Another clause could tie costs to the Canadian price index for construction. If costs rise beyond a certain percentage from the date contract is signed to when the contractor buys the product, then such a clause provides an opportunity to increase the contract price.
However, she says these terms result from heavy negotiation on what materials and what triggers added compensation. "It's not like there is a standard price escalation clause."
Another way to deal with rising costs and supply issues is for owners to agree on advance payments for materials so they can be ordered earlier. "Usually, payment for products would only be made when delivered, but to save money on materials like steel, the contractor might suggest buying it now rather than six months from now."
But this remedy also has budget implications, like where to store the material and who pays for that storage.
Forristal advises that both sides of a construction project contract "think about these things and have conversations early on in how to be fair and reasonable in allocating risk."
Moving beyond litigation to settle disputes
Annibale adds that resolving disputes doesn't always mean "rock 'em, sock 'em" litigation. For starters, many provinces have enshrined statutory adjudication processes as a first step to get money flowing within the construction pyramid, Annibale says. "Within a specified time after the exchange of documents, parties can find themselves with a decision where they can live with and move on."
He adds litigation and arbitration remain a big part of the construction landscape. "Most sophisticated contracts will have a mandatory arbitration clause built in to avoid the longer option of taking the matter to court."
Arbitration clauses also benefit both sides by allowing for a hearing where the chosen arbitrator is knowledgeable about the construction industry. It also is a private process so that "dirty laundry" doesn't have to become public.
"Construction disputes are niche. The language spoken is very specific, and judges may not know the nuances because they aren't experts in the area, so you might have to educate the judge. But arbitrators will get it. And it all stays private."