In-house counsel discuss deal-making strategies in the pandemic landscape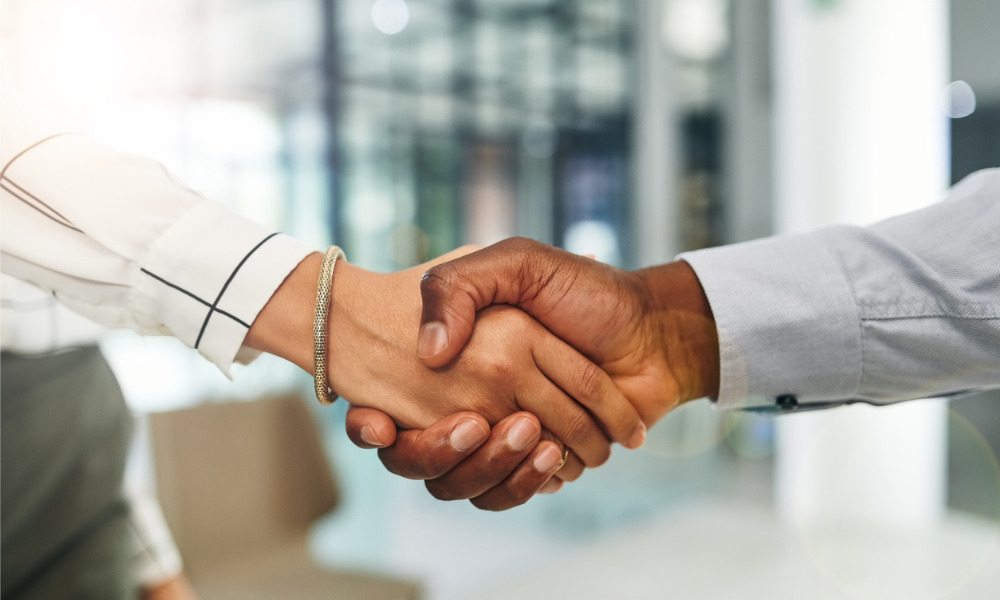 Canadian companies have seen a surge in activity in mergers & acquisitions in 2021 as businesses start to recover from the pandemic-driven economic downturn, so many in-house counsel are navigating deals in the new landscape. Moreover, a healthy pipeline of deals attracts interest as financing conditions remain favourable.
"There is no question that we're currently in a robust M&A environment with high deal volumes across almost all sectors," says Alex Gorka, a partner at Osler Hoskin & Harcourt LLP. "While there's still some uncertainty regarding COVID, it's less uncertain than it was a year ago, and folks have grown more accustomed to conducting their business within that risk environment." While technology, commodities and mining industries are particularly active, Gorka has seen increased M&A activity across almost all sectors.
Software acquisition company Valsoft Corporation saw an uptick in acquisitions in 2020 with 13 deals closing during the year — up from nine in 2019, and the high volume of activity is continuing into 2021.
"From an M&A standpoint, we didn't see a slowdown at all in 2020," says David Felicissimo, general counsel at Valsoft Corp. and Valnet Inc. "Sellers who were on the fence were suddenly more willing to sell, and we also saw a lot more consolidation in the market and more players acquiring when interest rates were very low."
Despite the buoyant market, a lack of face-to-face meetings did present certain obstacles and slowed down transactions.
"Personal meetings build a sense of trust and connection, so, without that, the deals did drag on a little bit longer," says Felicissimo. "We've even walked away from deals where we can feel it falling apart because of the lack of face to face."
Felicissimo cites one ongoing deal that Valsoft has been trying to close with a U.K.-based company. The negotiations have been "very tense" due to the lack of face-to-face interaction between parties.
Gorka suggests general counsel adopt creative strategies to compensate for the lack of in-person meetings and on-the-ground diligence, which can help move a deal forward.
"If you can't do boots-on-the-ground diligence, for example, we've seen folks getting drones to do inspections of real estate assets," he says. "There are creative solutions that in-house counsel can help to devise, given that they are familiar with the business and the resources available to them."
Canadian cannabis company Canopy Growth Corporation has also been particularly active in M&A this year.
"The pandemic certainly hasn't slowed our M&A activity because we've been ebbing and flowing as we've tried to rationalize our own assets and find our feet with some early acquisitions," says Sam Carsley, senior director, legal and assistant corporate secretary at the Smith Falls, Ont.-based company. Canopy Growth recently acquired The Supreme Cannabis Company Inc. and Ace Valley to diversify and expand its offerings.
"We're looking to see where we can position ourselves from a strategic standpoint. While the first phase of cannabis legalization was a bit of a frenzy of acquisition, now I think we have the opportunity to be a little bit more thoughtful," says Carsley.
The $435-million acquisition of Supreme Cannabis strengthens Canopy's brand portfolio with the 7ACRES premium brand. Supreme Cannabis' Blissco and Truverra brands also add breadth to Canopy's market presence in recreational and medical markets.
Phil Shaer, Canopy Growth's chief legal officer, expects M&A activity in Canada to slow down for the remainder of the year. The two recent acquisitions will close gaps in the company's portfolio and position it very well in the market. However, activity may increase in the U.S., he says.
"The U.S. is coming, and it's coming super fast. I do anticipate us trying to do more transactions in the U.S. in the short term because owning another great brand in the U.S. — maybe an edible brand — could be of value to us so we could port it over to the Canadian market and build up the American market as well," says Shaer. Canopy Growth already has an option to acquire 70 per cent of U.S. brand Acreage Holdings in a deal that closed in 2019 and was modified in 2020 to reflect declining company valuations.
Gorka expects deal volumes to continue for the foreseeable future, based on the high number of calls his firm receives from clients.
At Valsoft, activity has remained strong in the first half of 2021 with recent acquisitions for the Montreal-based company including Vertical Software Inc. and Datastor Systems Ltd. Felicissimo anticipates a continued strong market in the second half of 2021, driven by competition in the space and a low interest rate.
"If you take a look at the deals in our pipeline, it's already more than we closed all of last year. Once the borders reopen and travel starts up again, we'll see even more development and more deal flow," he predicts.
"Some people think business travel in the world of M&A is going to change permanently, but I think we really need face-to-face meetings in terms of building trust and also in terms of negotiating" constructively, says Felicissimo.