Lending and finance group will offer financial services geared towards the Western Canadian market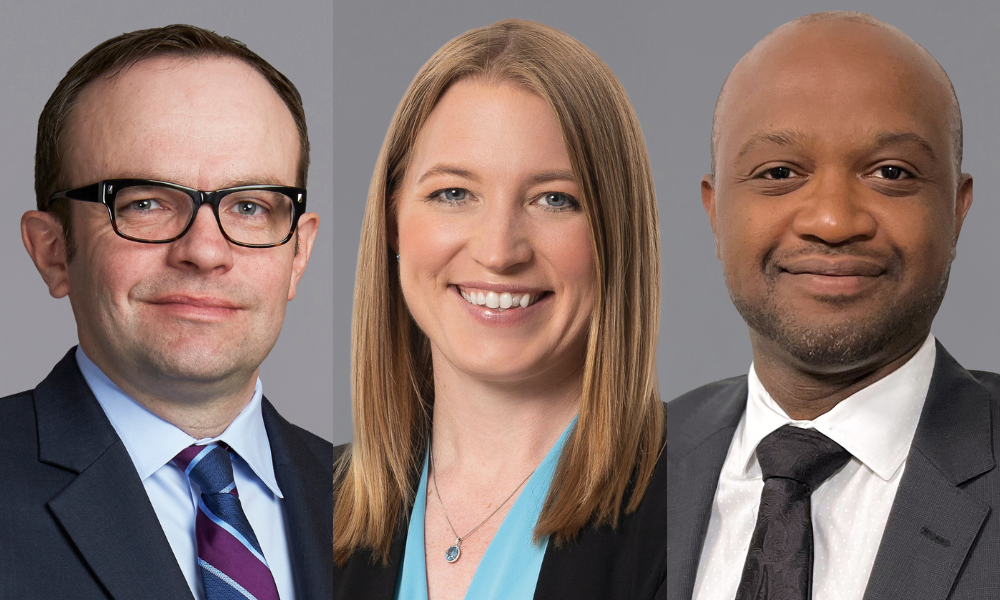 Cassels Brock & Blackwell LLP has put together a new lending and finance team in Calgary, adding five partners to the practice area to meet the needs of local clients, says Jeff Oliver, senior partner in the Calgary office.
"There's always been a strong desire among clients to work with lawyers based in Alberta for their lending and finance needs," says Oliver. He notes Cassels' direct presence in the Alberta market is quite recent, having opened a Calgary office in 2016.
"There is a great desire for us to grow here, and we identified the need for a lending practice here," he says. "We couldn't be more excited to bring in the breadth and depth of experience that we have done with this new team."
Most of the new partners come over from Gowling WLG. Says Oliver: "I can certainly say that the addition of this existing team to our office demonstrates that our firm is a great place to work and practise."
He adds that he expects that Cassels' offices in Calgary, Vancouver and Toronto will expand in various practice areas in the future.
Oliver says the new lending team will help give Cassels Calgary office the ability to "do transactions of almost any size, with varying degrees of complexity." While the Calgary branch did have a real estate lending practice before the new team, "we now have the scale and size to go beyond that now."
The lending and finance group will offer diverse financial services geared towards the Western Canadian market, including in the real estate, construction, oil and gas, and agricultural sectors. Oliver says Cassels can provide specialized legal services for financial institutions, non-traditional lenders, and business owners, including asset-based lending, real estate finance, acquisition finance, syndicated finance, and project financing.
Oliver says the lending practice will fit nicely with the Calgary office's First Nations practice. "Any large projects built in Western Canada in the short and medium term will likely include consultation with First Nations, and project financing is a nice addition to that work." He also points out that large projects could be within the traditional energy sector but could also branch out into areas of alternative energy.
The five new partners include Bria Fallen, Mike Hrabok, Sunil Joneja, David Kolesar, and Scott McLeman, lawyers Oliver says bring decades of experience advising financial institutions across North America.
Four associate lawyers have joined the firm to support the growing team in Calgary: Kaitlyn Kolodychuk, Eli Dzik, Nick Proctor (lending and finance) and Gillian Harrington (corporate).
Oliver, the expansion is the largest in a series of new hires and growth across the firm and "establishes our banking group as one of the largest in Western Canada."
Scott McLeman will be leading the lending group at Cassels. A ten-year veteran of Gowling WLG before moving to Cassels, he specializes in a broad range of banking and real estate areas and has acted for both creditors (including banks and other major financial institutions) and debtors in secured and unsecured lending transactions. These include public and private acquisitions, asset-based loans and term and revolving facilities in domestic and cross-border contexts.
McLeman says: "As Cassels continues to grow in Calgary, we are excited to solidify the firm's reputation as a leader in banking & lending for the region."
Bria Fallen brings extensive experience working with lenders and borrowers on secured financing transactions, M&A, commercial leasing matters, and corporate reorganizations. Before the move, Fallen had worked in the Calgary office of Gowling for more than five years.
"We are thrilled to bring our financial services bench strength to Cassels to expand the firm's position in the national market," says Fallen. "The opportunity to join a fast-growing Canadian law firm is exciting and unique. We are looking forward to working with the talented Cassels' teams across the country to build the firm's profile and continue to offer exceptional legal services."
Mike Hrabok's portfolio includes accomplishments in secured financing transactions and commercial real estate transactions. Mike was in-house counsel at Hopewell Development LP between 2013 and 2018 and later worked at Gowling in the financial services and commercial real estate groups.
Sunil A. Joneja, who also comes from Gowling, advises borrowers, banks, and other financial institutions on a wide variety of transactions with an emphasis on domestic and cross-border syndicated and bilateral debt financings (both secured and unsecured). This includes asset-based lending, project finance, and real estate, including construction finance, acquisition finance, note offerings, distressed lending, and debt restructuring transactions. He also practises in derivatives, including commodity, cross-currency, and interest rate hedging transactions.
David Kolesar, who comes to Cassels after seven years at Torys, is skilled in domestic and cross-border, internationally focused transactions. His practice covers various debt financing work for financial institutions and borrowers, including acquisition finance, project financing, asset-backed loans, reserve-based lending, and public and private debt securities. David also has extensive experience in non-traditional or alternative lending structures.
In addition to the lending team in Calgary, Cassels has added to its banking and specialty finance group in Toronto, with the arrival of Kori Williams and Alessandro Bozzelli as partners.
Williams comes to Cassels after 14 years with Dentons. His background includes strong and established knowledge and experience in a wide range of financing and debt transactions with a particular emphasis on acting for borrowers and lenders in various financing matters such as bilateral and syndicated lending, asset-based lending, acquisition financings, franchise financings, cross-border financings, project financings, renewable energy projects, mezzanine financings, inter-creditor arrangements, and real estate financings.
Williams says, "It's a thrilling time to be in the financial services sector and I'm excited to join a team of industry leaders and exceptional lawyers to offer unique banking and financial services to our clients in this fast-paced world."