Zachary Kobrin has been watching the Canadian cannabis landscape for some time now and is preparing to navigate its securities landscape as the Florida-based medical marijuana company he represents prepares to go public on this side of the border.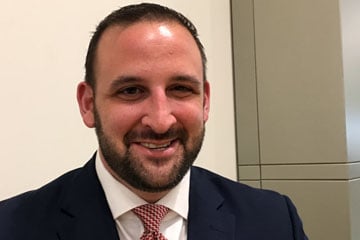 Zachary Kobrin has been watching the Canadian cannabis landscape for some time now and is preparing to navigate its securities landscape as the Florida-based medical marijuana company he represents prepares to go public on this side of the border.
"I am not a securities lawyer; I don't pretend to be a securities lawyer. I have fantastic securities lawyers on both sides of the border," said Kobrin, who is general counsel and chief compliance officer at Cansortium Holdings/Knox Medical based in Miami.
Cansortium has plans to expand into Canada and is working on an initial public offering. The company has applied to Health Canada to be a licensed dealer and its Canadian facility will be in Grimsby, Ont. According to its preliminary prospectus filed Oct. 30, once Cansortium has its licence, it intends to apply for sales and export licenses.
The company is operational in Texas, Puerto Rico and Florida and has a dispensary licence in Pennsylvania. Through acquisitions, the company is looking to expand into three to four more states by the end of the year, with a "huge push" internationally.
The State of Texas named Cansortium Texas one of the three organizations permitted to cultivate, extract and dispense approved medical cannabis products under the Compassionate Use Act in 2017. It was the first to receive a medical marijuana licence issued by the state.
Kobrin was speaking last week at the ACC Annual Meeting in Austin on a panel entitled "Indispensable: Getting into the Weeds of Legal Cannabis."
The meeting room at the Austin Convention Center was filled with lawyers from the U.S. and Canada, but it was the ones from the U.S. with the most questions about how to navigate the tricky maze of laws in the U.S. Unlike Canada, where federal legislation that came into effect Oct. 17 made recreational cannabis legal across the country, under federal law in the United States, even if a lawyer is permitted to practise under their own state licensing regime, they may still be violating federal law.
Many of the lawyers in attendance at the ACC conference wanted to know how to advise their own companies on participating in cannabis-related businesses.
Navigating an IPO for Cansortium has been an interesting exercise for Kobrin. In the United States, he told the ACC seminar attendees that the rules from NASDAQ and the New York Stock Exchange are that those exchanges won't list a company if it is "touching the plant in the United States."
"The bulk of the companies that are going public now are in Canada," he said. "Canada has three primary markets — the TSX, TSX venture and CSE — Canadian Securities Exchange. The Canadian Securities Exchange has become the market of choice because they are very open to higher-risk, newer industries. They have over 70 companies listed in this space," he said.
Typically, Kobrin said, there are two ways cannabis companies go public, especially in Canada, and especially if a U.S.-based is company moving up north. The most common way is an RTO — a reverse takeover.
"You end up having a privately held company in the United States that finds an already listed shell [company] and through a series of transactions they do a reverse takeover and the interest from the U.S.-held company transfers to the shell company," he said.
With an IPO, he said, the difference is "you literally are incorporating a brand-new company and that company is going public on its own."
With an RTO, the barriers to entry on the front end may be a little less, he said. "But you have some additional regulatory guideline reporting requirements because you still have to be able to report on the activities closing out of the shell you just took over," he said. "Most companies do this because they have 20 to 30 people who are the investors who own the private company."
He saw the IPO route as more appealing.
Joining Kobrin on the panel was James Cole, a partner at global law firm Sidley Austin LLP, and Jonathan Robbins, chairman of the cannabis practice at Miami-based firm Akerman LLP.
Cole is perhaps best known as the former deputy attorney general of the United States (2011 to 2015) who worked to create the federal response in the U.S. to state decriminalization of marijuana. The "Cole memo" was drafted in 2013 and stated that the Department of Justice would not stand in the way of states that legalize marijuana and outlined the enforcement priorities that were important to the federal government.
On Jan. 4 of this year, current U.S. Attorney General Jeff Sessions rescinded a trio of memos from the Obama era that had adopted a policy of not interfering with cannabis-friendly state laws.
Now, Cole said, he spends a lot of time with lawyers from companies who want to know if one action or another would be legal and "Can I invest in Canada?"
"There is so much confusion," he said. "These are really complicated, fact-specific issues and everybody has a level of risk and the question is just going to be where your appetite lies. It's probably a good idea to go to outside counsel to get some boundaries as to where it is so when you're making risk-based choices you're making them with your eyes as open as they can be, and that's ancillary businesses as well. Even if you're not a 'leaf-touching business,' how much do you know about what you're doing?" he said.
When it comes to being a lawyer in the cannabis sector in the United States, Kobrin has some specific advice: "The level of normal CYA [cover your ass] — triple it. And then you're probably not quite there. Whatever would be your normal comfort level of 'Have I papered this enough?'— triple it at least. Don't just cover the executive level; make sure [you cover] the people doing the work, too."
Kobrin is solo in-house counsel at Cansortium and joined from private practice.
"It's a great time to be in this space," said Kobrin. "We are exploring every opportunity that provides the best opportunity to the company, the shareholders and to patients."
Kobrin said he "has a lot of outside counsel help" with a variety of firms for different areas including real estate and "an amazing" trademark lawyer in Colorado. He has trademark applications in about six countries right now.
Prior to joining Cansortium/Knox Medical, Kobrin was a corporate commercial litigator in Miami. When he found he didn't love the litigator life, he pushed himself into the firm's corporate transactional M&A work. At about the same time, the firm was retained to do the corporate infrastructure for Knox in Florida.
"I saw the opportunity and ran with it," he said.
He started building out a practice group and at the same time, Cansortium, Knox's parent company, decided it wanted to expand outside of Florida and picked up a licence in Puerto Rico.
"The goal at the end of 2016 was to make it a global leader in the market and they asked me to come on board full time," he said. "I can remember the CEO saying, 'You have never worked this hard; just wait.'"
"For in-house folks, you have to enjoy not only what you're doing but the people you're doing it with. I know a lot of lawyers who stay at a job for money and they can't stand the work. I just got lucky. When I jumped, I gave up partnership. I was told I would be a partner within five months. Fortunately, it's panning out very well for me. I feel very blessed."
Editor's note: Story updated Nov. 2 to include more specific information on Cansortium's Canadian facilities.