Canadian Law Awards' 2020 'Award for Excellence' winner sees a rebound in deals this year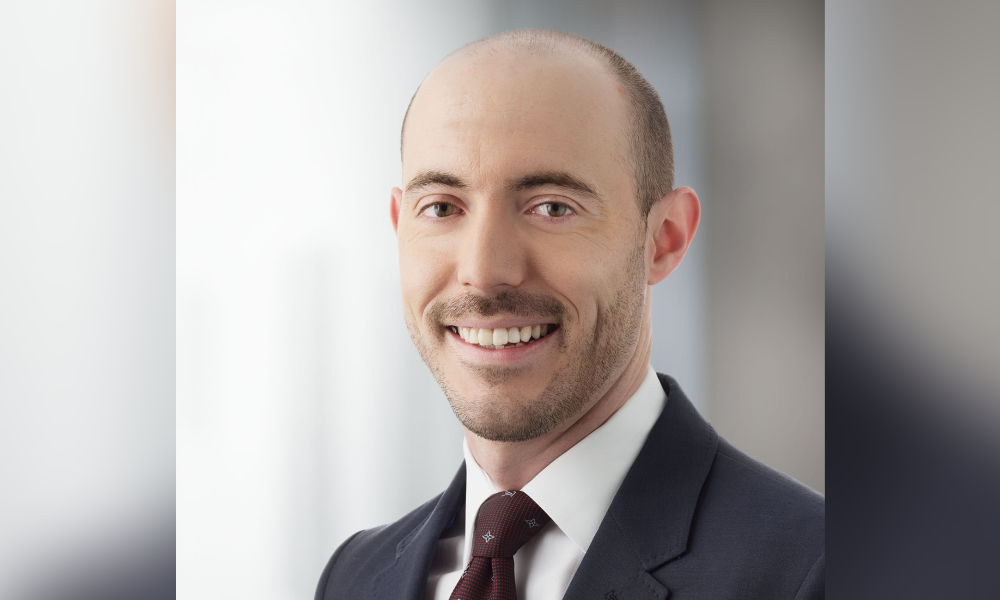 With the beginning of a new year, there is hope for an increase in mergers and acquisition activity, and J.R. Laffin of Stikeman Elliott LLP, for one, says that the pump is primed for more dealmaking in 2021.
Laffin says he thinks "there are a lot of pieces in place for a meaningful rebound." Not so much the number of acquisitions — which were "relatively consistent" with the year before — but the dollar value of deals being made.
Laffin notes that 2020 did see a significant drop in deal value, mainly because the uncertainty of COVID-19 put a lot of deals on hold or pulled off the table, and, with other deals, "people were dragging their feet to see how things would play out.
"M&A is always about weighing uncertainties and allocating risk between buyers and sellers," says Laffin. "What we had in 2020 was very much . . . historical levels of uncertainty not seen since the financial crisis more than a decade ago."
In addition to the pandemic, there was a very tumultuous election for President of the United States and protests relating to systemic racism and the Black Lives Matter movement.
But Laffin says that he believes strategic buyers and investors such as pension funds and private equity players "see light at the end of the tunnel" as we enter 2021. For all the turmoil caused by Donald Trump's leaving and the coming of Joe Biden, the election is at least out of the way, and hopes are rising for the end of the pandemic as vaccines roll out across the globe.
As well, "we've learned to live with a certain amount of uncertainty" and figure out ways to make deals during a pandemic, says Laffin, who was involved in one of the deals recognized with the Award For Excellence at the 2020 Canadian Law Awards, in the Cross-border deal of the year category. Stikeman acted for Hasbro, which bought Toronto-based Entertainment One in an all-cash deal worth $5.3 billion.
Nominations are now open for next year's awards and the deadline is Feb. 5. Open to all Canada-based law firms and legal departments, the nominees for the Canadian Law Awards deals categories will be judged on the size, complexity, breadth, and innovation of a deal that closed in calendar year 2020. Other categories related to dealmaking include Capital Markets Deal of the Year, Infrastructure & Projects Deal of the Year, Insolvency & Restructuring Deal of the Year, M&A Deal of the Year and Mid-Market Deal of the Year.
With only about 100 companies trading on the Toronto Stock Exchange with a market cap above $5 billion, Laffin says whether 2021 will see "blockbuster" deals in part depends on how one defines blockbuster. However, he says he thinks there will be an environment more conducive to larger deals in 2020, with perhaps bigger deals done with stock as currency rather than cash.
However, private equity and pension funds are sitting on a lot of cash and are looking to make deals. But since these deals would have to be done in cash, trying to bridge the gap between the buyer's and seller's view on valuations is a bit trickier than a deal involving stock.
Among the sectors Laffin believes will see an uptick in dealmaking is the oil and gas sector. There was relatively little M&A activity in this area in 2019, a situation that bled into 2020 with the pandemic and increased uncertainty in the oil and gas sector. But towards the end of last year, Laffin says there has been an increase in consolidation.
For example, there was the announcement in October of a merger between Cenovus Energy and Husky Energy, a deal that closed in early January. The $3.8 billion deal aims to create a single business that is stronger and more resilient.
Two other areas where Laffin sees more activity is the mining sector, specifically gold, and the potential for the "green gold" in the cannabis industry.
In the former, Laffin says that the push for consolidation in the gold mining sector was strong in 2019 and early 2020 — he was involved in Detour Gold Corporation's $4.9B acquisition Kirkland Lake Gold Ltd, which closed in January 2020. Since then, M&A activity has stalled as gold prices topped US$2000 an ounce. But now that gold has settled in the $1,800 an ounce range, there will be companies "looking to do deals and get bigger and consolidate."
As for cannabis, there could be a fair bit of activity in this space, and a lot of that could depend on the new U.S. administration's view on legalizing recreational cannabis nationwide. A "meaningful" shift could mean increased M&A.
Acquisitions related to insolvency situations could be a factor in 2021, Laffin says, but a lot of that will depend on continued government support of companies struck by the pandemic. Many were thrown a lifeline by Ottawa, along with their creditors and banks, which kept insolvencies down in 2020 as companies managed to hang on. But if the support starts to slip before the economy kicks upward, restructuring through M&A may be the only solution.
Laffin also says that the federal government announced last year that it would scrutinize potential acquisitions of Canadian companies by certain foreign entities on national security grounds.
Canada's recent decision to reject TMAC Resources Inc.'s sale to Shandong Gold Mining Co. on national security grounds could be a unique situation, Laffin says. However, foreign investors may want to seek legal counsel on how the Investment Canada Act's national security provisions may apply to them.
Seeking legal advice in an environment of increased M&A potential is also something all potential buyers and sellers should think about, Laffin says.
"Readiness for both negotiated or consensual transactions, and hostile transaction, is always going to be money well spent," he says.
"At the end of the day, you certainly don't want to be caught flat-footed with a press release coming out in the in the dead of the night or first thing in the morning and not have a plan" for an unsolicited bid or an activist shareholder.
Laffin says that seasoned players have a data room "ready to push the button" either for an M&A opportunity or a defence opportunity and have the mindset to "be ready to play now."