First Black politician in Canada in justice portfolio to focus on building relationships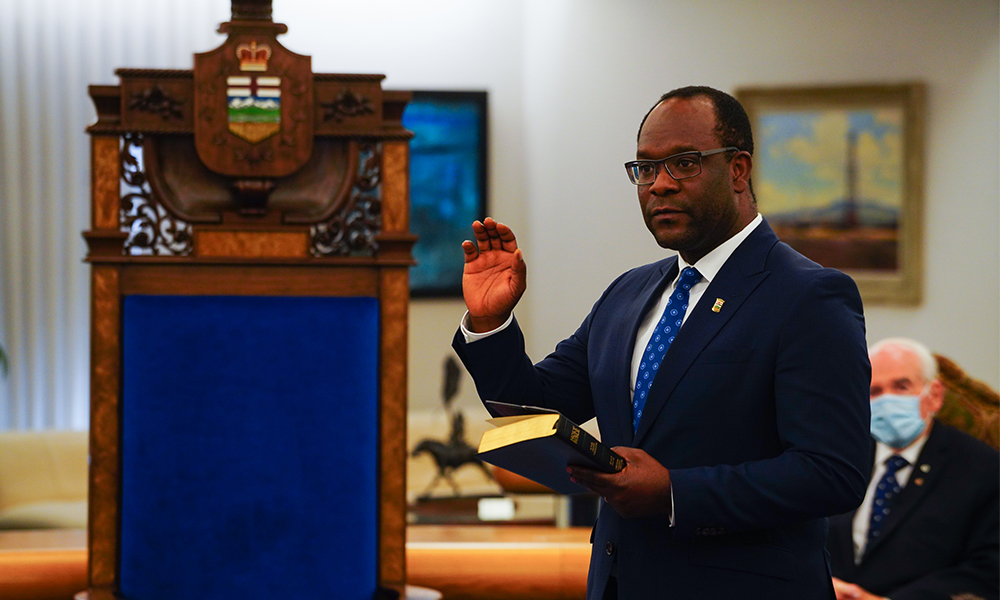 The new Minister of Justice in Alberta — the first Black politician in Canada to hold such a position — says that while he sympathizes with those who are protesting for social justice reforms, he "absolutely" decries calls to defund the police and is pained when he sees acts of vandalism such as tearing down monuments of those who helped found this country.
"I understand the concerns that people have," says Kaycee Madu, who was promoted to Justice Minister, from his previous post of Minister of Municipal Affairs, in August. He says he is "particularly pained" by the tearing down of the statue of Canada's first Prime Minister, John A Macdonald, in Montreal this past weekend.
"No leader is perfect and tearing down statues of our founding fathers is not going to solve any problems." Says Madu — who replaces Calgary-Elbow MLA Doug Schweitzer, who was moved to a newly rebranded Jobs, Economy and Innovation Portfolio. He says his "historic" appointment as justice minister comes at an important time, when Black and other minority communities are leading a fight against systemic racism.
"I do think that in the midst of all this, I am privileged to live in one of the freest countries, and provinces, in the world." However, there is a need to continue to make reforms even better and to "address concerns from those communities," he says.
"We must continue to live true to the creed of our founding fathers," Madu says. While coming from a different time in history, "they had the vision to build a world and a society in which it doesn't matter where you come from, and that justice is available to every single Canadian."
Madu, who was born in Nigeria and came to Canada in 2005, says the argument made by some anti-racism protesters to defund police forces as an approach to reforming justice is simply wrong.
"I do not think that any sane, balanced-minded person would want to take away resources from the police when there are safety issues that law enforcement needs to tackle." He adds that while there are always "bad apples" in any profession, the men and women who join the police forces "take on enormous risk" to keep communities safe. "Defunding police is something that I absolutely oppose," he says. "It is not going to help us get to the promised land or build a more . . . perfect nation."
Those calling for police defunding — including those in the Black Lives Matter movement — say that reallocating money from police departments into other services, such as mental health, is a better approach, and some suggest defunding police entirely.
Instead, Madu says, the emphasis should be on police forces building relationships and working actively together to solve problems. "I am confident that the justice system has all of the tools it needs to address some of those concerns."
More concretely, Madu says the province intends to embark on a review of the Police Act, so it can address concerns such as carding and street checks of Black people and other minorities. "Through that review, many of the problems that the cultural minority communities have identified will be addressed. This is the commitment that I have made."
Madu also says that as justice minister, he has a chance to help deal with the issue of systemic racism, in deciding the appointment of Provincial Court judges and thinks it needs to reflect the makeup of the province, and Canada, today.
"Cultural communities must see themselves reflected in judicial appointments," Madu says, "and now we have a bigger opportunity to make up progress in that regard."
Madu, who was born and raised in southeast Nigeria and studied law at the University of Lagos, was called to the bar there in 2003, and was in private practice in Nigeria's capital city. He says he came to Canada in 2005 when his wife, Emem, a university professor at the time, had a chance to further her studies at the University of Alberta. They immediately fell in love with the province as a place to further their careers and raise a family. Alberta is a place "where if you work hard, there are boundless opportunities."
The minister also says that coming from a country like Nigeria, where corruption is rampant, he "cherishes" the Canadian Charter of Rights and the fact that Canada is a rule of law country. Nigeria is a place where "it doesn't matter how hard you work, it doesn't matter whether or not you are the best qualified for the job," Madu says, adding that success there often comes down to being corrupt, having the right connections, and being wealthy in the first place.
Madu, who worked for Legal Aid Alberta and in private practice, says he never had the taste for politics living in Nigeria but bought his first political party membership a year after arriving in Alberta. "I have always been interested in how we build communities, how we build a society, based on values that are important to me." But the decision to try to become a politician came in 2015 when the NDP won the provincial election. "I was shocked, I did not see that coming," he says. Madu is the only MLA belonging to the UCP in Edmonton.
While Madu says his appointment to Justice Minister is a "historic event" — and one that has been noted in other parts of the world, including Nigeria — he doesn't see himself as just representing the Black community. "I am a proud Canadian and a proud Albertan and I happen to be Black," he says, pointing out that he won the riding of Edmonton Southwest, a primarily Caucasian area of the city. If it was a matter of just relying on the Black vote, he would not have won the riding, he says, so he is proud of "the kind of progress" this represents.
When Madu talks to friends back in Nigeria, he says he likes to tell them that "if there were a Heaven on Earth," it would be Canada, and Alberta in particular.
"Yes, our system is not perfect, but we have one of the best systems on Earth," says Madu. "So, it is incumbent on us to continue to strengthen our institutions and build a society reflective of who we are, and what we can be."