Fasken advising Voxtur Analytics in $130.5 million deal with US-based tech firm also in deals roundup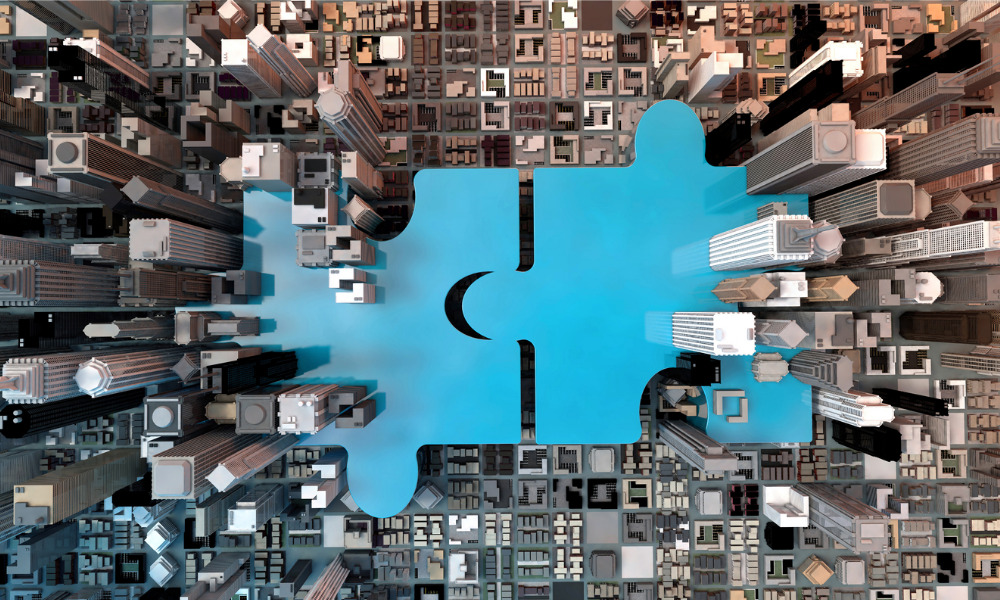 Cassels and Lapointe Rosenstein Marchand Melançon assisting Smart & Biggar's $348-million sale to an Australian intellectual property (IP) services firm is among the top crossborder M&A deals announced this week, along with Fasken advising Voxtur Analytics Corp. in its $130.5-million acquisition of a US-based financial technology firm.
Smart & Biggar to sell to Australia-based IPH for $348 million
Smart & Biggar has entered into an agreement to join IPH, an Australia-based intellectual property (IP) services firm, in a $348 million (AU$387 million) deal that marks Smart & Biggar as the first IP agency firm in Canada to join a publicly listed IP group and extends IPH's reach beyond the Asia Pacific.
Cassels Brock & Blackwell, Lapointe Rosenstein Marchand Melançon, and Watson Mangioni are serving as legal counsel to IPH, with Aquasia as financial advisor.
Smart & Biggar Managing Partner Matthew Zischka, said, "Joining the IPH group will supercharge our service offering and enable future investment in our Canadian business. We look forward to continuing to help clients in Canada and around the world safeguard and leverage their IP and technological assets."
IPH CEO Dr. Andrew Blattman said, "Smart & Biggar's employees are of the highest quality and the firm has an outstanding international reputation. The Australian and Canadian IP markets are very similar, and together the combined group will be well positioned to provide our clients with a comprehensive IP service offering with an international reach in key secondary markets, while offering strong career development opportunities for our people."
The deal is anticipated to close in September 2022.
Voxtur Analytics to buy US-based Blue Water Financial Technologies for $130.5 million
Voxtur Analytics Corp., an Ontario-based data analytics company, agreed to acquire Blue Water Financial Technologies, a US-based firm providing SaaS-based solutions to investors trading mortgage servicing rights, for approximately $130.5 million (US$ 101 million).
Rice Park Capital Management, Blue Water's largest equity holder, led the negotiations on behalf of the Blue Water equity holders.
Fasken Martineau DuMoulin LLP and Smith Hulsey & Busey LLP are serving as legal counsel to Voxtur. Sidley Austin LLP is serving as legal counsel to Blue Water.
"The integration of Blue Water into the Voxtur product suite strengthens our technology foothold and places us squarely in the capital markets arena," said Voxtur CEO Jim Albertelli. "The collective expertise of the Blue Water technologists, data scientists, and asset managers who seamlessly integrate technology and trading expertise creates a unique opportunity for Voxtur in the secondary mortgage market. This acquisition will accelerate the evolution of Voxtur's investments in technology and proprietary industry data into a resilient and dynamic growth platform."
"We are thrilled to be combining the Blue Water and Voxtur brands to provide dynamic and agile data analytic solutions to the mortgage industry," said Blue Water Managing Partner Alan Qureshi. "Voxtur's expansive client base provides enormous opportunities for us as well as our clients. This allows us to integrate best-in-class data, analytics, and market intelligence that will enhance our ability to deliver transparency and efficiency to our clients."
Alan Qureshi will lead the newly created Voxtur Capital Markets business unit following the deal completion.
"Blue Water has achieved significant market adoption by creating a suite of transparent and efficient digitally enabled services for buyers and sellers of MSR and loans," said Rice Park CEO Nicholas Smith. "The acquisition by Voxtur will expand Blue Water's market access and provide additional value-added products and services that can be distributed through the combined platform. We are thrilled to become a shareholder of Voxtur and to explore ways for Rice Park to provide strategic value to Voxtur and Blue Water."
The deal is expected to be completed in the third quarter of 2022.
Cooke to acquire Australia-based Tassal Group for $1.53 billion enterprise value
Cooke Inc., a New Brunswick-based seafood producer, has agreed to acquire Tassal Group, Australia's largest vertically integrated seafood producer and blue agri-tech business, in a $1.53 billion (AU$1.7 billion) scheme implementation deed.
Allens is serving as legal counsel and Kidder Williams as financial advisor to Cooke. Herbert Smith Freehills is serving as legal counsel and Goldman Sachs as financial advisor to Tassal.
Cooke CEO Glenn Cooke said, "Tassal is an excellent fit with Cooke, as we see many similarities between our two companies. Our people and communities are very comparable as well, with agriculture, fisheries, aquaculture, and forestry prominently supporting export-driven economies."
"We believe in sustainably produced food and in responsibly harnessing our precious water resources," said Tassal Managing Director and CEO Mark Ryan. "Our responsible business blueprint sets out how we will do this to ensure a prosperous, healthy planet for future generations. Combining our two companies' people-first cultures and our shared passion for producing top quality seafood, is a natural fit. A future acquisition by Cooke enables Tassal to fast-track our goal to be one of the world's most transparent and sustainable protein producers."
The implementation of the scheme is expected to occur before the end of 2022.