Mining company also faces complaint about exploration work involving Uyghurs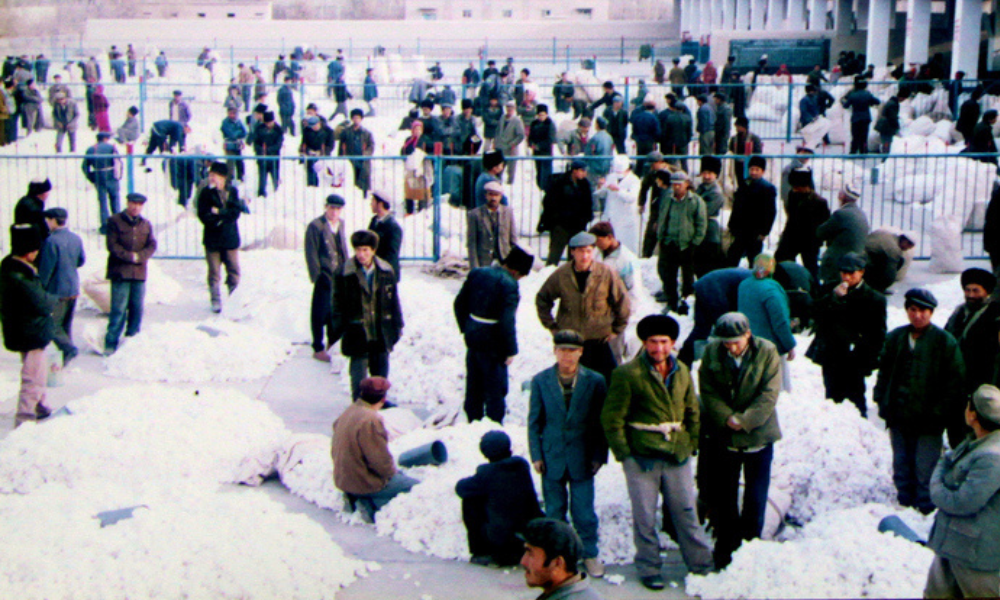 Cotton planting in 1996 in Kashgar, southern Xinjiang province
Ralph Lauren is currently under investigation for alleged forced labour in its supply chain.
The Canadian Ombudsperson for Responsible Enterprise (CORE) has published a report that details Ralph Lauren's supply relationships with Chinese companies that use or benefit from the use of Uyghur forced labour. Uyghur is a Turkic ethnic group native to Xinjiang in China.
The Initial Assessment Report for a complaint filed by a coalition of 28 organizations about the activities of Ralph Lauren Canada LP (RLCLP) alleges that RLCLP is the consignee of shipments from a Chinese company, Esquel Textile. The Australian Strategic Policy Institute's (ASPI) Uyghurs for Sale report identified Esquel as using or benefitting from Uyghur forced labour.
The complainants submitted a bills of lading which indicate that RLCLP imported 26 unique shipments into Canada from Esquel between August 2020 and March 2021, and that, based on the dates of the bills of lading, RLCLP continued to import from Esquel after Ralph Lauren issued a statement on July 30, 2020, denying sourcing any yarn, textiles or products from Xinjiang.
"Ralph Lauren does not source any yarn, textiles or products from Xinjiang," said US parent company Ralph Lauren Corporation (RLC).
"Our suppliers are prohibited from using any cotton grown in the Xinjiang region and we are working with our partners and other brands to identify an effective solution for raw material traceability and verification at the fibre level to ensure that the materials we use in our products are responsibly sourced."'
Complaint about forced labour 'warrants investigation'
Some of the information provided and the reports referred to in the complaint refer to "Ralph Lauren" and it is not clear whether this refers to the US parent company Ralph Lauren Corporation (RLC), RLCLP, or to Ralph Lauren as an international brand or retailer, according to CORE.
"Each complaint is evaluated thoroughly and efficiently," said CORE Ombudsperson Sheri Meyerhoffer. "I have decided that the Ralph Lauren complaint warrants an investigation."
Currently, Canadian industries are calling for the federal government to halt the implementation of the Modern Slavery Act, which is slated to take effect starting Jan. 1, 2024. Canada passed the act – An Act to enact Fighting Against Forced Labour and Child Labour in Supply Chains Act and to amend the Customs Tariff – on May 11, 2023.
It will create supply chain transparency and reporting obligations for certain companies as part of Canada's efforts to fight against forced labour and child labour in Canadian supply chains.
Mining company needs 'responsible exit policy'
The coalition also filed a complaint against mining company GobiMin, alleging that it benefitted from the use of Uyghur forced labour through mineral exploration work carried out at its Sawayaerdun mine in Xinjiang.
According to the complaint, the company's exploration work was "performed by local exploration teams under subcontract", as stated by GobiMin and reported by The Globe and Mail.
The company disputes the allegations and claims that it does not own property or have any direct employees in China. GobiMin sold its former subsidiary in Xinjiang in 2022.
"After assessing the complaint against GobiMin, I have decided to make recommendations to the company about revising its policies and sharing the revised versions with the CORE by a set deadline," said Meyerhoffer.
CORE has recommended that the company develop and implement a responsible exit policy. The CORE will follow up and report on the implementation of this recommendation in attempts to ensure that GobiMin strengthen its responsible business conduct in the future.
In May, the Quebec government said it is tweaking its legislation around age limits and working – this time allowing children as young as 12 years old to do manual agriculture work.