Editor of EV newsletter Ali Amadee says federal budget shows commitment to investment, incentives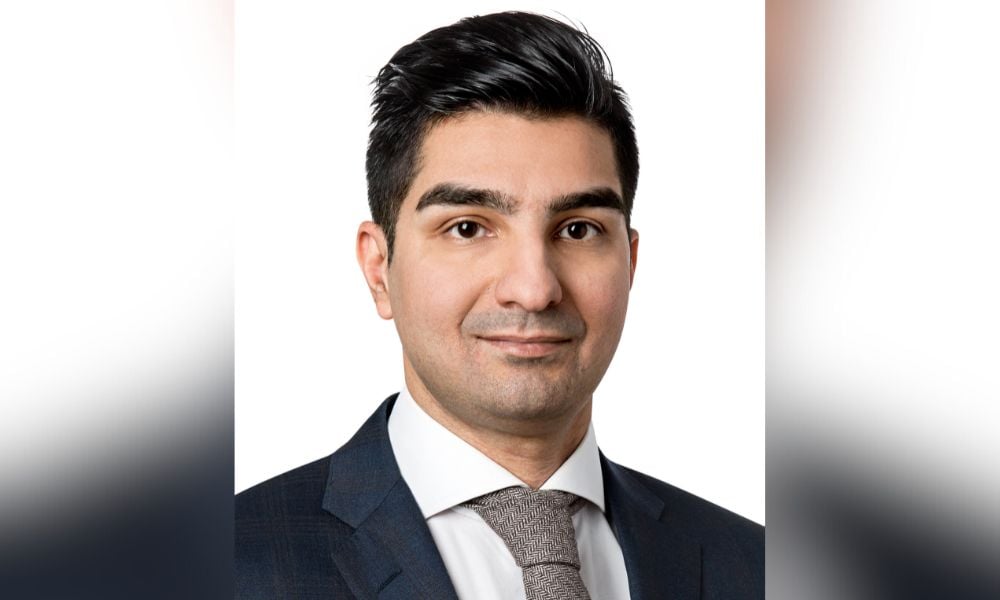 Canada can emerge as an international leader in the EV battery ecosystem, ideally positioned to play a leading future role in all supply chain segments, says the head of the battery and energy storage group practice at Dentons Canada LLP.
However, with the ongoing race among nations, including China and the United States, for global leadership in this sector, Ali Amadee says the challenge for Canada will be finding a way to catch up and use its resources through government policies and financial, monetary and non-financial incentives.
"We can be a powerhouse across the supply chain," says Amadee, editor of the law firm's new Batteries & EVs Bulletin. "In fact, we're probably one of the few Western nations that are able to do so."
Canada's natural clean tech advantages
One of the newsletter's first posts summarizes why Canada has many advantages that have placed the country in the second spot in BloombergNEF's 2022 annual global lithium-ion battery supply chain ranking, behind China and ahead of the United States. (BNEF is a strategic research provider covering global commodity markets and the disruptive technologies driving the transition to a low-carbon economy). These include:
An abundance of critical minerals and a solid mining sector. Canada has what is needed to manufacture EV batteries – graphite, nickel, aluminum, copper, lithium, cobalt, manganese, molybdenum and rare earth elements.
A strong manufacturing base to support the development of a local battery industry. Canada has manufacturing expertise, lower costs than similar nations and strong R&D capabilities. As well, Canadian manufacturing costs are the lowest in the G7. Investments have been made in manufacturing key chemical components for batteries, such as battery cathode and anode-active materials. These include a joint venture between General Motors and Korea's POSCO Chemical in Bécancour, Québec, and Umicore's $1.5 billion investment in a cathode active material facility in Kingston, Ontario. In addition, several local players across Canada's battery ecosystem, such as Nano One, Nouveau Monde Graphite, Li-Cycle and Lithion, are expanding their operations and will play a key role in the development of the industry.
The presence of necessary elements to create "ethically responsible batteries with a low carbon footprint." Canada is an ideal ESG-minded location to develop EV batteries. Canada's natural resources development and manufacturing projects are subject to high-standard environmental and social responsibility protection measures and oversight compared to many other nations. As the world's third largest producer of hydroelectricity, Canada provides the EV battery supply chain with abundant renewable and affordable electricity, allowing industrial clients to benefit from some of the lowest North American utility costs.
A historically strong vehicle manufacturing industry. The world's largest automakers are already committed to sourcing Canadian batteries and manufacturing EVs in Canada. This includes Ford, GM, Stellantis, and Volkswagen AG and its battery company, PowerCo SE.
Strategic positioning. Canada is a "rule of law" nation at the crossroads of the critical North American, Canadian-European and Asia-Pacific free trade and supply chain zones. It can serve as the epicentre of the global EV battery ecosystem. The corridor between the Saguenay region in Québec and Windsor in Ontario is establishing itself at the heart of the Canadian EV battery supply chain.
Human resources and R&D capabilities. Canada offers a qualified and multilingual workforce and a network of universities and research institutes. It also remains a popular immigration destination for a skilled workforce, which will be an essential part of the industrialization process required for a vibrant battery manufacturing ecosystem. Research costs in Canada are generally the lowest in North America.
Challenges Canada must overcome to become an EV, battery powerhouse
With all these advantages, Amadee says there will still be challenges to overcome if Canada wants to be a leader in the battery and EV market. These include technological issues, production cost concerns and supply chain and industrialization considerations, particularly those related to critical minerals, chemical products, and the materials necessary to produce batteries.
The battery supply chain is mainly Asia-focused, but Western governments, guided by various strategic and geopolitical motivations, are intervening heavily to support the development of their local battery supply chains and to help strengthen their related private sector.
"Let's not be naïve and think that because we have the potential to be an EV and battery powerhouse, we will actually be one without a lot of work," Amadee says, adding Canada will not get there unless there is support from the government and the general public. "We will need to catch up to China, which is years ahead of us, and we're also competing with the United States and the efforts being made through its Inflation Reduction Act."
As the Biden Administration now proposes to offer US$370 billion in clean energy and electric vehicle-related incentives to bring manufacturing back to the U.S., Amadee says a foreign investor might choose to put its capital south of the border if Canada doesn't provide its own incentives for battery and EV manufacturing.
"We are competing with those who are ahead of us and competing with those countries who are not there yet but are working really hard to get there."
The good news, however, says Amadee, is that over the past three years, the federal and provincial governments (especially Québec and Ontario), along with municipalities and regional authorities, have actively supported the development of a local battery supply chain.
Federal budget incentives for clean technology
Amadee points to the recent federal budget announcement containing several significant incentives targeting Canadian clean energy and clean technology. It also specifically acknowledged the competitive energy landscape forming between rival jurisdictions worldwide when it noted: "The accelerating transition to net-zero has started a global race to attract investment as our friends and allies build their clean economies. Canada must keep pace. We cannot afford to fall behind."
Included among the federal incentives are the following:
Investment Tax Credit for Clean Technology Manufacturing. This investment tax credit would cost $4.5 billion over five years, starting in 2023-24, and an additional $6.6 billion from 2028-29 to 2034-35. Investments by corporations in certain depreciable property that is used all (or substantially all) for eligible activities, such as manufacturing of batteries, fuel cells, recharging systems and hydrogen refuelling stations for zero-emission vehicles, would qualify for a refundable investment tax credit of 30 percent of the capital cost of eligible property associated with eligible activities. These activities would also include the extraction and certain processing activities related to six of the 31 minerals that are part of the Canadian Critical Minerals Strategy, which are essential for clean technology.
Enhancing the reduced tax rates for zero-emission technology manufacturers. The corporate income tax rate for zero-emission technology manufacturers is reduced by 50 percent until 2032. Budget 2023 proposes extending the tax reduction for an additional three years.
Support for clean technology projects. Over ten years, about $500 million will go to the Strategic Innovation Fund to support the development of clean technologies in Canada. The fund provides funding for large projects, including those in the battery sector. The budget also plans to direct $1.5 billion of existing resources toward clean technologies, critical minerals (including those necessary for batteries) and industrial transformation projects.
A 15 percent refundable tax credit for eligible investments in non-emitting electricity generation systems. The credit would also apply to abated natural gas-fired electricity generation and stationary electricity storage systems that do not use fossil fuels and equipment to transmit electricity between provinces and territories.
Orienting the Canada Infrastructure Bank towards becoming the government's primary financing tool for clean technology. This includes electricity generation, transmission and storage projects, with at least $20 billion targeted for clean electricity and growth infrastructure projects in 2023.
An investment tax credit for clean hydrogen. The credit would range between 15 to 40 percent according to determined carbon intensity tiers; and
The expansion of eligibility for the Clean Technology Investment Tax Credit. It provides a 30 percent refundable tax rate to support Canadian businesses adopting clean technology.
Amadee says the incentives and investments outlined above and other initiatives included in Budget 2023 demonstrate a concerted effort by the federal government to ensure "that Canada remains at the forefront of the global clean energy revolution."
He adds that those in the EV and batter space should consult lawyers knowledgeable in what the new government incentives allow. "It's super important to understand what programs they could qualify for and how to negotiate directly with the government to take advantage of those incentives."