Vancouver lawyer says she wanted to understand something that touched her day-to-day life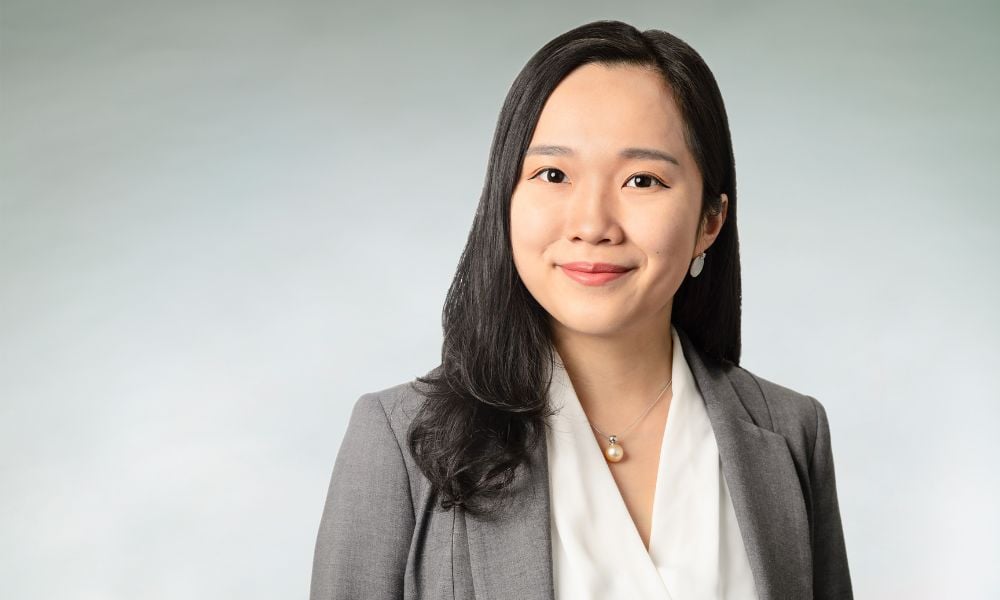 In writing a chapter on the supply chain and fast fashion in a book outlining thought from millennial lawyers on corporate law and sustainability, Vancouver lawyer Selena Chen wanted to "touch on something that is applicable to my day-to-day life."
And as a young lawyer who has purchased clothing from the likes of Zara, H&M and Forever 21, Chen, an associate with MLT Aikins, felt it essential to explore what these fast fashion retailers are doing when it comes to Environmental, Social, and Governance (ESG) practices that promote sustainability. So she was thrilled that she was one of several millennial lawyers who contributed a chapter to Corporate Law and Sustainability from the Next Generation of Lawyers, focusing on corporations' roles in advancing sustainability goals and human rights.
Carol Liao, an associate professor of law, UBC Sauder Distinguished Scholar, and director of the Centre for Business Law at the University of British Columbia, edited the book. What became the chapters in the book started as end-of-course papers the students were required to submit.
According to an entry for the book on amazon.ca, "millennials have come of age in an era when environmental and social crises have defined much of their adult lives, as has the recurrent message that time is of the essence." Future generations will "bear the greatest burden created by climate change, pandemics, and inequality, but often they are not in positions of power to make impactful decisions about it."
The point of the book is to "give young lawyers a voice offering new critical perspectives in the burgeoning field of corporate law and sustainability."
The blurb on the Amazon site adds: "Climate change is an intergenerational crisis, and the solutions and path forward must include intergenerational voices." Millennials are rising in power at a critical juncture in our climate and corporate history, and their perspectives stand apart from those who have been trained into myopic views of what constitutes change."
The chapters in the book "challenge the status quo" across several pressing ESG topics, including executive compensation, board diversity, decolonization, crowdfunding, social media risk, corporate lobbying, shareholder activism, tax avoidance, global supply chain management, and human rights.
In her chapter, "Behind the Veil: An Analysis of Fast Fashion Retailers' Engagement with Sustainable Supply Chain Management," Chen examines how fast fashion retailers handle supply chain risks through public disclosures and corporate social responsibility initiatives.
"I wanted to do my research to understand what kind of things I am interacting with on a day-to-day basis and how my very small act of purchasing this $29.99 shirt from Zara actually contributes to or takes away from the greater picture" of sustainability."
She concludes that while there are challenges ahead, these retailers are trying to move towards more sustainable practices and responsibly disclose them. The evolution of ESG as a core principle in the minds of consumers and governments means these retailers understand that they cannot "simply be reactive" to the concerns, Chen says. They must be able to take proactive steps and address not just increased disclosure of their ESG measure but more specified disclosure to address concerns and risks for the future.
In Canada, public companies must report on ethical business practices and corporate governance – and they could face reputational harm and a blow to their bottom line if their supply chains run up against human rights and other sustainability risks.
Investors increasingly demand sustainable business practices from fast fashion retailers, which may compel companies to be on their best behaviour – particularly as regulators worldwide begin to crack down on misleading corporate sustainability claims.
Chen's chapter looks at the internal monitoring systems of fast fashion chains, including important ESG issues such as the reporting mechanism for wages. "What are they paying their workers, what are the conditions they are working in," Chen says. Her chapter also looks at how this disclosure information is presented to consumers, who judge whether the efforts are sufficient or whether it is a matter of greenwashing.
However, Chen wants to make clear that while she is a lawyer who practises corporate law, with a focus on corporate finance and securities and mergers and acquisitions, she is not an expert in ESG issues. Writing the chapter allowed her to explore a topic that she believes will become increasingly important.
"It is definitely something that I wish was more a part of, because I think ESG is very integral to the future practice of law and especially in the impact on corporate and commercial law," she says. And from a practical standpoint, understanding ESG concerns and the voluntary or mandatory disclosure that surrounds the topic will become an increasing
Chen obtained her Juris Doctor in 2019 from the Peter A. Allard School of Law at the University of British Columbia. She completed her articles with MLT Aikins in 2020 and was previously a summer student in the firm's Vancouver office in 2018. Before attending law school, Chen completed her Bachelor of Arts at New York University, graduating magna cum laude. She is fluent in Mandarin.
"I was one of those kids that knew at a young age that I wanted to be a lawyer," says Chen. "It is a profession that allows you to engage with society."