Firm's growth partly due to COVID-related employment and class-action work: founders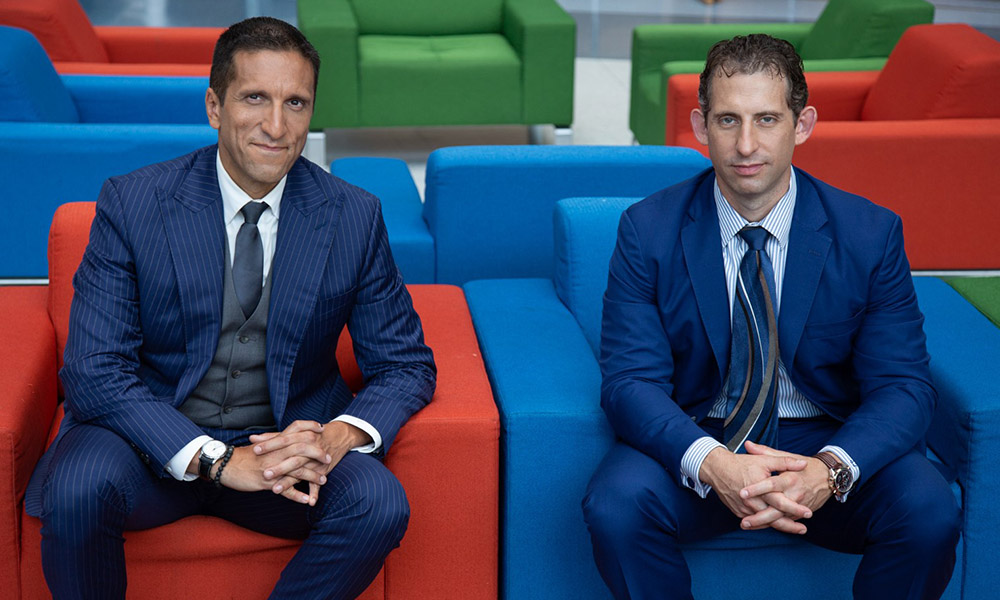 Following a year rife with novel legal issues in the workplace, the employment law firm Samfiru Tumarkin LLP has kicked-off 2021 with an expansion into Calgary.
From temporary layoffs, constructive dismissals, salary and hour reductions, work-from-home arrangements, to workplace health and safety questions, COVID has spawned an abundance of employment-law issues. Seventy-five per cent of Samfiru Tumarkin's work is in employment law. They also handle disability matters, many of which also concern the workplace. Since the pandemic began, the firm has added 12 lawyers, a paralegal and 22 support staff: in total, the expansion has grown the firm by 47 per cent.
The firm, founded by Lior Samfiru and Sivan Tumarkin, added the Calgary office Jan. 1, after opening one in Vancouver three-and-a-half years ago. They also have offices in Toronto and Ottawa.
Back in March when COVID hit, like everyone else, the firm was "stopped in our tracks," says Tumarkin. But despite the uncertainty, the firm's partners and management made the strategic decision to "pivot directly into the storm," he says.
"I can't imagine that in modern times there's been a period during which employment and workplace issues have been as prevalent as they are now," says Samfiru. "I mean, pretty much everyone's job has been impacted in some way."
Most prolific have been questions surrounding temporary layoffs, he says. There is an inconsistency between what employers and employees believe temporary layoffs are and how they are defined by law. With hundreds of thousands laid off across Canada due to COVID, there is an overwhelming assumption that temporary layoffs are legal, when, in most situations, they are not, says Samfiru.
Also prominent are legal questions around workplace safety and reductions in compensation and hours, he adds. The former are concerns that did not exist pre-COVID, and for the latter, employees have recourse, though it is difficult to figure out what it is, says Samfiru.
"We've been able to convey those messages – and that's, I think, what's kept us very, very busy – by informing and educating the public as to their rights in this very unique situation that we've been in."
Tumarkin and Samfiru attribute much of the onslaught of new client intake to the relationship the firm has built with the public through their media appearances and the legal information they make available through those and other channels.
"Those are huge, huge issues that we had to address head on," says Samfiru. "And I can tell you that I'd log on to do my radio show – which I host several times a week – the moment we opened our lines, we'd be flooded with calls. In an hour-long show, we can get through all the calls that we had. It was just madness because everyone's job was impacted."
The pandemic has also produced a number of prominent class actions with which Samfiru Tumarkin is involved. The firm is representing plaintiffs against a TD Bank subsidiary which provides travel insurance and was denying refunds for those faced with trip cancellations caused by COVID. The insurer would only offer credits and Tumarkin says there is nothing in the insurance policies that allow them to do that. The certification is scheduled for September.
Another also concerns plans cancelled because of COVID. Explorica by WorldStrides is an educational travel company from which Canadian schools book trips abroad for students. Faced with cancellations, there is a fight between Explorica and their insurers, Arch Insurance and Old Republic Canada, over who is on the hook to refund parents.
"Long story short, none of these families have been paid," says Tumarkin. "…These two are completely COVID-related. Which is really, again, unprecedented."
The firm is also counsel – along with Wright Henry LLP – to the plaintiff David Heller in Heller v. Uber Technologies Inc. A dispute over Uber's arbitration clause in the proposed $400-million class action went to the Supreme Court of Canada, which ruled the clause unenforceable in July. Now that the case can proceed, Samfiru says Heller's certification motion will be heard in June.