Why it's vital that businesses lead with empathy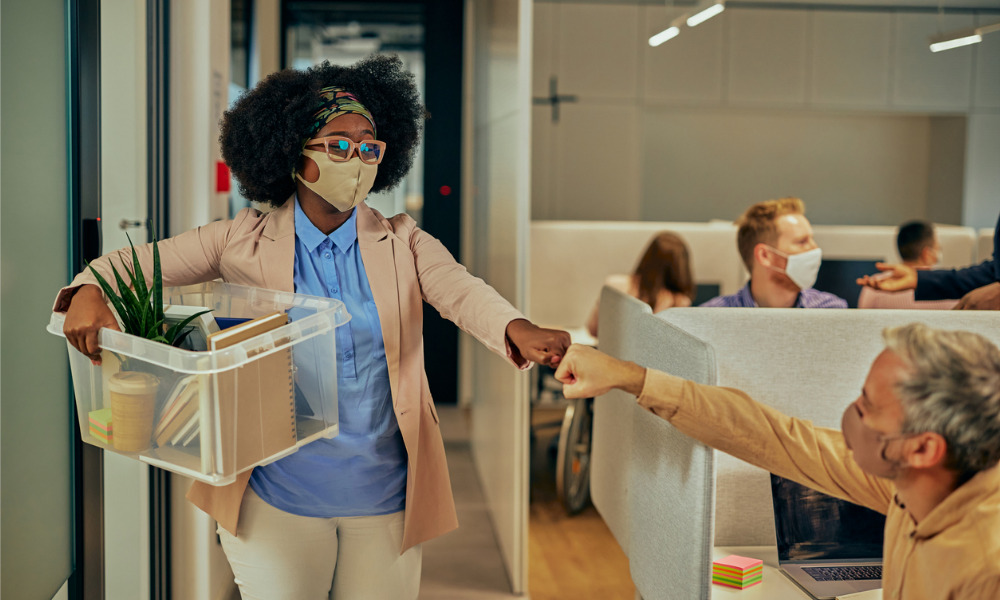 As workers slough off their lockdown locks and contemplate a return to the workplace to reconnect and reengage with colleagues they haven't seen in person for more than two years, what are the numbers saying about who is returning full-time and who is remaining at home?
It seems to be close to an even split, according to a recent survey of small business.
"As Canadian SMBs emerge from the pandemic, business is good. The strong productivity experienced through flexible work options and collaborative technology bodes well for the future," says Chandrashekar LSP, Zoho Canada's evangelist.
33.5 per cent are heading back five days a week, while 36.8 per cent are adopting the hybrid approach and the remaining 29.7 per cent are opting for a full-time remote situation, found the survey done by Zoho Canada.
Not all good news
But things are not progressing as well as perhaps employers are hoping for, found recent research done by Future Forum, a consortium launched by Slack with founding partners BCG, MillerKnoll and MLT.
"As employers are rolling out their return-to-office policies, employee sentiment is down; employees are struggling and we're seeing a very sharp drop when it comes to experience scores and some factors like work-related stress and anxiety, they're at record lows. These scores are particularly low for employees who are returning back into the office full-time and, oftentimes, they're the only ones who are returning back," says Sheela Subramanian, vice-president of Future Forum at Slack in San Francisco.
With this unease brewing, it's causing a rise in work anxiety, says Margo Hoyt, managing director of talent and leadership development at HR consulting firm LHH in Ottawa.
"We've hit a place where leaders, employees, organizations have become quite familiar with a different way of working than we were familiar [with] before, and there's been so much positive related to that, but the anxiety and stress of having to give that up and go back and work full-time in an office is really quite overwhelming for many," she says.
For business leaders, it's important to keep the pulse on how these workers are feeling in these continued times of great upheaval and ongoing transitions, according to Subramanian.
"Oftentimes, the pattern of 'We need to go back to how things were' is because employers don't necessarily trust their employees to do what's best for the business. These top-down, return-to-office mandates, they're not effective; they're not a way to engage your employees and they're not acknowledging that times have changed, both in terms of technology, as well as sentiment about work. There's a general broader trend that's happening. People call it the 'great resignation'; I tend to think of it as a 'great rethink' and people are evaluating the way that work fits into their lives."
Legal considerations
In order to manage a successful transition back, there are a number of areas to keep in mind such as vaccinations, accommodations and COVID protocols that may remain in workplaces, says an employment lawyer.
"The rules about application of a mandatory vaccination policy, gleaned from earlier arbitration decisions appear unchanged. An employer whose operations cannot be performed remotely may have an easier time defending a mandatory vaccination policy, and an employee who refuses to comply, without legitimate reason, may be placed on unpaid leave, apparently indefinitely. Even decisions that have affirmed vaccination policies are not legal precedents which confirm that refusal to be vaccinated is just cause for dismissal; that remains to be determined," says Geoffrey Lowe is an associate lawyer at Rudner Law in Toronto.
Keeping workers safe remains a clear imperative, despite COVID seemingly receding in the public consciousness as a danger, he says.
"The absence of a governmental mandate for masks or social distancing does not mean a workplace must go without these. The employer has managerial rights and may, within reason, direct its workforce as necessary — including mandating masks and social distancing."
And employers must continue to offer accommodations for those employees who request it, says Lowe. "New areas under these protected grounds will likely need to be considered. The impacts of long COVID continue to manifest and may require reasonable accommodations of a new nature."
'Lead with empathy'
For managers, respect and empathy are always key in any work situation but even more so during these challenging times, says an expert.
"We're emphasizing with all of our people not just to respect everybody's different points of view but also support one another. It's been a difficult two years for everybody, so as we come back and reintegrate, it's vital for us to lead with empathy," says Mark Lang, head of Colliers' return to the office task force.
While communication plans are important, and flexibility will remain an important tool, keeping agile is also key.
"I think it's going to continue to change in the coming months, and we are just going to have to continue to stay nimble and work with our people to ensure that they thrive in their environment once they return to work," says Lang.