Legal departments focus on health and safety as hybrid work models become the norm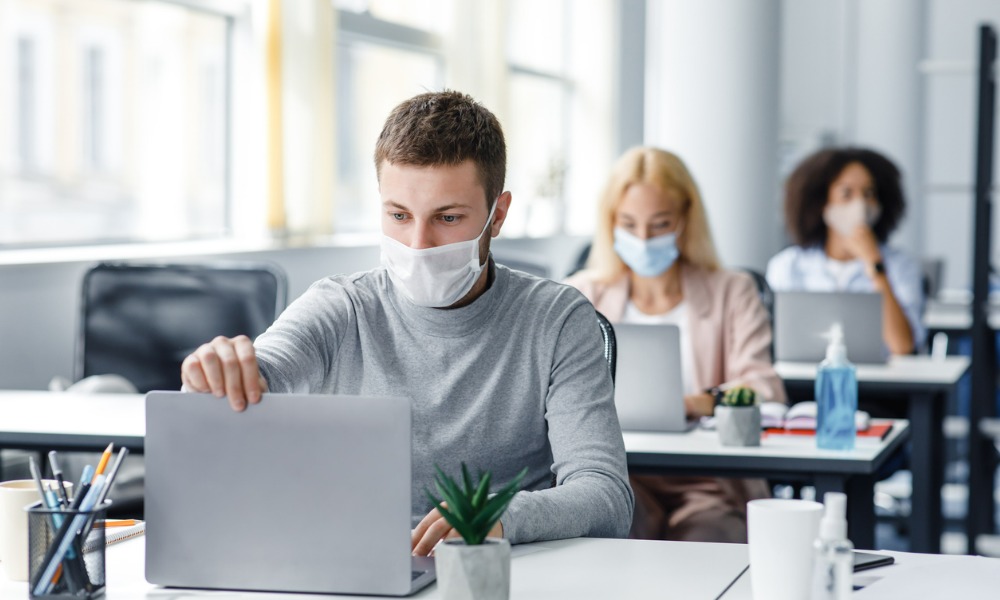 As many employees begin to return to offices after more than a year and a half of remote work, legal departments are integral in establishing a safe framework that supports the evolving needs of the business and its employees.
The health and safety of employees should be top of the list of priorities for employers as they prepare a return-to-office plan, according to Elisa Scali, a partner in Gowling WLG's Ottawa office and a member of the firm's national employment, labour & equalities practice group. Employers that are provincially regulated should seek guidance and instruction from provincial workplace safety legislation, in addition to health and safety recommendations or instructions issued by public health officials, Scali says.
In Ontario, for example, employers must ensure that they comply with their obligations under the Occupational Health & Safety Act and the Reopening Ontario (A Flexible Response to COVID-19) Act 2020, which sets out the rules under which an organization may be open. These rules include a requirement that employers prepare a safety plan which details measures and procedures to reduce the transmission of COVID-19, such as screening employees, physical distancing and masking requirements.
If an employee refuses to return to the office, the employer should first confirm the reason for the refusal before insisting that the employee return to the office, Scali says.
"Take the time to discuss the reasons with the employee, so you're in a position to make a sound decision in compliance with your legal obligations and avoid potential unnecessary claims," advises Scali.
The health and wellbeing of employees is a top priority at Mercedes-Benz Financial Services Canada Corp. So, the legal department aims to keep employees informed of all safety precautions being taken by the company and any changes to regulation that might impact the return to office strategy. Providing consistent service to external business partners regardless of the location of employees is also a priority at MBFS.
A return to office will be "purpose-driven," says Hina Latif, vice president, general counsel, corporate secretary and diversity leader at MBFS. "Employees will come to the office for collaboration, connectivity and camaraderie, and to attend critical meetings," says Latif. "All employees are not expected to be in the office at one time, offering the opportunity to tailor their time for maximum value." The legal team is focused on adhering to changing rules and regulations on social distancing and continually educating the business on maintaining data privacy and security, regardless of where employees may be working. While MBFS encourages employees to get vaccinated against COVID-19, it will not ask employees to disclose vaccination status.
Many employers are introducing flexible or hybrid working models instead of requiring a full-time return to the office. For example, Purolator Inc. is working on a plan to meet the differing needs of all employees.
"We hear over and over that the isolation of the pandemic is one of the key contributors of the stress levels of our employees, so they are seeking a regular pattern of an office workday," says Jodie Sourlis, assistant general counsel at Purolator. "Other employees have been productive and happy not having to commute, so we're looking to make a plan that satisfies both needs."
Sourlis and her team are diligently monitoring health advisories as well as the feedback of employees as they plan a flexible return to the office. Physical distancing and masking policies will help to protect employees as they return to the office.
Scali recommends communicating the terms and conditions that will apply to a remote working arrangement in writing to employees. She says that being clear about the exact location of remote work is important and specifying that any alternative remote work location is subject to the employer's approval.
"Lack of clarity with respect to the remote work location could lead to situations where an employee assumes it is okay to work remotely from a different jurisdiction without the employer's knowledge, which depending on the circumstances, could have implications on the applicable employment laws, human rights, workplace safety requirements and tax laws," says Scali.
Furthermore, suppose an employee handles sensitive and confidential information. In that case, Scali says that the employer should communicate any specific requirements to maintain confidentiality and security of the employer's information at the remote work location.
With increased stress and mental health issues during the pandemic, employers are focusing on protecting employees' mental health during the transition phase to new working models.
At Mercedes-Benz Financial Services, the team provides access to physical activities, including virtual fitness classes, activity tracking contests and designated activities pushed to staff to help alleviate stress. For example, staff will receive a push notification at a particular time to remind them to go for a walk. From a diversity and inclusion perspective, Latif's team also focuses on facilitating dialogue within small group settings to understand unique mental health concerns impacting specific staff.
A significant amount of planning is also going into the return to office plan at Purolator. The legal team is part of a cross-functional "return to office" committee established to help ensure that they meet employees' needs and consider their perspectives.
"We want to not only retain talent, but attract new talent," says Sourlis. "We are alive to the intensive workloads our employees are experiencing — and their workloads over the last 17 months — so physical and mental health and wellbeing are our top priorities." With this in mind, Purolator has increased educational programs and first aid training for employees and enhanced mental health services and benefits during the pandemic.
"The world has changed in so many ways, and our national workforce is diverse with varying needs," says Sourlis. "We really are remaining flexible and fluid with regard to our return to office approach."