Despite gloomy forecasts and tech sector reckoning, approach is relatively sanguine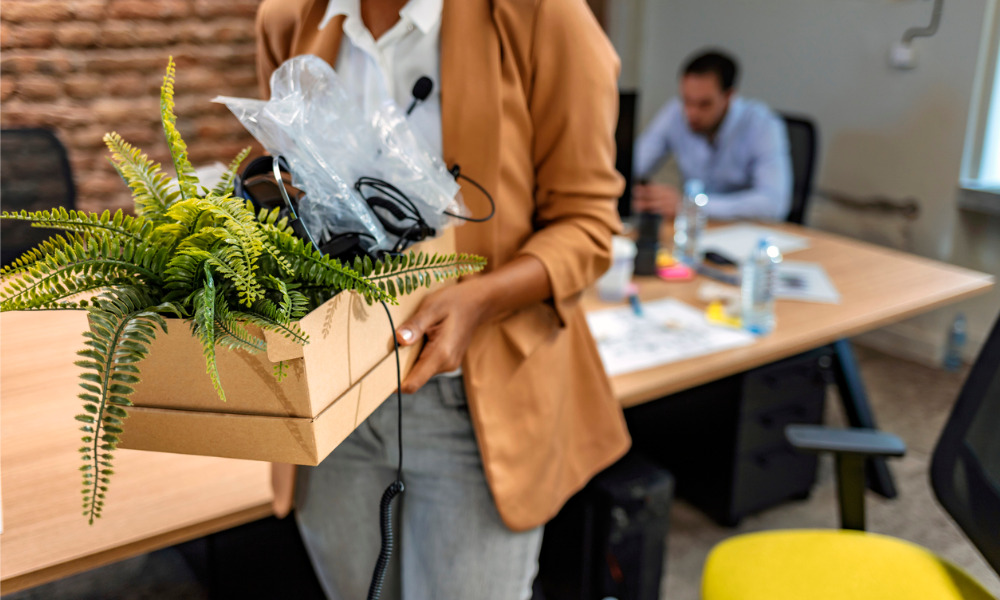 With a recession all but certain in the new year, many employers and employees are hunkering down for tough times ahead.
While gloomy times are being predicted, most American workers (59 per cent) aren't concerned that they or someone in their household will be laid off or lose their job in the next few months, according to the latest CNBC/Momentive Workforce Survey.
And more than a quarter (26 per cent) aren't concerned at all about potential layoffs, finds the survey of over 10,000 workers in the U.S., conducted Nov. 28 to Dec. 5.
This is because 74 per cent of workers believe their company is prepared to handle a recession if one were to occur, including 27 per cent who believe their company is "very prepared" to weather a potential recession.
Yet, remote workers are less confident: just 24 per cent of those working fully remotely say that if they lost their current job, they could find a new job with similar pay in less than a month — nearly half the number of fully in-person employees who say the same (41 per cent), finds the survey.
Tech industry reckoning
For some high profile companies, those employees shouldn't be so comforted as Amazon says it plans to lay off about 10,000 workers in corporate and technology jobs in what would be the largest job cuts in the company's history.
This would affect roughly three per cent of Amazon's corporate employees and less than one per cent of its global workforce of more than 1.5 million, reports the New York Times. They will focus on Amazon's devices organization, including the voice assistant Alexa, as well as at its retail division and human resources, according to the report.
From April through September, Amazon reduced staffing by almost 80,000 people, primarily shrinking its hourly staff through high attrition. The company also froze hiring in several smaller teams in September before stopping hiring for more than 10,000 open roles in its core retail business in October.
Salesforce, which has about 80,000 employees, has announced it's laying off 10 per cent of its workforce, according to a regulatory filing. The San Francisco-based technology giant — the largest private-sector employer in the city — has almost tripled its workforce in the past four years, Bloomberg reported.
Dozens of acquisitions, including buying Slack in 2021, have also contributed to the ballooning employee base. For example, headcount swelled by more than 30,000 from the dawn of 2020 to the end of October 2022.
"The environment remains challenging and our customers are taking a more measured approach to their purchasing decisions," says Salesforce CEO Marc Benioff in a letter to employees recently, according to Bloomberg.
"As our revenue accelerated through the pandemic, we hired too many people leading into this economic downturn we're now facing, and I take responsibility for that."
Not only tech firms
These troubles are not only affecting tech companies, financial giants are also looking to cut staff.
Goldman Sachs plans to let go as many as 4,000 employees, or eight per cent of its workforce, Semafor reported. The job cuts will impact every division of the New York-based bank and will likely happen in January, CNBC reported. In September, the finance giant cut several hundred jobs, The New York Times reported.
Historically, the firm has conducted an annual culling cycle, but that was on pause during the COVID-19 pandemic. In July, the company said it planned to slow hiring and reinstate annual performance reviews, which are typically used to determine which employees aren't pulling their weight.
Last week, Goldman Sachs CEO David Solomon indicated that the bank may have to cut jobs to navigate the future. "It's a natural phenomenon that you therefore have to trim," Solomon said during the Wall Street Journal's CEO Council Summit.
"We're going through the process of thinking about how we're going to do that. But for sure, we'll have to narrow our footprint a little bit."
How to do it right
Whether they are big or small in scale, companies need to handle employee terminations the right way, not only because it's morally correct but it can be important to the bottom line, according to a workplace expert.
It all begins with having a plan of attack.
"If your organization doesn't already have some sort of formalized layoff process or precedent or procedure, create one now before it's needed and when stress levels rise. It's like a crisis management plan you hope you never have to use it but it sure is nice to have something to start from," says Alyson House, assistant professor of strategic human resources management at Athabasca University in Alberta.
"This is certainly not the time to wing it."