What challenges will the impending legalization bring for employers?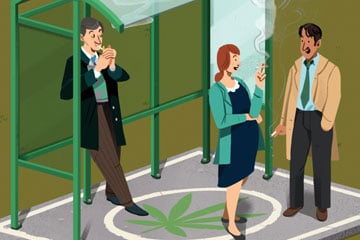 What challenges will the impending legalization bring for employers?
With Senate approvals received for the government's Cannabis Act, Prime Minister Justin Trudeau announced in late June that Canadians will be able to consume recreational marijuana legally as of October 17.
But across the country, labour and employment lawyers have expressed reservations that the provinces would have time to set up their systems for selling recreational marijuana for the projected date of July 1. But no matter how long it will take to set up a government-controlled system for selling the drug, the legalization of recreational marijuana use will present some new challenges for employers — and if employee policies haven't been updated to reflect that the once-illegal drug will soon be legal, now is the time to do it.
Lorenzo Lisi, a partner at Aird & Berlis LLP in Toronto, says Ontario is "not even close to being ready" to sell cannabis in stores, even though the province had anticipated that 40 bricks-and-mortar cannabis stores would be open for business by July. More important, from a workplace perspective, is that marijuana will "no longer be an illegal drug."
However, says Lisi, "The real issue becomes what do we do in workplaces where we suspect impairment?" And how is impairment detected?

Impairment and detection
"I think one of the biggest challenges for employers is being able to spot impairment" from marijuana and then knowing how to respond to such impairment, says Drew Demerse, a partner at Roper Greyell LLP in Vancouver. Employers don't have access to a "breathalyzer" equivalent for marijuana and its psychoactive component, tetrahydrocannabinol, or THC, says Demerse, and consumption can also be inconspicuous.
"The stereotypical person smoking on a sidewalk in a cloud of smoke isn't always the way marijuana is consumed," he says, and cannabis can also be consumed in brownies and candies.
Alexandra Meunier, an associate at Fasken Martineau DuMoulin LLP in Montreal, agrees it is more difficult to detect impairment from marijuana. "Alcohol consumption, regardless of someone's personal . . . tolerance, shows," she says, adding that consumption of THC may have more differing effects depending on the individual. An odour of cannabis and bloodshot eyes may be clues to cannabis consumption, "but they may vary from individual to individual."
The type of testing for alcohol consumption is not available for marijuana consumption, notes Damian Rigolo of Osler Hoskin & Harcourt LLP in Calgary. And "different types of plants have different strengths . . . how long THC stays in the system is also at issue," he says. "That'll be one of the big challenges: to test and prove [cannabis] impairment in employment."
All that said, "The legalization of recreational marijuana in this country doesn't erode the employer's right to insist employees are free from impairment when they show up to work," notes Demerse, adding that legalization of recreational marijuana use will not change the employer's right to control drug use where it affects the workplace.

Safety first
The use of medical marijuana in the workplace is governed by provincial health and safety legislation. Under the Ontario Health and Safety Act, for example, employers are charged with taking "every precaution reasonable in the circumstances for the protection of a worker." This means employees do not have the right to be impaired in the workplace where that impairment may endanger their own safety or that of their co-workers.
And although drug testing in Canada is restricted to specific circumstances, "employers do have the right to post-incident drug testing" where a serious safety incident or near-miss has occurred, Demerse notes, as well as where there are signs of impairment. And employers running safety-sensitive operations have the right to require pre-employment drug testing as a condition of hire, he says.
Of course, some industries are more safety sensitive than others, and when the federal government's proposed legislation to legalize recreational cannabis was announced, "it caused a relatively big kerfuffle for employers" in Alberta, says Damian Rigolo of Osler Hoskin & Harcourt LLP in Calgary.
"Our main industry is oil and gas; so, health and safety is a huge concern." Despite this, Rigolo says, Osler's view is that "Armageddon isn't coming. You can treat marijuana like other drugs," first, as a prescription if it's medical marijuana, and second, for recreational marijuana, as alcohol might be treated. "The fact that marijuana may become legal doesn't give a person an unfettered right to use it at work."
The focus of employers' testing will be the forklift driver, and those operating complex and heavy machines in the oil and gas industry, says Rigolo, adding that there would be no reason — or right under the law — to give a test for alcohol or drugs to a receptionist or other office worker.

Accommodation
Employers will have a duty to accommodate individuals using medically authorized marijuana and those addicted to marijuana, as for any other drug.
Employers don't have to put up with the use of marijuana in the workplace unless there's a workplace accommodation issue, says Richard Charney of Norton Rose Fulbright LLP in Toronto. An employee must first show that he or she has a medical justification for using it, he says. "That gets the employee a foot in the door."
But in last year's Ontario Divisional Court decision in Bottiglia v. Ottawa Catholic School Board, the panel ruled that in certain circumstances an employer will be justified in requesting an independent medical examination, or IME, as part of the duty to accommodate imposed upon employers under Ontario's Human Rights Code.
"So, employers . . . shouldn't get intimidated by [the] marijuana" accommodation, says Charney. "Employers should have the confidence in their ability to control it and, indeed, an obligation, in order to balance the age-old tension between workplace safety on one hand and accommodation on the other. An employer may inquire as to the extent of an employee's need for medical marijuana from a doctor and can ask the doctor to comment regarding his or her knowledge of the employee's job."
Meunier identifies addiction as a potential area of concern with the legalization of recreational marijuana. "The more people consume marijuana, the more potential for addiction might exist," she says.
Demerse, however, notes, "The advice I get from medical experts is that marijuana isn't nearly as addictive as some other drugs. Some still abuse it, and where they do, the employer would have the same obligation to accommodate the substance-use disorder. But an employee has an obligation to facilitate the accommodation process, including following the advice of medical professionals to get the help they need to manage their substance-use disorder."

Updating workplace policies
Although Meunier, like others interviewed for this report, doesn't believe that provinces will be ready to roll out commercially available marijuana until the autumn at least, there is no time like the present to update workplace policies.
"You've got to check your policies," says Lisi. "Make sure they're clarified, so that everyone understands that if an employee is addicted to marijuana, they have to disclose it."
There is no need to change policies regarding impairment, he says, and policies will differ depending on the culture of the workplace.
"If you're already in a workplace where alcohol and drugs are prohibited," there won't be any changes required to a workplace policy, Meunier notes. "But there are workplaces that allow for a little bit of alcohol. In that case, they must make sure that their policy provides that illegal drugs are prohibited."
And while some employers may want to prohibit marijuana consumption for safety reasons, others may wish to prohibit it for image reasons, she says. For example, it may not be good for a shop's image if the shop clerks smell of marijuana. "The response [of employers] has to be tailored to the specific needs and concerns of each business."
More of the same
The legalization of recreational marijuana will not force employers to drastically change their workplace policies. "It's harder to detect impairment [with marijuana,] but other than that, it's more of the same," says Charney. "Arithmetically, it increases the problem [of impairment and addiction,] but not so much qualitatively."
"I think what legalization of recreational marijuana is doing is putting a spotlight on issues that already exist in workplaces today," Demerse says. "It's a matter of setting clear expectations for employees, about their obligation to come to work unimpaired by any substance that affects their ability to perform their job safely and productively."
In general, a well-drafted drug and alcohol policy, requiring an employee to advise of any drug use, will give an employer an advantage, says Rigolo. Employers will continue to want health and safety rules to be respected, and "a policy to address [this] in a rational way, without preconception, may be the best way to approach this."
Editor's Note: The first paragraph of this article was updated from the version that appeared in our print issue with the new October deadline for the legalization of recreational marijuana.