This week's roundup for courthouses across Canada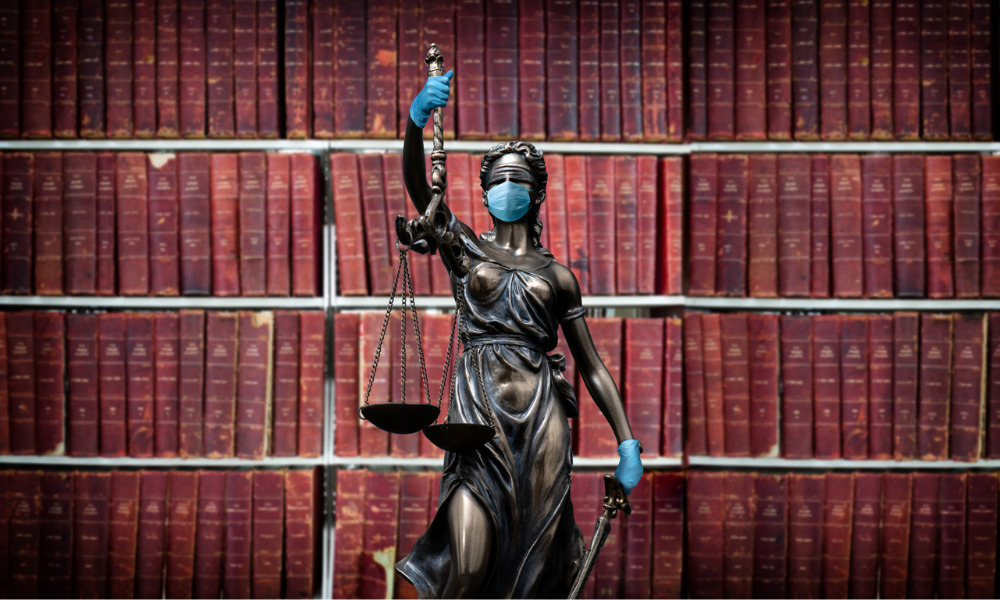 The guidelines, updated in September, provide information on matters including health and safety measures, physical distancing measures, security and enforcement of measures, engineering controls, administrative controls, the registry counter, public and media access and the measures applicable to entering the court facilities and being in the courtroom, elevators, escalators and public washrooms.
British Columbia
Supreme Court of British Columbia
COVID-19 Notice No. 44: Notice to the Public and Profession regarding Use of the File Transfer Server – Insolvency and Other Proceedings
Parties in all kinds of proceedings can be directed by the court to use the file transfer server and should adhere to the document formatting standards provided in the revised notice. It is only parties in insolvency proceedings who can request the use of the file transfer server.
The court has revised the notice, effective immediately, to direct parties and/or their counsel to use Court Service Branch's Form ADM509 for all video conferencing bookings.
Alberta
COVID-19 update - Vaccination policies and access to restricted court workspaces
The Provincial Court of Alberta, the Court of Queen's Bench of Alberta and the Court of Appeal of Alberta have adopted mandatory vaccination policies, effective Sept. 21, which are applicable to all secure areas of courthouses used by judicial officers and by certain staff to which public access is restricted, said an update released by Catherine Fraser, Alberta's chief justice; Mary Moreau, chief justice of the Court of Queen's Bench of Alberta; and Derek Redman, chief judge of the Provincial Court of Alberta. This update responds to the Alberta government's declaration of a further state of public health emergency on Sept. 15. Effective Oct. 8, the courts will question counsel, service providers and visitors who want to access these secure areas of Alberta courthouses regarding their vaccination status. They will deny entry to the courthouse to those who have not been vaccinated or who have not received a negative test result from a privately paid polymerase chain reaction (PCR) test or a rapid test completed not more than 48 hours prior to entry.
Ontario
The pilot project authorizing out-of-court adjournments for enhanced designations of counsel will launch in 2201 Finch Ave. W in Toronto West and in 1000 Finch Ave. W in Toronto North on Sept. 20. Pursuant to the pilot project, accused individuals whose counsel have filed enhanced designations of counsel can have their matters adjourned to the next court date, even though such matters have not been addressed in court.
Prince Edward Island
Notice to the profession, the public and the media regarding non-medical masks in court facilities
Effective Sept. 17, the Provincial Court of Prince Edward Island, the Supreme Court of Prince Edward Island and the Prince Edward Island Court of Appeal are again requiring non-medical masks in all indoor public spaces, including in the courthouses, in line with an order of the chief public health officer. The presiding judge has discretion over the mask-wearing requirement once individuals have been seated in the courtroom.
Northwest Territories
Territorial Court of the Northwest Territories
According to the update on Sept. 21, for Civil and Family Court proceedings both in and outside of Yellowknife, all appearances and other matters will be conducted by teleconference until Oct. 11. For Criminal and Youth Justice Court proceedings outside of Yellowknife, the scheduled sittings listed in the directive are cancelled. For out-of-custody Criminal and Youth Justice Court proceedings in Yellowknife, docket day appearances, trials, preliminary inquiries and hearings until Oct. 8 are cancelled. Following Oct. 8, adult criminal dockets for individuals who are at liberty will be heard each Tuesday indicated as available on the court sittings schedule. For in-custody Criminal and Youth Justice Court proceedings in Yellowknife, all trials, preliminary inquiries and hearings until Oct. 11 are cancelled, with all such matters spoken to on Oct. 12. Except for the stated changes, following Oct. 11, all matters can still be scheduled in the ordinary course, until further notice.