One judge assigned to Quebec district and the other four to Montreal district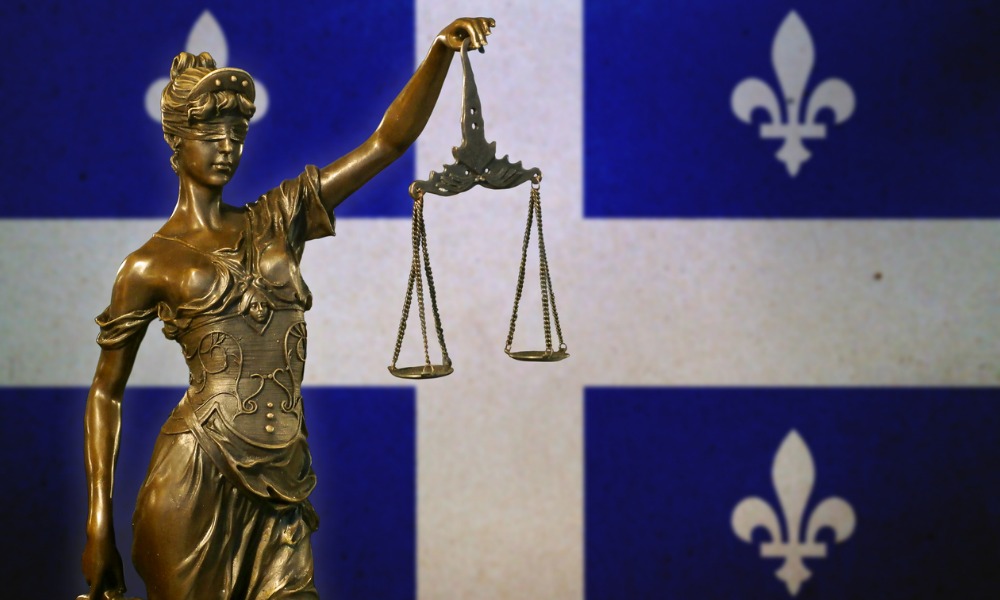 Minister of Justice and Attorney General of Canada David Lametti recently announced the appointments of Jean-Louis Lemay, Renée Thériault, Janet Michelin, Catherine Piché, and David Roberge to the Superior Court of Quebec.
The federal government named Lemay as a puisne judge for the district of Quebec, while Thériault, Michelin, Piché, and Roberge were appointed puisne judges for the district of Montreal.
"I wish Justices Lemay, Thériault, Michelin, Piché, and Roberge every success as they take on their new roles. I am confident they will serve the people of Québec well as members of the Superior Court," Lametti said.
Lemay is a former judge of the Court of Quebec. He replaces Justice Alicia Soldevilla, who chose to become a supernumerary judge in June.
He began his legal career with Grenier Lineau Petit and co-founded his firm, Corriveau Lemay Gauthier. His practice focused on criminal and penal law. In 2010, he was appointed a judge of the Court of Quebec − Criminal and Penal Division. He became an associate coordinating judge of the Criminal And Penal Division in 2013 and a coordinating judge in Chaudière-Appalaches from 2017 until last month.
He has been significantly involved with Barreau de Québec throughout his practice. He served as its president in 2006 and sat on its criminal law and private practice committees. He also chaired the Barreau convention and taught at the École du Barreau.
He obtained his Bachelor of Civil Law degree from the University of Ottawa in 1993 and was called to the Quebec bar in 1994.
Thériault previously served as an executive legal officer at the Supreme Court of Canada in Ottawa. He succeeds Justice David Platts, who formally resigned from the judicial role in February.
She initially clerked for retired Supreme Court judge Claire L'Heureux-Dubé. She then worked at Shearman & Sterling in Paris and Norton Rose Fulbright in Ottawa and Montreal, where she practised litigation and international arbitration.
She was appointed legal counsel at the Supreme Court in 2012. In 2018, she became an executive legal officer to Chief Justice of Canada Richard Wagner. In this capacity, she acted as principal advisor to Wagner concerning the administration of the Supreme Court, the Canadian Judicial Council, the National Judicial Institute, and the Action Committee on Court Operations in Response to COVID-19.
She has received several scholarships and prizes for her involvement with legal aid and piloted various public engagement initiatives regarding the justice system. She has also appeared as a conference speaker and published papers on dispute resolution.
She earned her Bachelor of Civil Law and Common Law degree from McGill University and holds a Masters in Law degree from the London School of Economics. She was admitted to the Quebec bar in 1994.
Michelin is a former partner at IMK LLP in Westmount. She replaces Justice Louisa Arcand, who officially resigned from the judicial post in April.
She began her litigation practice at Colin Irving & Associates (now IMK LLP) in 1997 and was promoted to partner in 2005. She focused her practice on trust and estate litigation and employment law. Moreover, she has represented clients in general civil and commercial matters before the Superior Court and the Quebec Court of Appeal.
Besides her legal work, she taught trial advocacy at the McGill University Faculty of Law for six years. She is a past member of the Society of Trust and Estate Practitioners (STEP) and previously chaired the executive committee of the wills, estates and trusts section of the Canadian Bar Association's Quebec branch.
She received her Bachelor of Civil Law and Bachelor of Laws degrees from McGill University in 1996. She was called to the Quebec bar in 1997.
Piché recently worked as a professor and vice-dean of the Université de Montréal Faculty of Law. She succeeds Justice Micheline Perrault, who chose to become a supernumerary judge in April.
Apart from the vice deanship, she served as scientific director of the Institut québécois de réforme du droit et de la justice and director of the Class Actions Lab. Before joining the Université de Montréal, she practised commercial litigation at national law firms in New York and Montreal. She worked as a law clerk with the then Federal Court of Canada − Appeal Division.
She wrote several books and articles on civil proceedings and evidence, comparative law, and class action law. She was actively involved as a researcher in the reform of class action law in Ontario and Quebec and has been a visiting professor at several European universities. In recent years, she sat on the Federal Court's rules committee and was elected as a board member of the International Association of Procedural Law.
She obtained her Bachelor of Civil Law and Common Law degrees from the University of Ottawa and Dalhousie University. She also holds masters and doctorate degrees from New York University and McGill University.
Roberge is a former partner at McCarthy Tétrault in Montreal. He replaces Justice Marc St-Pierre, who chose to become a supernumerary judge in May.
He was part of the firm's litigation group and specialized in professional liability, health law, disciplinary law, class actions, and environmental law. He was also an accredited mediator.
He was actively involved in several committees of the Barreau du Québec, the Bar of Montreal, and the Canadian Bar Association, particularly in professional ethics matters. He is committed to legal education, having published articles and lectured on various topics, such as expert evidence, civil procedure, and negotiation techniques.
He has volunteered to promote equality and inclusion for the 2SLGBTQI+ communities and by participating in initiatives of Lawyers Without Borders in Haiti. In 2021, he received the Paris-Quebec Prize from Justice Pro Bono and Barreau de Paris Solidarité in recognition of his outstanding pro bono contributions.
He earned his Bachelor of Civil Law and Common Law degree from McGill University in 2001. He was called to the Quebec bar in 2003 and is one of the recipients of the Barreau du Québec's Lawyer Emeritus distinction for 2022.