When White took the helm at the group that helps litigators, she was excited to broaden its reach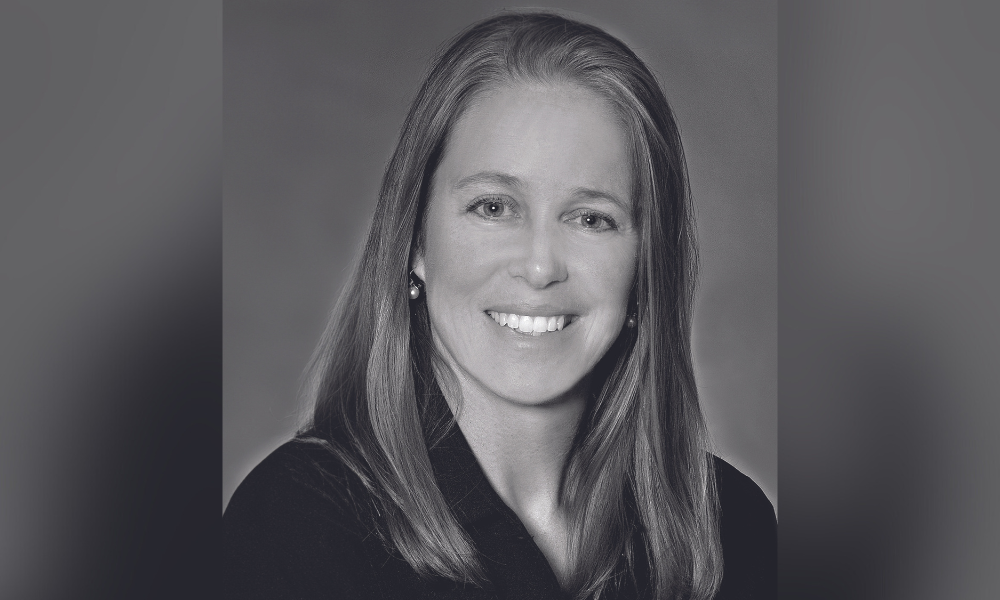 In 2018, Vicki White put aside her stick in exchange for a carrot.
After 10 years as co-director of the legal office at the College of Physicians and Surgeons of Ontario, White became the chief executive officer of The Advocates' Society. While both organizations aim to improve the conduct of professionals, TAS's methods are less harsh.
"When you're on the prosecution side, you're dealing with physicians or professionals who are in crisis, and you are wielding a stick, in that case, that is somewhat limited," White says. "I thought it would be a really interesting opportunity to go at this from the other side, which is supporting professionals."
Through educational and community support, White says TAS ensures litigators and other advocates are "working in the best possible standard rather than ending up at the other end with a stick."
Much of TAS's training comes from litigators at the top of their game. "It's a thing to behold when you see these really high-profile folks who could be going off to represent some very important clients and instead are coming down to teach cross-examination to a group of 12 new litigators who are just cutting their teeth," says White.
Since she joined TAS, White has led the 6,000-member, not-for-profit, national organization of litigators through several initiatives to help improve the justice system and how lawyers work in it.
TAS was well known for providing hands-on training well before White's tenure, but her vision was to ensure it "was truly a place for all advocates, no matter what your background, no matter what your area of practice, no matter where you live in the country."
While the pandemic shift to virtual education helped eliminate many of the geographical barriers that TAS's traditional in-person meetings inevitably created, White says she now sees broader benefits to the national focus.
"It's made us more connected and stronger. So, we still do lots of in-person programs, but we still do lots of Zoom programming. We do lots of programming that connects people from coast to coast."
White oversaw a task force that examined TAS's national outreach and developed and implemented strategies, programs, and events to strengthen communities of advocates beyond Ontario. As she re-invigorated and connected a nationwide network of advocates, TAS saw its highest-ever growth in membership outside of Ontario.
The broadening reach across the country also meant that TAS members could identify the national scope of justice issues. In a recent report entitled Delay No Longer, advocates nationwide worked together to highlight the impact of court delays on the civil and family justice system.
"That report, I believe, is so much stronger because we have advocates across the country who are identifying extreme issues everywhere," says White. "This is not a localized small problem. This is a national systemic crisis."
Unlike the case-by-case approach that White took as a prosecutor, working on that report allowed her to consolidate the concerns of many members to push for systemic change.
"We are able to essentially be a megaphone and amplify our members' voices and allow all that experience and all that passion to be heard by the people who are in a position to do something about it."
White has also overseen initiatives to broaden TAS's reach in ways other than geography. In partnership with the Indigenous Bar Association and the Law Society of Ontario, TAS published a guide for lawyers working with Indigenous peoples.
"We have to understand more about Indigenous orders and how we can marry the systems or how the systems have to exist side by side. It's not good enough yet, and the whole profession has to continue to work at making it better."
TAS also developed a skills training program for lawyers from equity-seeking groups to provide mentoring and professional development opportunities with the judiciary and senior advocates. White worked with the Roundtable of Diversity Associations and the Court of Appeal for Ontario to train these lawyers in trial and appellate advocacy.
More recently, TAS worked with the federal minister of justice on a program entitled Seeing Yourself on the Bench: Finding Your Own Path from Advocate to Judge. Over 450 lawyers participated, and panellists included judges from across the country and a member of the Judicial Advisory Committee in Alberta.
"One of the perceptions of many litigators is that you have to come from a big Bay Street law firm or something that is seen to be a more traditional route to the bench. And so, we have folks from different backgrounds and different experiences come together who are now judges to speak about their experiences."
In addition to inviting judges to speak, White has mobilized efforts to persuade courts to make public statements encouraging increased in-court advocacy opportunities for recently called advocates and advocates from equity-seeking communities. To date, courts in Ontario, British Columbia, Alberta, and Quebec have been persuaded by TAS's outreach, publishing statements encouraging increased involvement by lawyers from these demographic groups.
For White, providing these carrots to lawyers to improve the profession and the justice system could be a model for other professions.
"I've often wondered since leaving the [College of Physicians and Surgeons of Ontario] whether if there were an advocate society for physicians, would we have been able to support some of those docs earlier and keep them out of the disciplinary stream?"
TAS's work, however, continues as the profession faces new challenges. "As our society changes so rapidly with the introduction of generative AI and the challenges to our democratic system and our legal systems, we have to ensure that [TAS] remains the essential community for advocates across Canada."
White has her work cut out for her.
Vicki White's career path
Current position: Chief executive officer, The Advocates'​ Society
Key dates:
1996: Graduated from the University of Ottawa – Faculty of Law
1998: Joined Blake, Cassels & Graydon LLP as an associate
2004: Joined the College of Physicians and Surgeons of Ontario as counsel
2018: Joined The Advocates'​ Society as CEO
The Advocates'​ Society projects
The Right to Be Heard: The Future of Advocacy in Canada: 2021 report providing a model framework for determining the mode of hearing for different types of matters
Guide for Lawyers Working with Indigenous Peoples: 2022 supplement guiding the legal profession on issues such as trauma-informed lawyering, land acknowledgements, and legal developments
Advocacy Skills Training Series: a bespoke program for lawyers from equity-seeking groups providing mentoring and professional development opportunities
Seeing Yourself on the Bench: Finding Your Own Path from Advocate to Judge: a national program encouraging lawyers to consider applying to the federal judiciary
Delay No Longer. The Time to Act Is Now: report released in 2023 urging the federal, provincial, and territorial governments to dedicate resources to the civil and family justice courts