McGrann speaks about litigation and lawyering for a good cause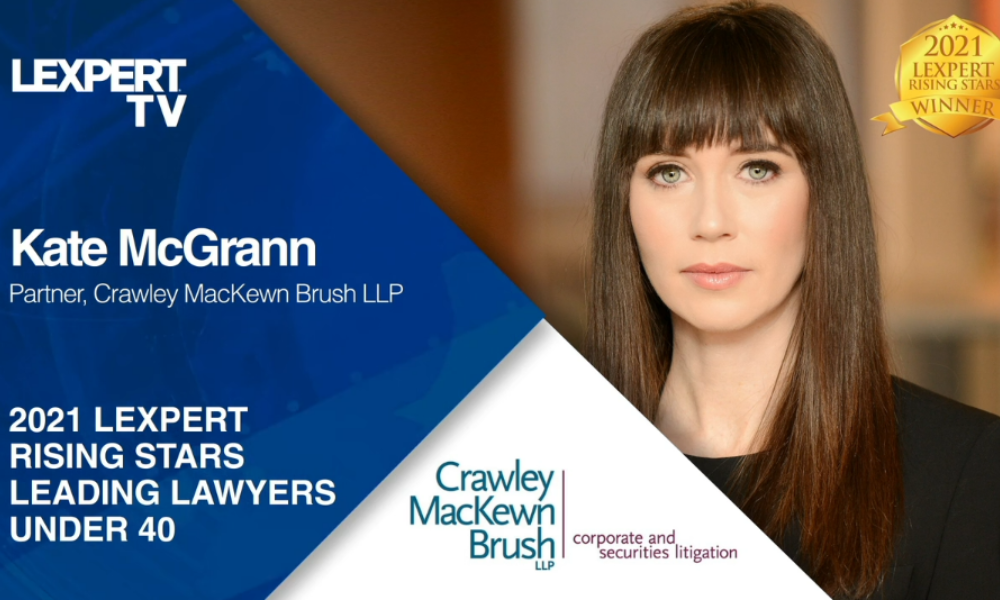 When she was in law school, Kate McGrann enjoyed participating in a legal aid clinic and admired the lawyers who were mentoring the students there. The experience inspired her to do pro bono work although her current litigation practice focuses on commercial, corporate, professional discipline, employment, defamation, and fraud issues. Today, she also advises students at the Osgoode Investor Protection Clinic.
"It's great to be able to use the skills that we often use for private clients in pursuit of a public interest goal. And they generally offer the opportunity to work with people that I wouldn't normally get to work with to learn about topics that wouldn't cross my desk in the normal course of my practice and to tackle issues that just don't normally come up in private practice. It's the challenge and also the feeling that you're contributing to something outside of your normal client base that have come in back to those kinds of projects," she says.
McGrann, a partner at Crawley MacKewn Brush LLP and one of Lexpert's Rising Stars in 2021, appreciates how her profession brings knowledge about topics outside her usual practice. And beyond the demands of research, writing, and planning examinations related to litigation, her role is ultimately "very social" as it requires interaction with clients, court staff, and opposing counsel.
One of her recent public interest duties is being co-lead counsel of Ontario's Long-Term Care Commission, where she has worked with a team of lawyers assisting three commissioners in preparing a report on the spread of COVID-19 in the province's long-term care centers. The team of counsel gathered information from service providers and caregivers, as well as the centers' residents, to determine the factors that led to the spread of the virus and recommend ways to prevent them from recurring.
"The commission was working on a very tight timeline and in real time while COVID was spreading through the homes. We were very lucky to have the benefit of input from a number of stakeholders, both on the professional side and on the living experience side. And I think it helped contribute to a pretty robust report," she says.
McGrann encourages young lawyers to "apply for opportunities that [they] don't yet feel qualified for" as well as to stay curious and continue learning every day so they can do the best for their clients.