Top court also heard cases involving family and criminal law in this week's court roundup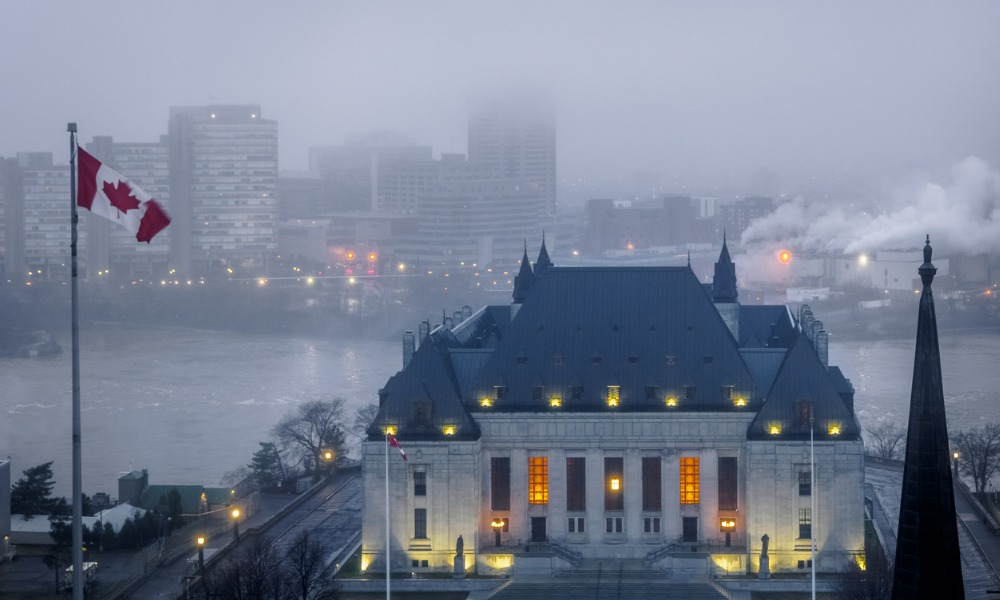 This week, Franklin Gertler Étude Légale, Pape Salter Teillet LLP, Assembly of First Nations, JFK Law LLP, and Conway Baxter Wilson LLP appeared before the Supreme Court of Canada to represent the parties in a case involving aboriginal rights. Meanwhile, Stewart McKelvey was present in the Federal Court of Appeal to argue a case involving international trade and importation. EY Law LLP and Osler Hoskin & Harcourt LLP also appeared before the FCA to argue tax cases.
Supreme Court of Canada
A constitutional law question involving aboriginal rights was presented before the SCC. In 2019, the Quebec government submitted the issue of whether an Act respecting First Nations, Inuit and Métis children, youth and families, S.C. 2019, c. 24, ultra vires the Parliament of Canada under the Constitution of Canada. The parties to the case were the Attorney General of Quebec against the Attorney General of Canada, Assembly of First Nations Quebec-Labrador, First Nations of Quebec and Labrador Health and Social Services Commission, Makivik Corporation, Assembly of First Nations, Aseniwuche Winewak Nation of Canada, First Nations Child and Family Caring Society of Canada. The law firms that were involved in this case were Franklin Gertler Étude Légale, Pape Salter Teillet LLP, Assembly of First Nations, JFK Law LLP, and Conway Baxter Wilson LLP.
A family law case involving division of property was heard by the top court this week. Diana and James Anderson had been married for three years. Both parties came into the marriage with considerable assets, including houses, vehicles, items of personal property, Registered Retirement Savings Plan (RRSP), savings, and pensions. The parties had previously drawn up a separation agreement before Diana filed a petition seeking a divorce and costs in December 2015. James issued a counter petition in 2017, claiming for the first time a family property division as well as occupational rent. Butz & Company represented Diana Anderson, while Legal Aid Saskatchewan represented James Anderson.
The SCC also heard a criminal case that originated from the Quebec Court of Appeal. The appeal court upheld the trial judge's finding that the accused had possession of the firearm for which he was charged, even though that inference was not the only reasonable one that could be drawn from evidence or from lack of evidence. David Leclair and Mustapha Mahmoud represented the accused, Mikerlson Vernelus.
Federal Court of Appeal
Stewart McKelvey represented Atlantic Owl (PAS) Limited Partnership and Oceaneering Canada Ltd. in their appeal from an order of The Canadian International Trade Tribunal. Atlantic Owl and Oceaneering mainly argued that the Tribunal does not have jurisdiction over goods declared via correction or re-determination by an importer filed under s. 74(1)(e) of the Customs Act.
EY Law LLP represented Northbridge Commercial Insurance Company in its appeal from the judgement of the Tax Court of Canada involving a reassessment and claim for input tax credits.
The Federal Court of Appeal also heard an appeal from a decision of the Tax Court of Canada filed by the Canadian Imperial Bank of Commerce, represented by Osler Hoskin & Harcourt LLP. The Bank asserted that the Tax Court made an error in concluding that the Income Tax Act required that a loss on the disposition of shares that related solely to a fluctuation in currency is to be reduced under s. 40(3.) without reference to the deeming rule in s. 39(2).
Conlin Bedard LLP represented Algoma Steel Inc. in challenging the decision of the President of the Canada Border Services Agency to terminate its dumping investigation regarding certain heavy plate exported from Turkey by Ereğli Demir Ve Çelik Fabrikalari T.A.Ş., which was represented by DS Lawyers.
Federal Court
Koskie Minsky LLP and Raven Cameron Ballantyne & Yazbeck LLP represented Larry Beattie in a proposed class proceeding, alleging that the Canadian Armed Forces (CAF) "creates and maintains a culture that facilitates and condones sexual assault and sexual harassment of its male members." Beattie brought the action on behalf of all current and former male members of the CAF who claim to have experienced sexual assault and sexual harassment in the course of their education, training, or service with the CAF.
Funt & Company Litigation represented Clayton Eichler in an action in tort brought against the Correctional Services of Canada (CSC). Eichler is an inmate at the Saskatchewan Penitentiary in Prince Albert. Eichler claimed he was assaulted by CSC officers while he was in their custody, resulting in physical and mental injury.
Acheson Sweeney Foley Sahota LLP represented Adrian Philip in a proposed class proceeding against the Federal Government and CSC, alleging that the CSC had systematically, unlawfully, and without authorization intruded upon the privacy of inmates by listening to, recording, and divulging to third parties the contents of private telephone conversations between inmates and their respective lawyers.
In the area of intellectual property, Visionwall International sued Litezone Technologies for trademark infringement. Pinto Legal Inc. represented Visionwall, while Parlee McLaws LLP acted for Litezone.
Gowling WLG (Canada) LLP represented L&M Meats IP Holdings Inc. in a patent infringement action against Kawartha Meats Inc and SiSi Meats. Sprigings IP Law acted as counsel for Kawartha Meats, and CPST Law represented SiSi Meats.
In another patent infringement action, the Federal Court heard a suit filed by Molo Design Ltd against Chanel Canada ULC and Chanel Ltd. Miller Thompson LLP acted for Molo, while Gowling WLG represented Chanel.