Thomson Reuters' The Trial Book is unique in format and showing how trials work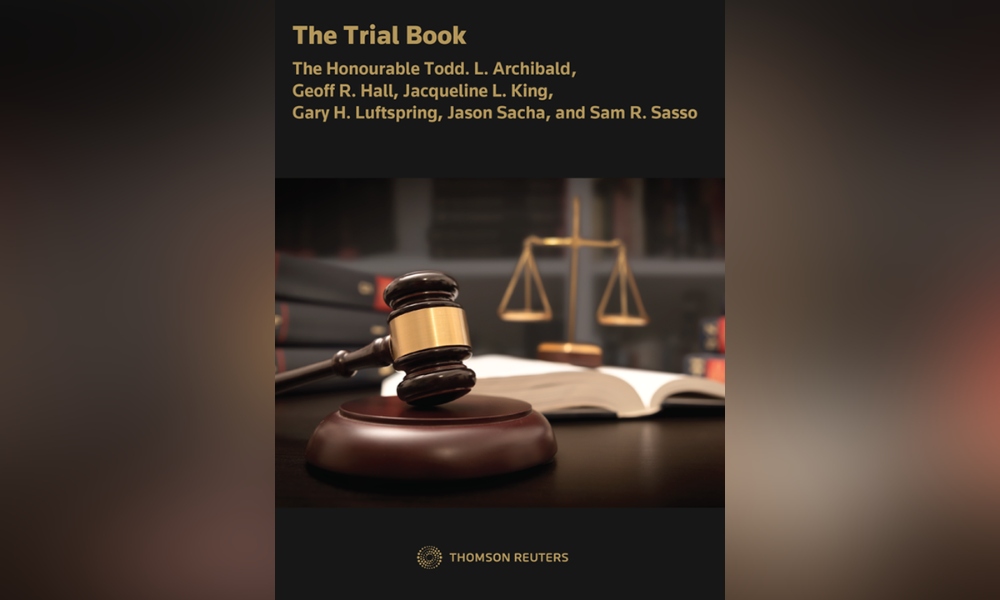 A just-published book on presenting at trials is believed to be the first e-book on the subject and the first one to include videos.
Thomson Reuters ProView's The Trial Book, released on Nov. 30, provides a primer on effective presentations and what to expect in court, with demonstration videos within the chapters, in a format available on a smartphone or desktop.
"We really wanted something where lawyers could quickly look at an example," says Jacqueline L. King, a trial and appellate lawyer at Shibley Righton LLP in Toronto and one of the book's six authors.
"You're in court, and someone says 'that's hearsay.' … We wanted you to be able to quickly look at and see a demonstration of something as well," she says. The Trial Book, for example, includes a detailed definition and explanation of hearsay, with exceptions, citations, examples of real-life hearsay and non-hearsay statements in table format, and a video demonstrating an objection on the grounds of hearsay.
In addition to King, the book has been authored by Justice Todd Archibald of Ontario's Superior Court, trial lawyers Geoff Hall, Gary Luftspring and Sam Sasso, and solicitor Jason Sacha, who filmed the courtroom videos.
The e-book is described as providing "the fundamental principles and current caselaw on areas such as hearsay, objections, prior inconsistent statements, the rule in Browne v. Dunn, courtroom etiquette, opening/closing statements, examinations -in-chief, cross-examinations, and the full gamut of evidentiary topics such as admissibility."
Each topic addressed includes an historical analysis setting out the principals on which that topic is governed, practical tips and step-by-step protocols. The book addresses trials (and appeals) at all levels of court, says King, and the video presentations give insight into how successful courtroom proceedings are conducted.
Sasso, who like Luftspring is a partner in Ricketts Harris LLP in Toronto, says "the combination of having a full substantive text on what it takes to do a trial -- broken up into detailed analysis -- plus key points right up so you can read two minutes' worth of it, … and then the videos on top of that, and that accessibility" are what make the product unique.
"It was a new product … , and we're hoping that people start looking at legal products differently that way."
Retired and sitting judges have also written chapters of the book, which gives it a judicial as well as a practice perspective, says Hall, a partner in McCarthy Tétrault LLP's litigation group in Toronto. "That judicial perspective is particularly difficult or challenging for younger people," and that dual perspective is another unique feature of the book, he says.
The video presentations also present three different courtroom styles, says Sacha, who practises with Element Law in Toronto, with three of the book's authors – Luftspring, Hall and King – portraying the lawyers. "Different people coming to the book will gravitate to different styles."
Part II of the book is devoted to technique, and crafting a compelling narrative. Effective storytelling – which must be simple – is crucial to winning a case, says Hall.
"Don't make it overly cluttered," he says; "usually, the simple compelling narrative that wins -- and it wins over the law. If you've got the strong, factual story, you got good facts, and good narrative, that's going to overcome legal problems almost every time."
Retired Justice John Laskin of the Ontario Court of Appeal, who notably wrote "Forget the Windup and Make the Pitch: Some Suggestions for Writing More Persuasive Factums," provides a "sequel" in the book in his chapter "How to Make Your Pitch: Persuasive Written Advocacy on Appeal."
Challenges in today's trials
A challenge facing trial lawyers today is that "trial judges haven't been litigators for a while," says Luftspring, and "90 per cent of judges now don't know what [hearsay] is."
Even 10 years ago, one could assume a better foundation of knowledge on the bench, King agrees. "Now, some of the statements I hear, they're dead-wrong, and you have to go back and drag out the Supreme Court [decisions]. It's no longer just putting the facts before a court and assuming that they can do the work," she adds; "you have to … have a principle in law for everything you're going to say."
As well, far less lawyers are actually going to trials than they used to, says Sasso, and "mentorship is a huge problem throughout, so getting [lawyers] the experience to actually do trials, or to understand how trials work, is a big problem right now. We hope that this [book] will help" illustrate how trials work, with videos filmed over two days that also feature Justice Archibald as the judge.
For example, In Luftspring's opening arguments in the book's first video -- in which he acts for plaintiff "Bill Stone" (played by Sasso) -- he asks the judge for an order excluding witnesses from the courtroom when they're not testifying, which the judge agrees to. A less experienced lawyer may not do this -- and, Luftspring says, this played out in a hearing he had recently in front of the Labour Board in Toronto.
Opposing counsel didn't ask for an order excluding, and so all of Luftspring's witnesses were left sitting in the courtroom and listening to the proceedings; when opposing counsel realized this he asked for an order to exclude, but it was refused. The judge "said the time to do it was at the beginning; they've already heard the evidence," says Luftspring, which proved "educational" to his witnesses.
"That's the kind of insight, this real-world thing that matters" to someone who hasn't done many trials, says Sasso, and though it may seem "a boring titbit, [it is] a big piece" of a successful trial outcome.