Firm has seen its Toronto satellite office grow to 20 lawyers from four in 2018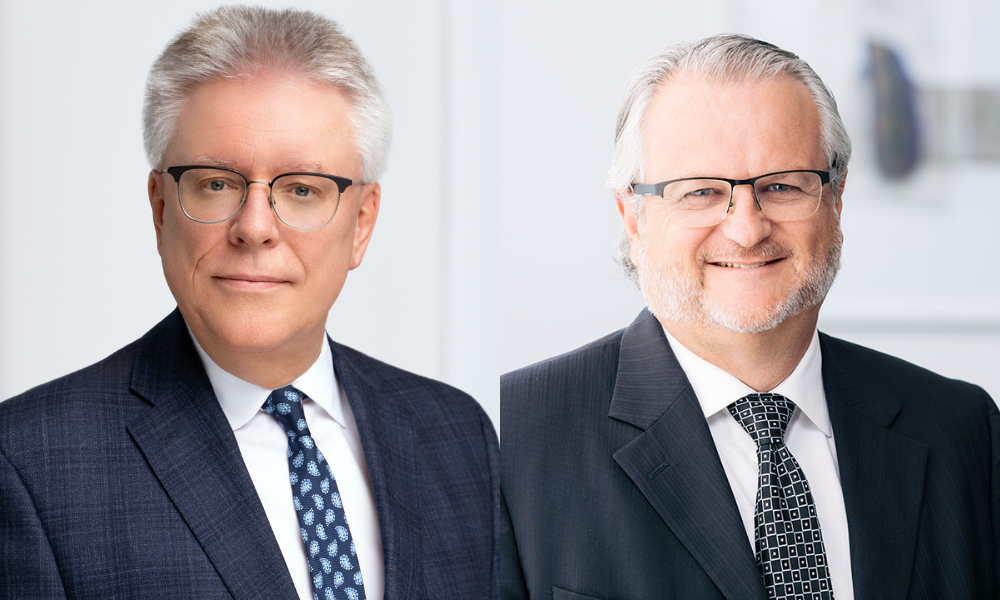 Often, it's the big Toronto law firm that decides to set up a satellite office somewhere else in Canada. But in the case of Singleton Urquhart Reynolds Vogel LLP, it was a Vancouver-based firm expanding to Canada's largest city.
"It just seemed like a natural fit," says Bruce Reynolds, co-managing partner of the firm, who works out of Toronto. An expert in construction law, he and colleague Sharon Vogel joined forces back in 2018 when they realized that they mirrored the talents of Vancouver-based Singleton Urquhart LLP.
Both parties saw the benefits of having a national footprint, especially in two cities where construction — and construction law — play an essential role. He and Vogel had spent many years at Borden Ladner Gervais LLP, but saw a "great opportunity" to work with John Singleton, a pre-eminent construction law lawyer who founded the firm in Vancouver.
However, it is not just construction law that brought together the Toronto-based lawyers with the Vancouver firm. The B.C. firm also has bench strength in commercial litigation, and the addition of construction and civil litigation lawyer Peter Wardle at the Toronto office when it opened provided strong parallels to the practice out west. The Toronto office grew from four lawyers at the start in 2018 to almost 20 today, about one-quarter of the firm's total.
The firm has also won several awards, including: Chambers Global Construction Law Firm of the Year; Benchmark Canada Construction Law Firm of the Year, Benchmark Litigation and Most Frequently Recommended for Construction Law in Lexpert.
Mark Stacey, a co-managing partner of the firm based in Vancouver, says over the years, the original firm "expanded far beyond the initial area of construction law." In addition to commercial litigation, the firm also has expertise in insurance and workplace law. The Toronto office still has more of a focus on construction law, "but that is partly because Bruce and Sharon are very prominent construction lawyers, not just in the Toronto area, but nationally."
Reynolds says the Toronto office of Singleton Urquhart Reynolds Vogel has been involved in some major infrastructure projects. Among its clients are: The Eglinton Crosstown project in Toronto; LRT projects in Ottawa and Kitchener-Waterloo; and The Windsor-Detroit Bridge Authority now building the Gordie Howe Bridge.
Asked about how construction law has changed since he started practising, Reynolds says, "it has changed almost in its entirety." In the past, there was much more focus on construction liens and "classic civil litigation," he adds.
These days, Reynolds says, "we spend a great deal of time in arbitration-like environments" that include adjudication and mediation. "Often, the result ends up better result for both parties. It's not such a win-lose situation." Such methods of resolving disputes also allow for more privacy since they are not dealt with in open court.
Stacey, a commercial litigator, says that many in the construction industry became disenchanted with the litigation process because of the time it took to get to trial. He notes that the "leaky condo crisis" in Vancouver years ago provided a "crash course" in alternate dispute resolution. Thousands of plaintiffs living with leaky condos saw their cases resolved this way, and only three cases ended up going to trial, mainly for "quirky" reasons that couldn't be resolved through negotiations.
"What we found is that we could take a very, very complicated construction case, involving millions of dollars, and work with lawyers and clients to take it to a resolution," he says. Perhaps the condo owner didn't get exactly what they wanted, he says, but they avoided substantial legal costs and saw money in their pockets sooner than they might have received otherwise.
Stacey notes that with damage to homes and property due to forces of nature such as forest fires, floods, and avalanches — disasters that seem to be happening with increasing regularity — these types of dispute resolution mechanisms might have to be used more often.
"We're going to have huge challenges driven by climate change, and it will likely have an impact on how we do things here."
Stacey points out that his firm often gets "repeat business" or new work based on its vast experience in its areas of expertise. "There's a joke in our office that if there is a dam dispute, we likely have a file on it because we probably have been involved somehow," he says. Same with tunnelling projects or litigation involving soil conditions.
Adds Stacey: "I have to compliment John Singleton, because he had the foresight to declare himself a construction lawyer and found a construction law boutique."
Asked what makes a great construction law lawyer, or commercial litigator, Reynolds says both require a "strong background" in contract law. "You also need to be a strong advocate, which means also being a master of various processes and procedures that apply not just in court, but in arbitration and adjudication."
However, what distinguishes construction lawyers from commercial litigators, is that the former, in addition to their litigation skills, must also be keen "students of both the construction process and the construction industry."
So, for example, with a tunnelling project, Reynolds says a construction lawyer needs to understand the process used, the equipment, scheduling, soil conditions and construction techniques and look at all the moving parts and how they fit together.
Stacey adds that a commercial litigator must take a broad scope of issues and narrow it down to which are crucial to the case at hand. "You can have 50,000 pages of documents, and you have to organize, manage and understand those documents and use them in a way that supports your arguments," he says.
Stacey says that commercial litigation cases are also more complex and costly these days. "When I started in the 1980s, I was doing three or four trials a month because they were two or three days long. Today, a similar case might take two or three weeks at trial because of the added complexity, the way the courts work, and the amount of documentation needed."
One of Stacey's "wins" on behalf of a client in the Court of Appeal for B.C.'s affirmation in December 2020 of a lower court ruling awarding more than $7 million in damages to a Vancouver hygienic refrigerator manufacturer with confidential processes and designs stolen by former employees.
Following a 59-day trial in the case of GEA Refrigeration Canada Inc. v. Chang, with many twists and turns, trial judge Justice Sandra Balance of the Supreme Court of B.C. ruled in 2016 that the former employees possessed GEA's proprietary drawings and relied on them to produce their version of GEA's freezers. The appeal court's affirmation of the trial decision "provides guidance on the tort of breach of confidence," says Stacey.