As chief general counsel at the Department of Justice, Frater worked on countless high stakes cases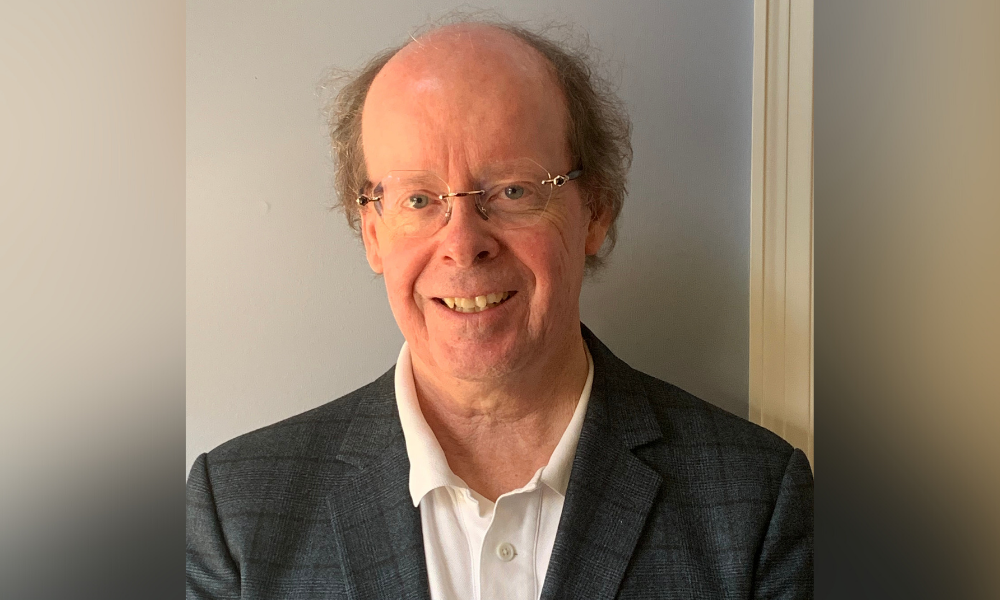 For lawyers who love arguing about the intricacies of the law but want to be involved with high-stakes litigation, the Department of Justice is in many ways the ideal workplace.
Robert Frater has been chief general counsel at the DOJ in Ottawa since 2016. He has worked there from 1991 until he announced his retirement this November. Before that, he was a prosecutor at the DOJ in Toronto.
"I've had the fortune to work for an outstanding law firm, in that there are people in the department who have an incredible amount of knowledge about almost everything," says Frater.
While Frater has an enviable internal network leading the DOJ's litigation, he also regularly appears opposite the top private practice lawyers.
Most recently, Frater acted for the Canadian government in the United States v. Meng extradition case that captured international headlines.
"We argued many motions in the case that were effectively like arguing appeals… It was a great experience, professionally, to be doing cases that were intellectually interesting, high profile and argued at the highest level of advocacy."
While Frater began his career as a trial prosecutor, he quickly gravitated to doing appeal work.
"I like to argue law. I think that's what I learned about myself. I was much better at arguing law than I was in cross examining witnesses."
Frater recalls realizing that when he observed excellent cross examinations. He watched the late David Humphrey, and it "was wonderful to watch. He had a way of getting a rapport with witnesses who he was cross examining and destroying them without them feeling bad about the whole experience."
For Frater, though, he started doing appeals very early in his career and never looked back.
After he had moved from Toronto to the heart of the DOJ in Ottawa, the Harper government split the department into the prosecution side and the non-prosecution side, and Frater chose the latter and started to broaden his practice to other areas of law aside from criminal.
"Within government, it is somewhat easier to have a niche of doing predominantly appellate practice or work like that, like judicial reviews, where you're spending most of your time arguing laws as opposed to building cases to argue on the facts."
Frater has spent most of his time appearing before judges and other lawyers. Still, he says Reference Re Milgaard was a highlight because that was one of the few cases in Supreme Court history that heard live witnesses.
In fact, Frater became a witness himself in that case, testifying to corroborate evidence provided by the Chief Justice at the time, Antonio Lamer.
At the Supreme Court, one of the witnesses broke down and refused to testify, so the Chief Justice called the witness into his chambers. Frater went as well, and the witness subsequently alleged that Lamer promised to put her in the witness protection program in a subsequent lawsuit. So, as a result, Frater had to testify to confirm that Lamer had not made such a promise.
"Fortunately for me, I was believed by the trial judge. So, that was important for me to learn how nerve-wracking it can be to be a witness in a proceeding."
Frater's list of cases would be the envy of any constitutional lawyer, but his role also involves high-stakes work outside of the courtroom. As chief general counsel, Frater regularly advises the Prime Minister, ministers and deputy ministers on critical legal matters. He is often called upon to provide strategic litigation advice and guidance with little or no notice, which requires current knowledge of both the law and Canada's legal and policy priorities.
And in politics, the decision-maker is often not a lawyer, so the advice needs to fit the audience.
"Briefing of different people requires you to carefully think about the message that you want to deliver, or that will be helpful to your audience," says Frater. "You can certainly tell [when] the audience's eyes are glazing over that you might have talked a little too much law."
While Frater can't give many details about the kinds of matters he has advised senior politicians on, he says he regularly advises the deputy minister, which would involve "something like the SNC Lavalin issue."
Frater is also enthusiastic in mentioning the many training and mentoring opportunities he has helped bring about at the DOJ, including moots. All the lawyers on his team are required to do a moot with their colleagues, "where they're grilled much as they would be grilled on the appeal itself," says Frater.
"It was a hard sell at the beginning, to make people argue before their colleagues. … It's quite nerve-racking to do those moots. And we are not kind to people because our theory is: if you get it from your colleagues hard beforehand, it might be a little easier to react appropriately when you're getting a grilling from a judge."
In fact, Frater offers invaluable advice to young lawyers aspiring to be top litigators.
"When you're young, you do as many cases as you possibly can to be on your feet as often as you can. And once you get a level of comfort at doing that, the way you get better is in two ways. Either you take hard cases, or you go against very good counsel. … By a hard case, I mean a case that someone is expecting you to lose. You're trying to put that case in its best possible light. So, I've done some very unpopular cases."
While he hasn't shied away from losing cases, from any perspective, in leading the largest law firm in Canada, his track record has been an overall win.
PROFILE
Name: Robert Frater
Current Position: chief general counsel, Department of Justice
Key Dates:
2021: announces his retirement
2016: appointed chief general counsel
1991: joins DOJ in Ottawa
1986: Joins the Toronto office of DOJ as a prosecutor
1984: graduates from Queen's University Law School
KEY CASES AT THE SCC
Frater has worked in over 50 cases at the Supreme Court of Canada, including:
Reference re Pan-Canadian Securities Act, 2018 SCC 48
Carter et al. v. Attorney General of Canada et al., 2015 SCC 5
Reference Re Securities Act, [2011] 3. S.C.R. 837
Canada (Prime Minister) v. Khadr, [2010] 1 S.C.R. 44
Reference Re Milgaard, [1991] 1 S.C.R. 866