Appointment viewing is rare these days, but class action lawyers and fans who remember CBC's Street Legal may want to put a reminder in the calendar for March 4.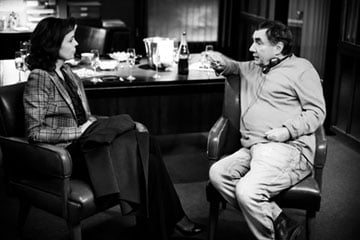 Appointment viewing is rare these days, but class action lawyers and fans who remember CBC's Street Legal may want to put a reminder in the calendar for March 4.
It's been 25 years since the popular CBC drama series ended, but it's coming back next month with a focus on an opioid class action and a law firm meltdown.
"There's an excitement about this; it's really been a fun ride," says executive producer and Osgoode Hall Law class of '71 grad Bernie Zukerman. "The new cast is surprising. There is homage to the old, but we're in a different time period now."
Unlike the old series, which focused on a major case each week, this time around the six-part series tackles one large case — a class action against a big pharmaceutical company that produces an opioid drug.
As Zukerman describes it, Olivia Novak's fictitious Bay Street firm (the role of Novak is again played by Cynthia Dale) "crashes and burns" after an upstart smaller firm beats her to the punch on filing a major class action. The show description outlines the scenario: ". . . as her own firm goes down in a flame of egos and departing partners, Olivia finds herself starting over at the boutique firm with new younger colleagues."
Some might wonder if the idea of a failed law firm came from the collapse of Heenan Blaikie LLP five years ago, on Feb. 5, 2014, but Zukerman sidestepped the question of whether that was the inspiration.
"I had a good friend who was a partner at Heenan Blaikie and I knew a bit more than the average person," he says, but Zukerman is cautious about saying whether the storyline was inspired by that event.
He did say that one of the problems of doing a legal show in Canada is that the E&O insurance requirements are fairly strict around storylines being specifically connected to such events.
"Insurance companies in this country are so conservative. They go through our script with a fine-tooth comb asking: 'Is this based on this?'"
Dalereprise her role as Olivia Novak andEric Petersonalso returns as Leon Robinovitch andAnthony Sherwood as Dillon Beck. The new generation of Street Legal lawyers includesCara Ricketts(The Book of Negroes),Steve Lund(Bitten) andYvonne Chapman(The Crossing) joining the series as the next generation of Toronto lawyers fighting the good fight.
Zukerman is a graduate of Osgoode Hall Law class of 1971. He articled at the Special Prosecution Branch of the Ontario government. One of his projects at the attorney general's office was to write a brief on whether Ontario should have a Good Samaritan law.
"It was great — Brian Greenspan and Peter Wilkie (now a judge with the Ontario Court of Justice) articled there with me," he says.
But halfway through the bar admission course, which was a six-month course at the time, Zukerman says, he started to have second thoughts about a career in law.
"I really never saw myself as a lawyer. I loved law school, but I couldn't look two or five years ahead and see where I was going to be or where I wanted to be."
About halfway through the bar admission course, Zukerman read about a new current affairs show Global News was starting up. He made a cold call and met with the Global News team and in short order became an on-air consumer affairs reporter.
He then met lawyer and media businessman Peter Herrndorf at CBC and Herrndorf offered Zukerman a job as a documentary producer.
"The only downside was I couldn't start in Toronto — I had to go to Winnipeg and demonstrate I could really produce documentaries," he says. "I still can't believe it — but law school gave me a confidence to do anything. If I couldn't do it, I figured I could always fall back on law. I think it happens more now, but back then it wasn't as common to do that. I discovered I was good at storytelling."
When Zukerman arrived in Winnipeg, he pitched the idea of whether Manitoba should have a Good Samaritan law (borrowing from his articling assignment). He spent five years on The Fifth Estate documentary series and then moved to The Journal to head up that program's documentary unit. He oversaw 30 crews that travelled the world producing documentaries.
After 10 years in docs, he moved on to dramas. Zukerman says law really helped him in creating a mini-series called Love and Hate: The Story of Colin and JoAnn Thatcher about the Saskatchewan politician who killed his wife. His next hit was the Helen Betty Osborne case about an Indigenous girl killed by four white boys.
Zukerman is also the man behind the popular CBC series This is Wonderland, which explored the lower levels of the criminal justice system and was shot in and around Old City Hall in Toronto.
He says Street Legal's revival is entirely due to an idea planted by show star Cynthia Dale, who was having lunch one day with CBC's head of programming, Sally Catto. At the end of the lunch, Dale reminds Catto that the television networks in the United States have successfully relaunched old shows such as Murphy Brown and Hawaii Five-0.
"There is so much television now, if you have a brand people recognize, it really gives you a leg up," says Zukerman.
A week and a half later, Zukerman also had lunch with Catto. She asked him if he thought it was crazy to consider a relaunch of Street Legal.
"It took me about two seconds to say 'What a great idea. It's probably one of the most popular shows ever. Let me put together an idea for what a new show would look like.'"
Together with show runner Bruce Smith, Zukerman sat down and in a relatively short time shaped an idea of Dale's character Olivia working in a large law firm trying to put together a big class action lawsuit against big pharma and the case gets scooped by a young firm. Her firm collapses, and she becomes the transition from the old Street Legal to the new young firm.
"We presented it and it's been the fastest from development to delivering a show. It happened in about a 10-month span from pitching to actually delivering the show. Which is lightning speed for a Canadian network," he says.
They got an order for six episodes, which made it difficult to do the usual episodic series on which Street Legal was based with a main case of the week and over the course of the season you follow the personal stories.
"You need a run of a lot of episodes to do a case of the week — at least 10 to 13. With an order for six episodes, we decided we wanted to tell one big legal story," he says.
"Opioids seemed to us to check a lot of the boxes we wanted — it felt current," he says.
Zukerman consulted with several lawyers from the class action bar — both plaintiff and defendant side — but he says he can't reveal who those lawyers were.
"We wanted to be as accurate as we could within the confines of still making a good drama," he says. "Class action suits are really intricate. It becomes tricky because we're trying to telescope this down and they can really take years to go through the system. But all legal shows, such as L.A. Law and The Good Wife, use techniques to condense time to keep the drama going."
Street Legal airs March 4 at 9 p.m. and Zukerman thinks they will get the green light for a second season.
The production is also working with the University of Toronto Law School and professor Albert Yoon to organize a "Street Legal Day" to talk about the representation of lawyers on television/pop culture, currently slated to take place March 27.