Federal Court denied injunction sought by worker refusing to comply with mandatory vaccine policy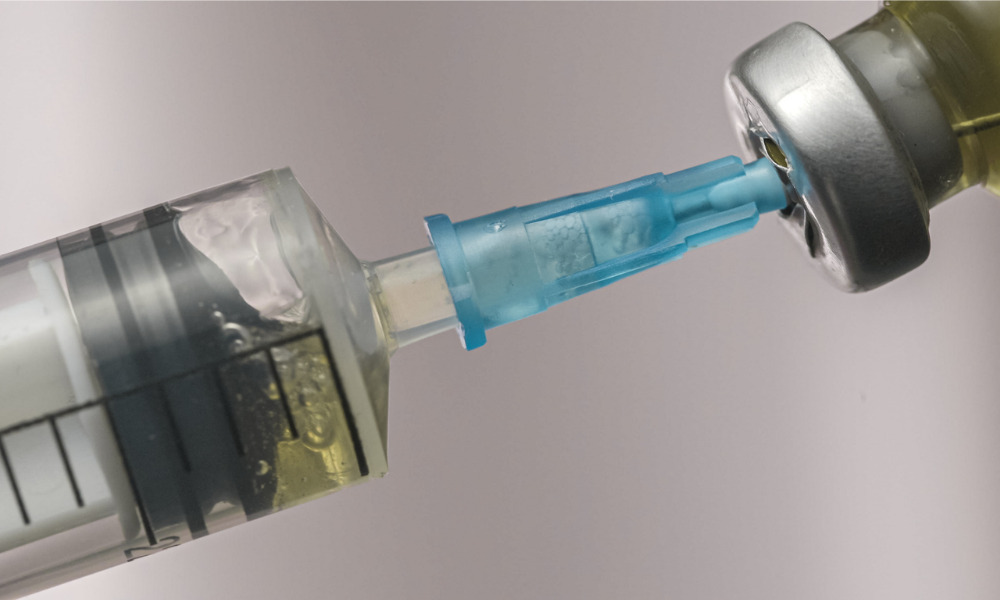 The Federal Court has ruled that loss of employment due to the refusal to get vaccinated does not constitute irreparable harm which would justify staying a COVID-19 mandatory vaccination policy for federal government suppliers.
In Lavergne-Poitras v. Canada (Attorney General), 2021 FC 1232, Lavergne-Poitras was not and did not wish to be vaccinated against COVID-19. But as an employee of PMG Technologies Inc., a supplier to the federal government, he is subject to the supplier vaccination policy requiring supplier personnel who access federal workplaces to be fully vaccinated. Because of this policy, PMG said that it would either indefinitely lay off or terminate the employment of any unvaccinated workers.
Lavergne-Poitras sought an interlocutory injunction over the supplier vaccination policy until his challenge to the supplier vaccination policy could be heard on its merits. To achieve this, he was required to show that there was a serious issue to be decided, that he will suffer irreparable harm and that the "balance of convenience" favours granting the injunction, said the court.
After evaluating the arguments, the court dismissed the motion.
Lavergne-Poitras claimed the policy violates section 7 of the Canadian Charter of Rights and Freedoms. He established legal standing and the engagement of his liberty and security-of-the-person interests. But the court ruled that Lavergne-Poitras's evidence failed to establish a serious issue to be determined regarding the alleged violation of the principles of fundamental justice – that the policy suffers from arbitrariness, overbreadth and gross disproportionality.
As to irreparable harm, the court ruled that "the loss of employment does not constitute irreparable harm, as lost wages can be recovered as money damages." Notwithstanding this conclusion, the court likewise rejected the Attorney General's argument that the alleged harm is not "unavoidable" because the individual can choose to be vaccinated.
"Where an individual has raised concerns about their section 7 right to bodily integrity, it is no response to their concerns about irreparable harm to suggest they can simply undergo the medical procedure that would impact that very right," said the court.
Lastly, the court concluded that the "balance of convenience favours refusing the requested injunction." In considering whether to suspend the operation of a valid policy at the interlocutory stage, the applicant must demonstrate that the suspension would itself provide a public benefit, said the court. Here, the court found no evidence to conclude a "denial of the right to pursue career for exercising bodily autonomy," or to weigh those rights against the health and safety interests of the federal public. Thus, the motion was denied.