Two criminal cases also before the top court, while Federal Court is busy in this week's roundup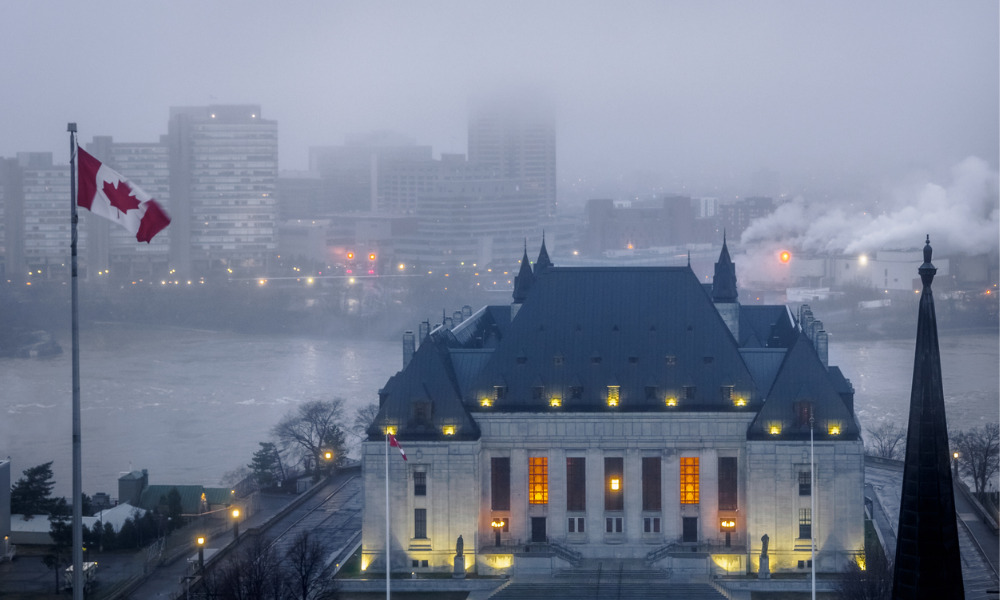 Planetta Hughes LLP and Rosen & Company brought two criminal cases to the Supreme Court of Canada this week, while Torys LLP and Smart & Biggar LLP faced off in an intellectual property lawsuit between chemical companies in the top court. At the federal court, disputes involving investments, air travel security, copyright and patent infringements, aboriginal law, and immigration were heard.
Supreme Court of Canada
Planetta Hughes LLP acted for Andre Aaron Gerrard who was convicted of thirteen counts relating to various criminal offences committed against his common law spouse. A majority of the Nova Scotia Court of Appeal upheld the convictions and Gerrard appealed to the Supreme Court.
In another criminal case, Rosen & Company Barristers represented Anthony Raul Alas, who was convicted by a jury of second-degree murder. The Ontario Court of Appeal set aside the conviction and ordered a new trial. The Crown then brought the case to the top court.
Torys LLP represented Nova Chemicals Corporation in an intellectual property lawsuit against Dow Chemical Company, which was represented by Smart & Biggar LLP. The case stemmed from a 2014 decision of the federal court which ruled that Dow Chemical's 705 Patent for fabricated products made from ethylene polymer blends was valid and had been infringed by a product manufactured by Nova Chemicals. The issue brought to the SCC was the manner in which damages payable to Dow Chemicals should be calculated.
Federal Court
McCarthy Tétrault LLP represented China Mobile Communications Group in the judicial review of an order of the Governor in Council directing the company to wind up its Canadian business because it may be injurious to national security. The action was brought under the Investment Canada Act.
Stikeman Elliott LLP represented Flowchem, while Torys LLP acted for Liquidpower Specialty Products, in a patent impeachment suit. Torys also acted as counsel for Liquidpower in another patent infringement case against Baker Hughes Canada, which was represented by Aird & Berlis LLP.
Gowling WLG acted for Planit Software in a copyright infringement claim against Mr. Beaver Inc., which was represented by Mehrabi Law Office. Gowling WLG was also the counsel of Bargain Club Inc. in a trademark passing off claim filed by 7294140 Canada Inc., which was represented by Pinto Legal.
Bareskin LLP acted for GDK International in a trademark infringement suit against Champion Doner Food Distribution Inc, which was represented by Mehrabi Law Office.
Smart & Biggar acted for Steelhead LNG in a patent infringement action against Seven Generations Energy, which was represented by Goodmans LLP.
Toronto Regional Real Estate Board (TREB) filed a copyright infringement claim against R E Stats Inc. Gardiner Roberts LLP acted as legal counsel of TREB, while Shift Law represented R E Stats.
Ridout & Maybee LLP acted for the Royal Canadian Legion in a copyright infringement action filed against it by Leonard French.
Norton Rose Fulbright represented Syngrafii in a patent infringement case against Pactima Canada, which was represented by MBM Intellectual Property Law. Norton Rose Fulbright was also the counsel of Canadian Tire in a patent infringement claim brought against it by The Noco Company, represented by Smart & Biggar.
Evolink Law Group represented the plaintiffs in a class action against the Crown that sought for restitution of taxes that immigrants have been forced to pay to become part of Canadian society.
Fowler and Blok was the legal counsel of Bhagat Singh Brar, whose name was added to the list of persons suspected to engage in an act that would threaten security of air travel. In a separate action, Peck & Company represented Parvkar Singh Dulai, whose name was also added to the list.
In lawsuits under aboriginal law, the firms present in court this week included Blake Cassels & Graydon for Chief John Ermineskin and several other plaintiffs, Ackroyd LLP for Whitefish Lake, and Rae & Company for Saddle Lake. Rae & Company was also the legal counsel of Ermineskin Indian Band & Nation.
In the area of immigration and citizenship, the firms which appeared in court this week were Fateh Law Corporation, Jared Will & Associates, Herman & Herman, Korman & Korman LLP, Hasa Attorneys, Mamann Sandaluk & Kingwell LLP, Mithoowani Waldman Immigration, Lee & Company, Poulton Law Office, Waldman & Associates, Battista Smith Migration, Davis Immigration Law Office, Jackman & Associates, and Miller Law.