Patient would likely still be alive if condition was detected; higher skill expected of specialists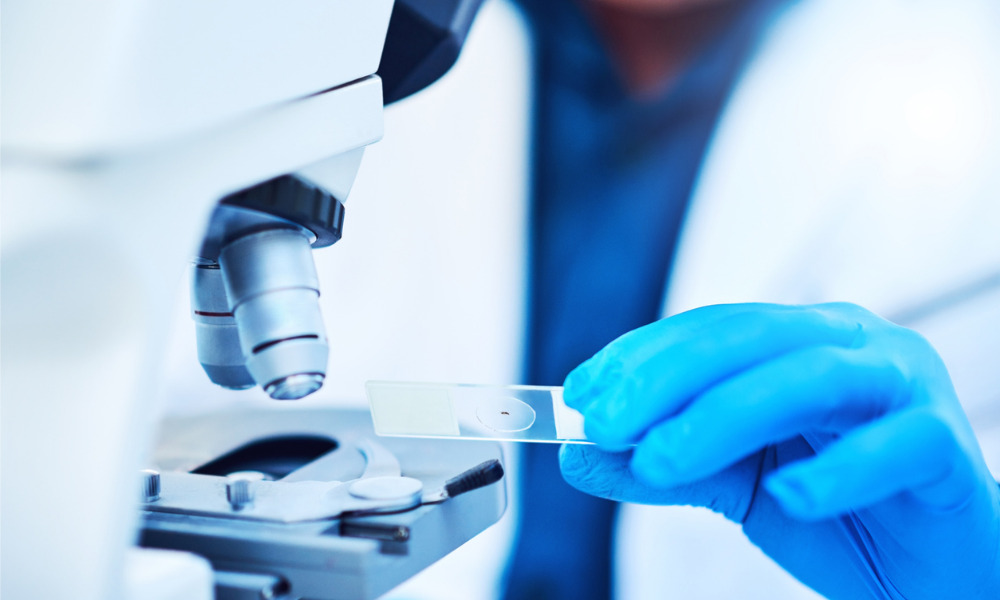 A doctor who failed to meet the requisite care and expertise expected of a normal, prudent anatomic pathologist was negligent and contributed to a patient's death from cancer, the Ontario Superior Court has ruled.
In The Estate of Mary Fleury et al v. Olayiwola A. Kassim, 2022 ONSC 2464, Mary Fleury suffered from appendicitis in 2011. Her appendix was removed and was sent to the pathology department of West Parry Sound Health Centre in Parry Sound, Ont. Dr. Olayiwola Kassim examined the samples and made no note or report of any malignancy.
Four years later, Mary complained of bloating and pain on the right side of her abdomen. She underwent a laparoscopy and, during the operation, the surgeon noticed evidence suggestive of cancer in Mary's abdomen. After further testing, it was confirmed that Mary had metastatic adenocarcinoma of the appendix. She died from cancer-related complications just over a year later, at the age of 45.
Mary's family alleged that Dr. Kassim was negligent when he failed to identify and diagnose Mary's appendiceal cancer when she had her appendix removed in 2011. They also claimed that had Mary been properly diagnosed in 2011, she would still be alive.
In defense, Dr, Kassim argued that a physician is not held to a standard of perfection. He asserted that an error in judgement alone does not amount to negligence. He also said that even if he had diagnosed Mary's cancer in 2011, she would have regrettably died in any event.
In Mustapha v. Culligan of Canada Ltd., 2008 SCC 27, the Supreme Court of Canada listed the elements to be proven in any case alleging the tort of negligence: the defendant owed a duty of care; the defendant's behavior breached the standard of care; the plaintiff sustained damage; and the damage was caused, in fact and in law, by the defendant's breach.
After an examination of the records and the testimonies of expert witnesses, the court concluded that Dr. Kassim did not meet the requisite standard of care when he examined Mary's appendiceal samples in 2011 and failed to identify and diagnose cancer. The court further found that had Mary been properly diagnosed, she would likely still be alive.
According to case law, the standard of care required of a medical practitioner is to exercise a reasonable degree of skill and knowledge and the degree of care that could reasonably be expected of a normal, prudent practitioner of the same experience and standing. If the medical practitioner holds themself out as a specialist, a higher degree of skill is required as a result of this special training and ability.
All the pathologists who testified at trial agreed that a pathologist is always looking for cancer and that was a standard feature of their work. The court found that Dr. Kassim did not examine Mary's slides with the care and expertise expected of a normal, prudent anatomic pathologist with the same level of experience and standing. The court gave weight to the testimony of one of the expert witnesses that the cancer contained in Mary's slide was obvious at a low level of magnification and Dr. Kassim should have been able to identify it.
The court applied a robust and pragmatic approach to the evidence in order to determine whether the plaintiffs established, on a balance of probabilities, that Dr. Kassim's breach of the requisite standard of care caused or contributed to Mary's death. After considering the totality of evidence, the court found that if Mary had been properly diagnosed in 2011, she would have received definitive treatment for appendiceal cancer and reduced her five-year risk of recurrence to less than 30 percent.
The court was ultimately satisfied that the plaintiffs were able to establish causation between Dr. Kassim's negligence and Mary's death. The court concluded that Mary's family was entitled to damages.