Gluckstein's Jan Marin urges caution when evaluating medical cases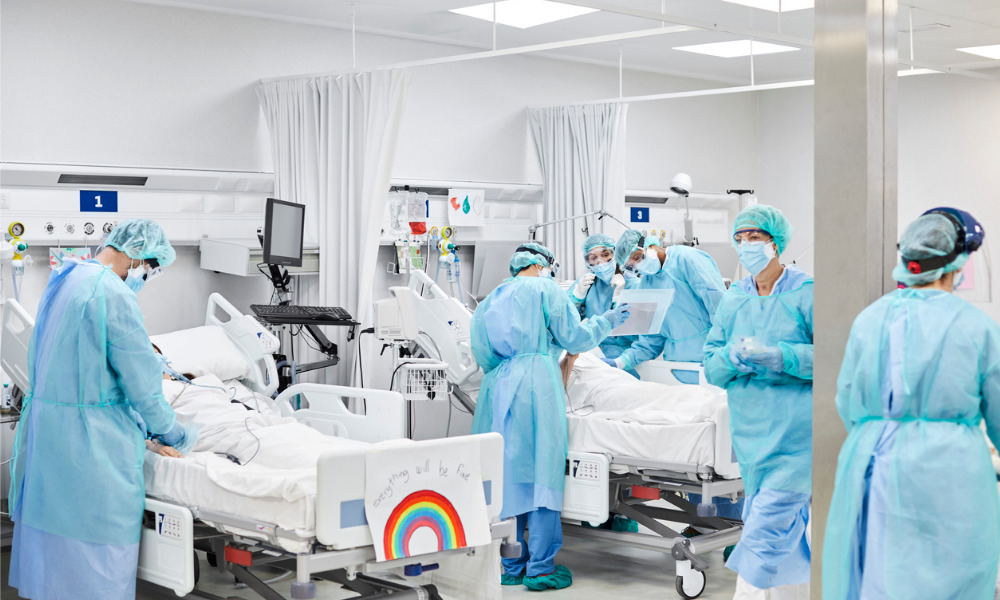 Sponsored article
There's a presumption that the COVID-19 pandemic will increase the number of medical malpractice cases lawyers see, but according to Jan Marin, senior associate at Gluckstein Lawyers, it's not as clear as it might seem.
While dealing with a global health crisis, "unfortunately there are going to be some concessions which will result in changes to how health care is delivered to deal with the immediate emergency," Marin says. Unlike a mass casualty event where all a hospital's resources would go to that short-term situation; the pandemic has gone on for a long time. While worse outcomes may result from the prolonged strain, Marin is unsure that will translate to additional medical negligence cases.
"We need to look at the whole picture: while each patient and health care situation should be treated with importance, there's a broader perspective to consider," she says. "When we put intense pressure on our system, not everything can be done in the same way. It's not business as usual."
But that said, global pandemic or not, there are still certain situations where there's potential for medical negligence to occur, Marin notes. For example, patients not having a support person allowed in the hospital means doctors may lose out on valuable information on the patient's symptoms and history. If a doctor requires more information, they would be expected to make a phone call to the family to obtain it. If this doesn't happen, it may be negligence. Another example would be delayed treatment for patients with non-urgent medical conditions. The information provided to these patients must ensure that they are appropriately informed about which symptoms to watch out for that could indicate their condition is worsening or they need to seek medical attention urgently.
"Patients must be made aware of when to seek medical help in cases where a physician has deemed their care non-emergency," says Marin.
One of the major pandemic-related issues in the health care system has been pushing non-urgent surgeries. While that's not automatically medical negligence, if it's delayed to a point where it becomes an urgent surgery, and it doesn't go well because of the urgency, "that's more of a grey area because what reasonably could have been done differently is the question," Marin says.
Delayed treatment has been a significant concern by patients and health care providers alike. According to Marin, it remains to been seen if these situations have been handled with the necessary care and communication. Questions that will likely be asked are: Were proper follow-ups done to ensure the situation didn't become urgent? Was any preliminary or interim testing conducted to monitor the condition? If patients were told they'd be contacted to reschedule, did that happen? If necessary monitoring did not occur, if communication was lacking or if there's no mechanism for rebooking the surgeries and procedures, which were cancelled or postponed, for example, "these are situations which may amount to negligence," Marin says.
One category that's unclear, Marin notes, would be situations where something like cancer was caught early but not removed or treated right away when outcomes tend to be better. If time passes and the cancer advances slightly, does that change the patient's outcome?
"In Canadian law, a plaintiff will only be successful if they can prove it is more likely than not that negligence caused a worse outcome," Marin says.
Cases where a delay was likely to cause a worse outcome will need to be determined on the merits, says Marin, as delayed treatment in and of itself will not be grounds for the negligence claim, the questions above will need to be asked. Each case is fact specific.
Hospital and health care providers should be given more understanding during this time when difficult decisions have to be made — Marin says she'd be surprised if anyone disagrees with the approach that when resources are strained, they have to be marshalled where they're most needed — no physician wants to delay treatment they've determined a patient needs. The question will be which patients, what treatment and for how long these delays are reasonable.
Another element is the applicability of Bill 218. Marin says that she does not believe the Bill will apply to the situations discussed above as it is designed to protected businesses, government, and individuals from liability regarding the transmission of COVID-19; however, she notes that this interpretation has not been tested in court.
Claims that are COVID-adjacent may be difficult, and lawyers should be cautious, Marin says. Still, she stresses that despite her concerns about the difficulty of bringing a case due to COVID-related issues such as a lack of resources, these things are nuanced. Every case is fact specific, and it's important to speak with an experienced medical negligence lawyer to know your rights and determine whether you have a case.
"We are seeing negative implications due to COVID, and it certainly has led to worse outcomes, but that doesn't mean a person or institution is at fault," Marin says. "Lawyers need to understand all the relevant factors and consider how they come into play — that's going to be critical when it comes to case evaluation when dealing with these issues."
This article was produced in partnership with Gluckstein Lawyers.