Proponents of adverse cost insurance say it increases access to justice by allowing plaintiffs without resources to bring an action against their insurer without financial risk.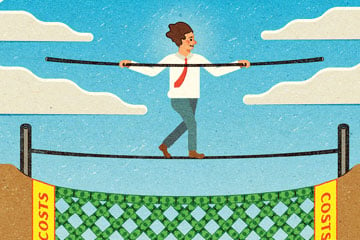 Only around for the last decade, the standards for how adverse cost insurance is used are still being ironed out in the courts, with ambiguity over its status as a disbursement and the requirement to produce it in discovery. And with some policies requiring litigation progress reports, some lawyers say the insurance can compromise solicitor-client privilege.
Adverse cost insurance, also known as "after-the-event insurance," has two main functions, says Frank Csathy, an insurance defence litigator at Stieber Berlach LLP in Toronto. It serves to protect plaintiffs in insurance liability litigation against a costs award and protect the lawyer against the cost of disbursements for things such as expert reports, private investigators or photocopying and couriers.
Proponents of adverse cost insurance say it increases access to justice by allowing plaintiffs without resources to bring an action against their insurer without financial risk.
David Preszler, managing partner of Preszler Law Firm LLP, who acts for plaintiffs, says it's "extremely important" to have coverage because "juries and judges are, unfortunately, fairly adverse to plaintiffs in this day and age" and are "not as receptive to making large damage awards."
"It's low cost. It provides a great value and I think it's endemic in, certainly, personal injury, definitely class action law and I could see it being endemic in the commercial litigation field as well," Preszler says.
James Howie, founding partner of Howie Sacks and Henry LLP, also says it is a tough time for plaintiffs in personal injury.
"There's been a run of cases with not very good results for plaintiffs, particularly in chronic pain cases where plaintiffs are not doing particularly well, generally, at trial," he says. "Juries seem to be not particularly happy with plaintiffs or plaintiffs' lawyers [now], and when cases go to trial, sometimes, bad things happen."
Preszler, whose firm has blanket coverage, says the premium per case ranges from around $500 for $10,000 worth of coverage to approximately $1,500 for $100,000 in coverage.
The product was first offered by Bridgepoint Indemnity Company in 2009. In 2016, Bridgepoint was served a cease and desist order by the Financial Services Commission of Ontario because it was not licensed under the Insurance Act. Bridgepoint then partnered with Omega General Insurance Company, to offer the coverage through them, in 2017. Now, a variety of policies is available from many different insurers.
Courts have ruled that when a client buys cost insurance and is not covered under a policy owned by the law firm, the existence of the policy needs to be disclosed during discovery. Knowledge of the insurance can have a significant impact on a defendant's trial strategy, says Mark Harrington, head of Torkin Manes LLP's insurance defence group.
If the defendant knows there is money to be had if they win, they may be more intent on trial as opposed to settling, he says. It also works in the alternative way, he says, as knowing the plaintiff can afford the trial could encourage the defendant to settle.
But there is disagreement as to whether their coverage should be subject to disclosure.
"Some plaintiffs believe they have an obligation to disclose it . . . Some plaintiff lawyers are taking the position that they don't have to," Harrington says.
Disclosure was dealt with in Abu-Hmaid v. Napar. Master Donald Short wrote in the decision that the question of disclosure had "inconsistent possible approaches" because of its different implications depending on circumstances. Short referred to Rule 30.02.3 of Ontario's Rules of Civil Procedure.
"A party shall disclose and, if requested, produce for inspection any insurance policy under which an insurer may be liable, (a) to satisfy all or part of a judgment in the action; or (b) to indemnify or reimburse a party for money paid in satisfaction of all or part of the judgment," the rule states.
Short wrote that the insurance policy is only admissible if it is relevant to an issue in the action and that he was "of the view that the existence of such protection is relevant," he wrote.
But it is the existence of the policy, not the details in the policy, that are relevant, the specifics of the policy having "no probative value," wrote Short, who directed the plaintiff to disclose whether they had a policy in place.
But in Jamieson v. Kapashesit, defendants moved to have the plaintiffs produce their adverse cost insurance policy, citing Abu-Hmaid and the Rules of Civil Procedure, and the judge ruled against them. The policy covering the plaintiffs was a blanket policy, bought by their counsel's firm, covering all clients.
Justice Dan Cornell decided that, as the policy covered clients in other cases, exposing its contents raised the issue of solicitor-client privilege and that the policy "does not lie within the possession, control or power" of the plaintiffs themselves, only the firm representing them.
"I think it's wrong myself," says Csathy. "I think the plaintiff is probably the name insured on that policy and has access to that, is in control of that policy and can produce it. So, I question the facts that the judge was presented with in that case."
But the issue with solicitor-client privilege does not just arise in a policy-holder's disclosure to the court.
According to Short in Abu-Hmaid v. Napar, certain policies require "routine reporting" to the insurer, which, without proper authorization, could amount to a breach of solicitor-client confidentiality.
Mandel says he's seen policies where the insured lawyer is required to report to the insurer on how the case is progressing.
"I'd be very concerned that reporting letters, memos or discussions between the adverse cost insurer and the lawyer might be something that the defendant or his insurer might want to get a hold of. I think that's a big problem," he says. "I am not sure the client wants you telling some adverse cost insurer the upside and downsides about their case and all their personal information."
Buying adverse cost insurance on a blanket basis is a new development and less expensive way to be covered. To seek a policy on the verge of trial will mean the insurance companies take a close look at the case "and probably charge three times as much for a premium" than the plaintiff would pay on a blanket basis, Csathy says.
While making the trial option more enticing for plaintiffs, cost insurance policies usually have a limit of $100,000, which puts a damper on that incentive because most cost awards are more than $100,000, says Csathy.
"The plaintiff will maintain a personal exposure to anything over that limit," he says.
The courts have produced conflicting rulings on whether the premium paid for adverse cost insurance is a compensable disbursement.
In Markovic v. Richards, the only example Justice Jane Milanetti could find of this disbursement being allowed was a U.K. case. This event followed a "substantial overhaul of the system for financing the cost of personal injury litigation" in that country, the decision states. Because the insurance has "not been the subject of legislative reform" in Canada as it was in the U.K., Milanetti said, it should not be compensated.
"It is however an expense that is entirely discretionary, does nothing to advance the litigation, and may in fact even act as a disincentive to thoughtful, well-reasoned resolution of claims. I do not think it fair and reasonable that an insurer be expected to cover the disbursement for this payment of premiums," Milanetti wrote.
The same conclusion was reached in the 2016 Ontario Superior Court case of Valentine v. Rodriguez-Elizalde. In 2014, in MacKenzie v. Rogalasky, Justice David Harris wrote that costs are recoverable if they "arise directly from the exigencies of the proceeding and relate directly to the management and proof of allegations, facts and issues in litigation." Harris found the insurance did not fit the description.
Preszler would disagree, saying a disbursement "by definition is an amount that is spent in order to further litigation."
"It is a disbursement. I don't think there's any question," he says.
However, adverse cost insurance was allowed as a disbursement in another Ontario Superior Court case in 2017. In Armstrong v. Lakeridge Resort Ltd, Justice David Salmers rejected defence counsel's submission, relying on Markovic, that the plaintiffs' disbursement for costs insurance be disallowed.
Salmers wrote in the decision that the plaintiffs' costs in advancing their claim were "extremely large" and that, without insurance, "the fear of a very large adverse costs award would cause many plaintiffs of modest means to be afraid to pursue meritorious claims."
There is also a question over whether the defence can bring a security for costs motion if the plaintiff has adverse cost insurance, as plaintiffs say the insurance provides their counterparts that security, says Harrington. Defendants dispute that, saying policies have varying exclusions and the defence has no control over whether the other side ends up violating terms and voiding their policy, he says.
Exclusions include failing to accept settlement recommendation, changing counsel, failure to attend defence medical exam, failure to promptly tell insurer about adverse costs award or misleading insurer, according to a presentation by Susan Gunter, Naomi Horrox, Ian Hu and Rikin Morzaria put on by the Law Society of Ontario.
"Essentially, there's no guarantees that money will be available even if they have a policy," he says.
Adverse cost insurance is "not a one-size-fits-all" product and many plaintiffs do not benefit from it, says Sloan Mandel, a partner at Thomson Rogers, who represents plaintiffs.
Before insuring their clients with one of these products, lawyers should ask themselves if they've ever acted for a client who had to pay costs for the defence, he says.
"How many times does that happen? How many times would this have been beneficial?" he says.
"To offer it to all of your clients without having first reviewed the document with a fine-toothed comb and contemplated not only the upsides but the downsides of entering into such a contract, I think, is dangerous," Mandel says.
It is important lawyers and clients agree on the details about their policy because there is no uniformity in how the plans, which are sold by many different entities, are worded, says Mandel.
While some policies cover the plaintiff from costs and others cover the plaintiff's lawyer from disbursements, some policies are a blend of both. Mandel says these can raise a potential conflict of interest. With $100,000 in coverage, client and lawyer may have competing ideas about what portion goes to covering the defence's costs and what goes to covering the lawyer's disbursements, he says.
"A plaintiff's lawyer might want to construe or interpret the policy one way and the client may want to interpret the policies a different way and therein lies a potential conflict," he says.
Preszler Law Firm has blanket coverage and Preszler says the plans typically offer $50,000 in coverage for disbursements and $50,000 for adverse cost protection. He says they always try to increase that coverage as much as possible and have seen policies with as much as $150,000 of coverage with $100,000 for adverse costs and $50,000 for disbursements.
"But the split really all depends on what lawyer and client decide to negotiate and it also depends on how much the disbursements are for the lawyer. That's the big risk beyond the lawyers' time — losing those after-tax dollars that they've invested in the file," Preszler says. "We all assume that all the lawyers are paying the disbursements. That may not be the case. Often, clients pay disbursements."
Howie says his firm has not purchased the blanket coverage because, for many clients, it is a waste of money. The adverse cost insurer will be paid a premium for the coverage on every case in which the plaintiff is successful.
"If the plaintiff has a slam-dunk case," Howie says, "why would you go pay some money to a company for insuring an adverse cost risk when really there isn't an adverse cost risk?"
Preszler says his firm will give clients the option to be exempt from cost insurance. Even in an easy win, there are costs on interlocutory issues or summary judgment motions, he says.
"I've never seen a client say, 'Oh, no, don't buy that insurance for us,' especially when it's so cheap," he says.
Howie says insurance defence lawyers will not typically pursue a costs award from a plaintiff who has little money or no assets. If that impecunious client buys adverse cost insurance, it may encourage the other side to pursue litigation.
"That might actually create an incentive on the part of the defence lawyer to go to trial as opposed to settling because they have the chance of actually getting money back as opposed to paying," he says.
Mandel says it is important lawyers are extensive and specific in their communications with clients on the policies.
"Some in our industry have concerns that perhaps people aren't reading the product with the type of scrutiny that's required before offering it to every single client in a plaintiff's practice," Mandel says.