Gluckstein tells Canadian Lawyer how his firm improves productivity and client relationships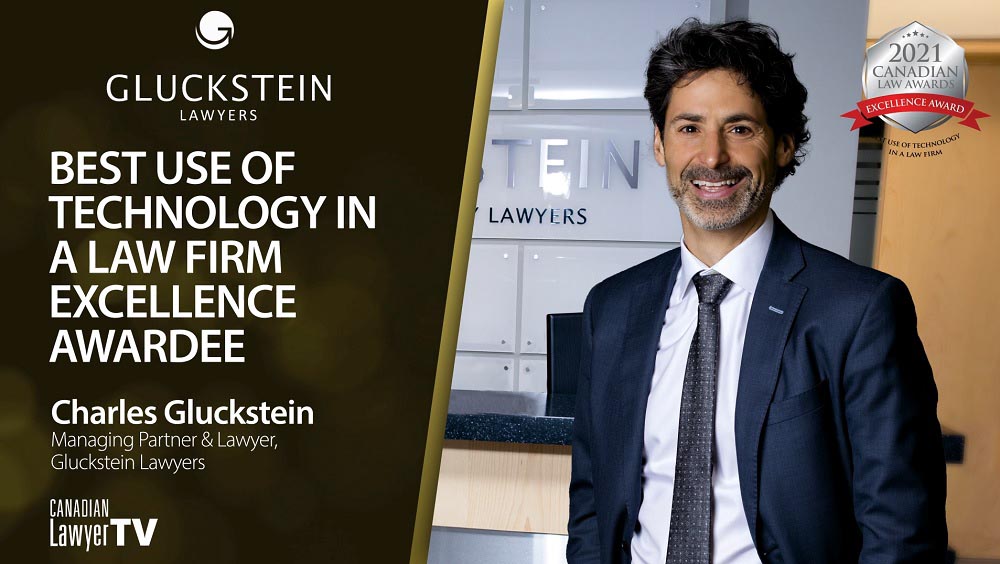 In this interview with Canadian Lawyer TV, Charles Gluckstein of Toronto-based Gluckstein Lawyers explains how his firm has leveraged cutting-edge technology to increase productivity and strengthen lawyers' relationships with clients.
Since Gluckstein Lawyers was founded in 1962, it has become one of Canada's leading law firms in the personal injury space. The firm's founder Bernard Gluckstein has consistently supported humanitarian causes and people with disabilities. His son, Charles, now leads the company and has been implementing technological innovations to improve productivity and minimize tedious administrative tasks to free up lawyers' time for studying and solving cases.
In a conversation with Canadian Lawyer, Gluckstein talks about the innovations for which his firm has won the magazine's Excellence Award for Best Use of Technology in a Firm.
He says Gluckstein Lawyers has managed the remote-work transition prompted by the COVID-19 pandemic "because a lot of the programs we use to monitor and track the cases and do our filings have already been set up to be digital." The firm uses voice-over-Internet-phone functionality and maintains team interaction through regular town hall meetings so that employees do not feel isolated while working from home.
Furthermore, employees use case management software with built-in signing capabilities. They communicate via a texting service built into the case management service and VoIP phone service. The company has also set up dual authentication to ensure security when employers log on to programs. Gluckstein notes that remote work has boosted productivity because employees do not have to travel between their home and office.
Asked about a client-based application built with engineering students from Brock University, Gluckstein says the project aims to improve the experience of using the law firm's client portal service. This service enables clients to access their documents and case information anytime through a separate secure server. This app is available on the Google Play store and is pending approval on the Apple store.
Gluckstein believes that artificial intelligence plays a critical role in ensuring productivity by labeling and eliminating mundane tasks. In the legal profession, one such task is obtaining records to build files for personal injury cases. To resolve this issue, the firm has outsourced the job to a service called MedChart, where authorizations can be uploaded, necessary records can be requested and follow-ups can be done automatically.
Record indexing and summarizing, which used to be performed by clerks, is facilitated by the Prelude service, which condenses the documents in chart form within 24 hours. Gluckstein Lawyers also has a round-the-clock phone answering service called Remember, which ensures that client calls are logged correctly and referred to the right person. The firm has enlisted the services of a firm called Alexsei to create short memos for legal research purposes, such as enquiries related to specific cases.
As administrative tasks have been reduced, some lawyers feel they can take on 10 or 20 per cent more cases, work better on certain cases and deal with clients more often. Gluckstein adds that especially during the pandemic, technology is extremely important for collaboration, such as when colleagues have to meet online to troubleshoot cases.
"Technology frees up time if you get it to work properly. [Can] we take on more work because the computers are doing work or can we add more value to the work that we already have? [This is the] balancing act that we have to do," he concludes.