Changes to court processes have differed widely across the country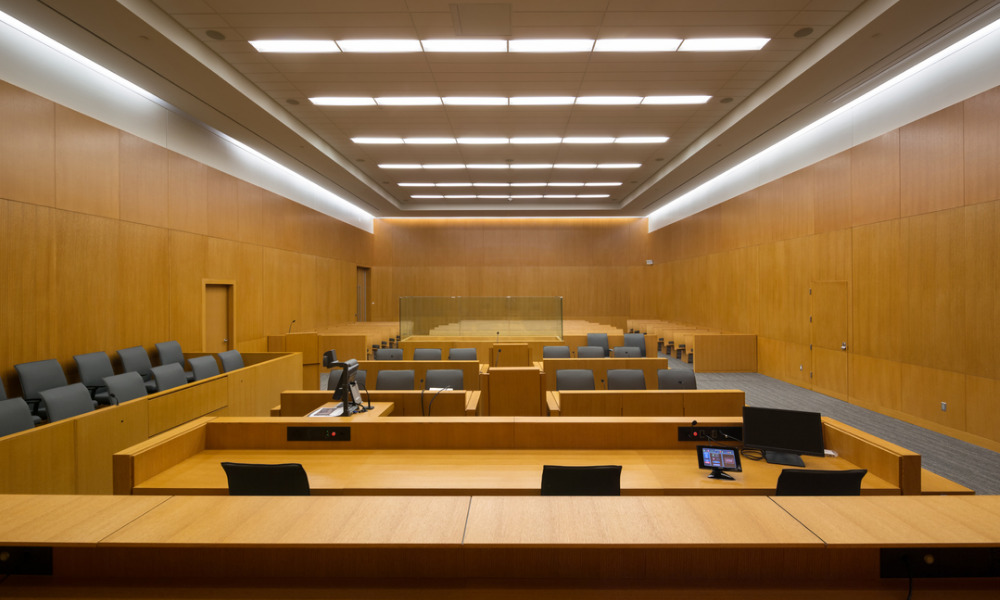 The COVID-19 pandemic has brought many changes to the Canadian legal system and personal injury cases have seen that impact from some of the widest angles. Yet the impact has varied widely across the country.
In Nova Scotia, for example, jury trials are still happening in civil litigation matters such as personal injury, but with a lot of modifications. British Columbia, on the other hand, has abolished civil jury trials during the pandemic and for civil cases such as personal injury.
In Ontario, there is an ongoing case — soon to be decided — determining whether a plaintiff or defendant has a right to a jury trial, as opposed to a judge alone, even if it postpones the trial date far into the future. And when securing a personal injury trial date is difficult at the best of times, with or without a jury, it generally means a long wait, which worries lawyers.
"When it comes to setting an action down for trial, we're getting a delayed response from the court and told there is a huge backlog," says lawyer Joseph Campisi at Campisi Personal Injury Lawyers in Vaughan, Ont. "Historically, it has always taken a while to get a trial date, but I anticipate it is going to take even longer during COVID-19."
Campisi says there is a good reason that precedence for court and judge time is being given to criminal cases and family law — there are Charter timing reasons that guarantee a criminal trial is done within a reasonable time. Family law cases often deserve a higher level of urgency. And from a public health perspective, it makes sense that there be fewer jury trials and more judge-alone trials, Campisi says.
But there has been pushback going the judge-alone route, usually from defendants and typically insurance companies.
Indeed, there is one case in the Court of Appeal for Ontario that tested this very conflict. In Firma Louis and Marcdere Louis v. Jacques Poitras and Security National Insurance Company, the plaintiffs argued that a judge-alone trial should go ahead as scheduled rather than be postponed into a post-COVID future, as the defendants requested.
The court recently stayed a divisional court decision that reinstated the jury notices favouring the defence's position.
In his decision, Justice David Brown wrote that he has "no hesitation" in concluding it is in justice's interests to grant a stay of the Divisional Court order that reinstated the jury notices.
"The motor vehicle collision that gave rise to these actions occurred over seven and one-half years ago," he wrote. "In a civil justice system that professes concern about providing the public with the 'most expeditious' adjudication of their civil suits on their merits, this action should have been tried long ago. The parties are ready for trial and have been for some time. COVID-19 intervened . . . . The continuation of the pandemic renders unknown and unpredictable when civil jury trials will resume."
The appeal court upheld the lower court decision allowing the stay on jury notices, leaving the case to go to trial on a judge-alone basis.
Campisi says plaintiffs in personal injury cases are entitled to 70 per cent of their previous gross income until the time of trial. From the time the trial starts, it is based on 100 per cent. "So, if cases are delayed for a long time, it is a real loss to the plaintiff."
Campisi says that a judge-alone trial simplifies things dramatically from a plaintiff's perspective when it can be done during the pandemic via Zoom or some other remote technology. The defence side, usually insurance companies, tends to favour jury trials as they tend to be more conservative when making awards.
In British Columbia, the court system has suspended civil jury trials at least until next fall. Still, judge-alone trials are in full swing — or as much as cleaning protocols and other COVID-19 factors have allowed.
Richard Parsons, a partner with Collette Parsons Corrin LLP in Vancouver, says he has participated in several court hearings since the start of the pandemic and appreciates the diligence being taken for simple things such as sanitizing between witnesses.
"We've noticed things getting bumped, but the court has really done a lot to keep things going."
As for jury trials, which have been suspended, Parsons says, "You can't force a large group of jurors into a small place together during COVID-19, so that is a wise move."
Parsons did end up dealing with one case where an insurance company wanted a jury trial this summer despite a date already set for a judge-alone proceeding, even if it meant postponing the trial until after the pandemic. In the end, the case did go to trial with only a judge, as the defence pulled its application for a jury trial.
Keeping the trial option (with only a judge) is essential, Parsons says, even from the perspective of creating pressure to settle. "Without the ability to go to trial, the ability to negotiate goes out the window." However, while the judge and lawyers are expected to be in the courtroom, witnesses and support staff aren't necessarily expected to be there, with much of their work being done remotely.
Saro Turner, a partner at Slater Vecchio LLP in Vancouver, says that COVID-19 has derailed even trials or hearings that have been set to go.
In one instance, a lawyer in one of the cases on which he was working felt he had "some sort of cold come on." He notified the judge, who said not to come back until he had a negative COVID-19 test, which lost three days of a trial set for 10 days. A similar thing happened to a colleague with a case that was put over indefinitely due to illness that turned out not to be COVID-19.
Nick Hooper, who mostly handles medical negligence cases as a partner with Wagners Law Firm in Halifax, says he has been part of both a jury trial and a non-jury trial since the start of the pandemic. At the time, both formats were allowed for civil trials in Nova Scotia.
One difference with jury trials under the COVID-19 rule, says Hooper, is that it is harder to gauge the jury's reaction to witness testimony because masks must be worn.
"I found it really challenging," he says, noting that with missing facial expressions, he only had eyes to go on to make sure they were "getting" the testimony.
However, for the most part, the remote aspects of the trial, whether with a jury or without, were a "fairly positive experience," even when expert witnesses had to give complex testimony by virtual means.
For the most part, he says, there were not many differences. "Perhaps [it was] a little more distant and harder to get a flow going. But all things considered, we worked through the technical difficulties that occasionally came up."
Hooper's colleague and Wagners partner Kate Boyle, who practises more in the area of class actions, says that the types of cases she deals with are known for their long timelines, even to get to the certification stage, let alone a trial, although settlements tend to happen relatively quickly after certification.
However, COVID-19 has pushed her cases further into the future. She notes that one case, which was supposed to have been heard last May in Newfoundland and Labrador, was postponed into May of this year. Boyle adds that court cases in Halifax are booking well until 2023. And as events get pushed further into the future, Boyle says, "things become more detached from the actual events," people get older or more ill and memories dim.
Jonathan Noorduyn at Litwiniuk and Company in Calgary says there have been challenges surrounding trials and other hearings related to personal injury law that generally would be in court. However, he says the use of remote technology to keep things going has generally improved. Participants' understanding and use of video conferencing and electronic filing has also improved. "People seem to be understanding and wanting to make it work."
There is also, he says, a bit more openness and flexibility toward settlement opportunities as the prospect of civil trials in the relatively near zfuture for personal injury cases dims. "There are opportunities to [move] things forward, actually quicker in some ways."
Salter Vecchio's Turner says the legal profession, in general, is going to emerge from this pandemic "much more efficient and resilient and able to deliver services at a more cost-effective and efficient way." That includes improving everything from cheaper photocopying costs and efficiently sending documents electronically to hiring and retaining the best talent thanks to remote working options. Travel costs and other disbursements would also be reduced.
"It's going to be a different, more likely better, world."
Anatomy of pandemic hearing in court
Courtroom social distancing, reduced capacity
Contact reduced use of robe rooms, extensive cleaning
Documents copies on a table in advance of hearing, cleaning protocols followed
Witnesses flexible in-court or virtual at judge's discretion
Jury selection (when possible): need for alternate, large location for choosing
Keeping the courts going — virtually
Electronic sending of document rather than binders
Witness testimony via formats such as Zoom, Microsoft Teams
Electronic document signing
Less travel, courtroom time allows for more productivity