PI lawyer calls for continued flexibility, more collaboration as concern over COVID persists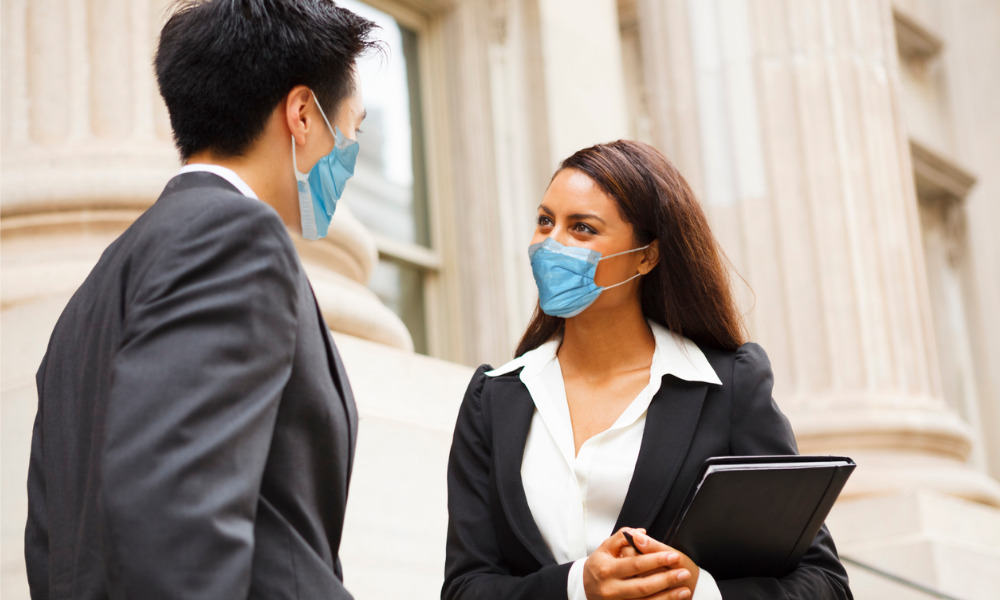 Sponsored article
When the COVID-19 pandemic first broke, an accident benefits claimant's reluctance to go for treatment or attend insurer's examinations was generally met with understanding from insurance companies. If you advised the client wasn't comfortable attending out in public because of COVID-19 "most adjusters were very willing to reschedule weeks or months from then with no question," says Carman Lee, personal injury lawyer at Bogoroch & Associates LLP.
But over the past several months, Lee finds that trend is changing. Insurance companies are taking a much tougher approach and she is getting increased pushback, even after explaining that her clients have legitimate concerns about themselves or their family getting COVID-19 and aren't comfortable attending treatment in-facility or for insurer's examinations.
"I've had situations where accident benefits were cut off, or where I tried to negotiate a settlement and the offer was much lower than expected with the reasoning that the claimant hasn't received treatment in the past year so it must not be necessary," Lee says. "When I pose the pandemic and its risks and restrictions on access to treatment as a consideration, it has been brushed aside despite the government lockdown early this year and how dire the public health situation was with respect to the pandemic. It is frustrating because insurance companies have lost the flexibility and understanding that they initially had."
Insurance companies have the right to adjust an accident benefits claim, including arranging for insurer's examinations with their own assessors, and Lee — who has previously worked on the defence side — says she's not suggesting that they ignore the tools available to them and write blank cheques. But her concern is that insurers are forcing claimants to choose between protecting against health risks to themselves or the people they live with versus risking exposure to COVID-19 to satisfy the insurer in order to continue receiving accident benefits they are legally entitled to claim.
When it comes to insurers' examinations, Lee questions how necessary it is for them to take place in-person and inside a facility. While it's true the majority of medical clinics that run the assessments have implemented COVID-19 precautions and protocols, public health guidelines suggest there is an increased risk when physically attending an indoor facility. Lastly, with insurer's examinations for an accident benefits claim, the power is with the adjuster to approve a treatment or a benefit. Where medical records and the opinion of the treating healthcare team support an ongoing need for treatment, claimants are still being sent for insurer's examination to determine whether the treatment proposed is necessary as a matter of protocol by the insurer. In light of the pandemic, there must be a more conservative and efficient use of the adjuster's discretion on when an insurer's examination is necessary.
"The reality is we're in a constant on-and-off situation with public health measures regarding non-essential travel, and the general message we're getting is to stay at home unless it's essential," she says. "I think it is understandable for a reasonable person to be concerned about seeing a medical assessor or attending a clinic where numerous patients or clients have also been seen by the same healthcare provider or clinic staff."
Lee continues to advocate strongly for her clients' who have concerns about attending treatment and/or assessments and attempts to collaborate with adjusters to find mutually agreeable solutions — but unfortunately, it is often not met with the cooperation you would want from the other side. Even something as simple as requesting a letter from an insurer's assessors confirming they cannot conduct an assessment virtually in light of the pandemic has been met with resistance.
"I don't think I have had a single adjuster willingly providing that to me without a more forceful push coming from my office," Lee notes, adding that it seems the initiative to find mutually agreeable solutions is only coming from her end. She wishes her attempts were met with more flexibility and collaboration in light of the difficult circumstances people around the world are facing.
"We're trending in the wrong direction," she says. "We need more of an attitude of cooperation and flexibility, and to really work together because as adversarial as this process can be, we are in it together with respect to the pandemic."