The firm was recently recognized as a Top 10 Personal Injury firm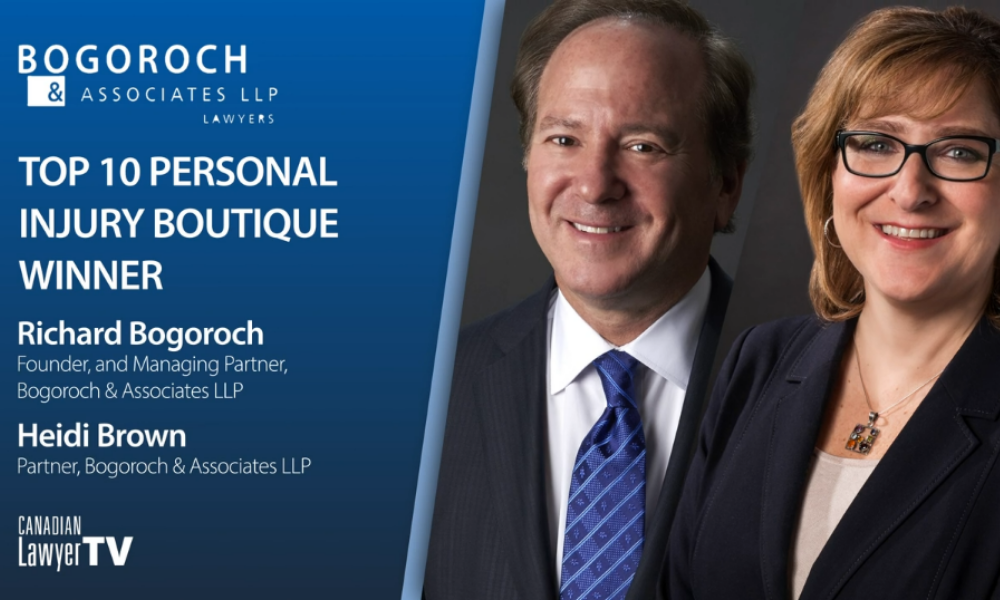 Bogoroch & Associates LLP has grown considerably since it was founded in 1999 and has gained extensive litigation experience in the personal injury field. Now consisting of 13 lawyers and more than 25 support and administrative staff, the law firm continues to assist persons who have suffered as a result of medical malpractice or car accidents. The firm's main objectives are outstanding legal representation and clients' access to justice.
Receiving their award as one of the Top 10 Personal Injury Boutique Firms, managing partner Richard Bogoroch and senior partner Heidi Brown, discuss their team's accomplishments and goals with Tim Wilbur, editor-in-chief of Canadian Lawyer magazine.
"Access to justice for us means providing services on a contingency fee basis that we pay for all of the time disbursements necessary to support the litigation. And we only get paid if we're successful. [As] our overarching philosophy, [we] provide effective, timely and compassionate legal representation," says Bogoroch. The team works on lawsuits promptly and employs the technology needed to move cases swiftly through the litigation process. An effective communication strategy is necessary, so clients receive copies of all documents and are informed about the details of their litigation. Clients also make critical decisions such as when to settle or when not to settle.
"In my experience, one of the most difficult aspects of any litigation is trying to navigate through complex legal and medical issues. And the importance that we place on keeping our clients informed cannot be underscored. We want our clients to know the process and feel at ease with the process … [No] client should ever have a question and be in the dark about what's going on in their case," explains Brown.
Bogoroch emphasizes that mediation is essential to dispute resolution "because it allows parties to settle their cases without going to trial". In places like Toronto, Ottawa and Windsor, where mediation is mandatory, parties are given an opportunity to settle cases through alternative means before the court sets a trial date. Having mediated thousands of cases over two decades, Bogoroch & Associates believe that the mediation process "allows [parties] to achieve peace of mind, knowing that the litigation is resolved and allows them to move on with their lives". Mediation is especially important to deal with case backlogs in courts due to pandemic-related restrictions.
Brown also notes recent changes in lawyer-client interactions, which previously involved having meetings in the office and has shifted to phone calls and Zoom meetings. In addition, affidavits and documents are signed electronically instead of requiring manual signatures. These changes, she says, "are bringing the practice of law into the 21st century, and I don't see us going backwards from that perspective".
Apart from implementing these innovations, the firm also focuses on its philanthropic initiatives, such as sponsoring scholarships in law school.
"We've tried to make it a little bit easier for those who want to go to law school, but who lack the financial means," says Bogoroch. The firm provides entrance scholarships to Osgoode Hall Law School and McGill Law School, as well as funding to Queens University Law School's legal aid program. Bogoroch believes that legal aid is fundamental to Canadian democracy, and the firm's contributions are compatible with the objective to help more people benefit from the justice system.
Related stories