For a second time, an arbitrator has ruled in favour of the Ontario Nurses' Association, ordering a major hospital group in Toronto to rescind its "vaccinate or mask policy."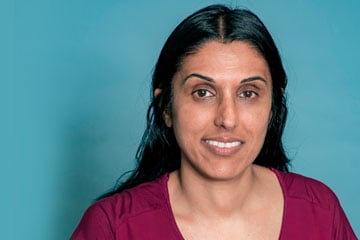 For a second time, an arbitrator has ruled in favour of the Ontario Nurses' Association, ordering a major hospital group in Toronto to rescind its "vaccinate or mask policy."
In St. Michael's Hospital and The Ontario Hospital Association and The Ontario Nurses' Association, arbitrator William Kaplan struck down the policy in effect at St. Michael's Hospital and several other hospitals that form the Toronto Academic Health Science Network, saying that the policy does not protect patients and doesn't serve to prevent the transmission of the flu in hospitals.
A VOM policy forces nurses and other health-care workers to wear an unfitted surgical mask during their shift if they choose not to receive the influenza vaccine. St. Mike's is one of a small number of hospitals with a VOM policy — less than 10 per cent of about 165 hospitals in the province.
After reviewing extensive expert evidence submitted by both the ONA and St. Michael's Hospital, which was the lead case for the TAHSN group, Kaplan, in a Sept. 6 decision, rejected the hospital's evidence and found that the St. Mike's VOM policy is "illogical and makes no sense" and "is the exact opposite of being reasonable."
Sharan Basran, legal counsel and manager of litigation for the ONA, says the organization was "very courageous" to take on the hospitals in the VOM battle. The ONA was represented by Kate Hughes, Philip Abbink and Tyler Boggs of Cavalluzzo LLP.
"I think the orthodoxy on this at the beginning was that these are policies that protect patients and so I really feel that ONA understood that the notion that a healthy unvaccinated nurse needs to wear a mask when she doesn't have any symptoms was not a credible means to achieve what was a laudable objective. ONA really went to bat on something proven correct at the end of the day," says Basran.
The TAHSN group includes Sinai Health System, Sunnybrook Health Sciences Centre, North York General Hospital, the Centre for Addiction and Mental Health, Michael Garron Hospital and Baycrest Health Sciences. Other TAHSN hospitals did not have VOM policies in place.
In 2015, arbitrator James Hayes struck down the same type of policy in an arbitration that included other Ontario hospitals across the province, with Sault Area Hospital as the lead case. It was the first to go against a 2013 British Columbia decision that had found a similar VOM policy to be a reasonable exercise of management rights.
In that case, 19 hospitals across the province agreed to the initial process where Sault Area Hospital was the lead case.
Speaking on behalf of St. Michael's Hospital and the OHA, Melanie McNaught, partner with Filion Wakely Thorup Angeletti LLP said in an emailed statement:
"St. Michael's Hospital decided to amend its policy to include a vaccinate-or-mask requirement in 2014, following a report by a Toronto Area Health Sciences Network expert working group. St. Michael's VOM policy was applied in the 2014/15 flu season, before Arbitrator Hayes released his decision in September 2015 finding that the VOM policy at Sault Area Hospital was unreasonable. After the Hayes decision, St. Michael's and a number of other TAHSN hospitals wanted to continue with their VOM policies because they believed it was in the best interest of patient safety. The Ontario Hospital Association supported their decision. Also, we believed we could put forward a better case for the reasonableness of the VOM policy. Arbitrator Hayes found that certain aspects of the Sault Area Hospital's implementation of the VOM policy were, to use his words, "coercive." St. Michael's had implemented its VOM policy in a thoughtful way, with lots of consultation with various hospital committees. We were confident that the implementation at St. Michael's had not been coercive. Arbitrator Kaplan found in our favour on that point. He found that St. Michael's policy was not coercive and that it was made in the pursuit of reasonable objectives. Nevertheless, he still found that the policy was unreasonable.
"Naturally, we are disappointed with the outcome. This case involved a lot of difficult, and sometimes conflicting, scientific evidence. As Arbitrator Kaplan observed in his decision, these kinds of public health policy questions are better resolved by experts, rather than through litigation or labour arbitration. That being said, the reasonableness of the policy was to be decided at labour arbitration, using a labour relations framework. We did our best to present the scientific evidence in a way that was fair and clear. The Arbitrator preferred the evidence of ONA's experts," McNaught said.
The ONA had first grieved the policy as an unreasonable exercise of management rights and a breach of employee privacy rights because a hospital-wide posting explained to the public that masks were required to be worn by unvaccinated employees.
Hayes found there was "scant evidence" that forcing nurses to use masks reduced the transmission of influenza to patients.
"Essentially, they all had vaccinate or mask policies and all agreed to rescind their policies," says Basran. "However, the TAHSN group wouldn't agree to be bound by the result so they were forced to arbitrate it again and it was a lengthy protracted litigation — this is now the second decision on the issue."
Basran says the "vast majority" of hospitals in Ontario have rescinded their VOM policies either through arbitration or they have voluntarily agreed to change their policies, except for two in London, Ont. — London Health Sciences Centre and St. Joseph's Health Centre.
"I think there is now a consensus developing in the arbitral community that there is no question that these policies really do not protect patients. The arbitrator was quite robust in describing the evidence led by the hospital as 'insufficient, inadequate and completely unpersuasive,'" she says.
Legal Feeds reached out to London Health Science Centre and St. Joseph's Health Care London for comment. In an emailed statement provided by a spokesperson for St. Joseph's, the hospital indicated it has an "Influenza Vaccination for Staff" policy that currently requires unvaccinated staff to wear a mask while in areas where there are patients during the period that influenza is circulating in our community. "In the coming weeks we will be carefully reviewing the arbitrator's decision to determine if our current policy needs to be revised for the coming flu season."
"I would hope they are going to study the decision carefully and appreciate that it's a waste of time to re-litigate it when the matter has been decided twice now," Basran says. "I think we have exhausted hearing the evidence on this — this is a definitive statement."
Through the arbitration process, Basran says, it has become evident there are much better alternatives to ensuring patient safety.
"It was necessary to create clarity, but I think there is crystal clarity now," she says.
The nurses' collective agreement already protects patients if the medical officer of health determines there is an influenza outbreak by ensuring that comprehensive measures are put in place to reduce the risk of transmission to patients.
In his decision, Kaplan noted that both vaccinated and unvaccinated health-care workers can transmit the flu and asymptomatic transmission can occur. "If donning a surgical or procedural mask provided protection, the conclusion should be inevitable that everyone should mask — at least until a vaccine with one hundred percent effectiveness, or close to it, becomes available. That is not, however, required illustrating how illogical the VOM policy actually is," he wrote.
The ONA's expert witnesses included Toronto infection control expert Dr. Michael Gardam, Quebec epidemiologist Dr. Gaston De Serres and Dr. Lisa Brosseau, an American expert on masks, who testified that there was insufficient evidence to support the St. Michael's policy and no evidence that forcing healthy nurses to wear masks during the influenza season did anything to prevent transmission of influenza in hospitals.
They further testified that nurses who have no symptoms are unlikely to be a real source of transmission and that it was not logical to force healthy unvaccinated nurses to mask.
Editor's note: Updated Sept. 14, 2018 at 1:30 p.m. to include comments from Melanie McNaught, partner with Filion Wakely Thorup Angeletti LLP.