While mediation is used to resolve real estate issues extensively in some parts of the country, such as British Columbia and Ontario, it is not as common in others, such as the Maritimes, Manitoba or Saskatchewan, according to the ADR Institute of Canada.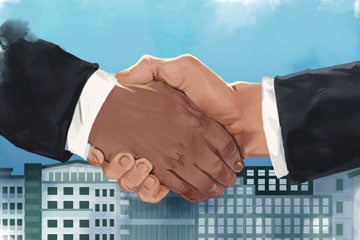 Regina lawyer Rodger Linka became increasingly disillusioned about the litigation process. In a transition period after practising law for 40 years, he took a serious look at the alternative dispute resolution process, recently becoming a mediator.
Saskatchewan, like some other Canadian jurisdictions, adopted mandatory mediation for civil actions. There, it takes place after pleadings are filed and before any other steps in the litigation are taken. For Linka, who practises at Linka Howe Law Offices, it's not a perfect system and there is plenty of headway to make, but "it is a recognition that the courts are trying to find ways to resolve cases without actually going all the way through the process," he says.
While mediation is used to resolve real estate issues extensively in some parts of the country, such as British Columbia and Ontario, it is not as common in others, such as the Maritimes, Manitoba or Saskatchewan, according to the ADR Institute of Canada. But it has been developing as a practice area for lawyers and has gained steam in pockets across the country during the past several years, partly as an access-to-justice mechanism — which is what attracted Linka — and partly as a time- and cost-saving process for all involved.
David McCutcheon sees organic growth in mediation to address the specific issues that arise in real estate law, a vast practice area that takes in raw land, development and construction, as well as landlord/tenant issues, and frequently intersects with other practice areas. There are also now more real estate syndications and REITs being included in large investment portfolios, including pension plans.
"The more complicated real estate gets and the more sophisticated it gets . . . the more expert requirements there are," says McCutcheon, who served several terms as president of both the ADR Institute of Ontario and the ADR Institute of Canada. He is also currently transitioning out of his Denton's Canada LLP litigation practice in Toronto to full time arbitration and mediation.
"This business is going to grow, largely fuelled by, in my view anyway, the more complicated expertise that you see in the real estate world now than you did 20 years ago and the fact that you're going to see mediators who are comfortable with that level of expertise."
There are also some areas where mediation is particularly well-suited to resolve disputes, such as those between commercial landlords and tenants. Given that these are often lengthy relationships, it is in the interest of both parties to avoid an acrimonious encounter when they can't resolve an issue or when it comes time for renewal resets under land leases.
A mediator might be recruited during lease renewal negotiations when talks come to a standstill, says Ernest Gutstein, a Toronto lawyer with Goldman Sloan Nash and Haber LLP, who has been practising real estate almost exclusively since 1979. Its preference is further recognized through the introduction of mediation clauses in contracts, in addition to arbitration clauses, which have long been included.
In Ontario, in addition to mandatory mediation in some civil courts, mediation is required in condo disputes, and there are provisions for mediation in the land-use planning regime.
In large construction projects, a dispute resolution panel might be implemented, which could include a project mediator on standby who is familiar with the project and related issues, says Gutstein, who obtained a master's degree in alternative dispute resolution. Quebec, too, has adopted an alternative regime involving mediators in construction projects.
"It's the type of setup that might be implemented more and more going forward, because it makes sense for very large projects," he says. "It's a short circuit . . . getting people to where they want to be so that they're free of the dispute and [can] get on with their lives."
Edmonton lawyer Stan Galbraith served on the ADR Institute of Alberta board executive for five years, looking for mediation to displace litigation in a meaningful way in real estate and construction law. Although he sees some pockets of the practice area weaving mediation into the conflict resolution process, he feels it's a far cry from how it's used in family law.
Galbraith says in Alberta "there's very little mediation in the area of real estate right now."
There has been some interest in modernizing and working ADR into the process. The province's new home warranty program incorporates mediation into its dispute resolution program, for instance. But, currently, the focus on mediation in Alberta is for civil claims, when the case is already in the court system.
He says there is a need for a more dramatic shift and there are some natural areas, such as condominium disputes, that he says could be better resolved using mediation.
The appeal is that mediation is interest based versus subject based. So, while the court is geared to determining the amount of money an injured party will receive, mediation focuses on the underlying interests that might even result in an apology.
"Mediation is designed from the get-go [to answer] what's your underlying interest? What are you really upset about?" says Galbraith. "Ultimately, so many of these things are not about dollars and cents and that's where I think mediation has a role to play in real estate."
With about half of his workload in real estate, Galbraith will include alternative dispute resolution clauses into agreements where possible. He says there's been more of an acceptance accompanied by a maturation of the wording.
Land-use planning is another area where ADR is gaining traction in Ontario. The difference is that there may be several parties at the table including the developers, the municipality, adjoining landowners and residents, and public interest considerations.
"It's a question of setting up the framework so that the parties or the people that are interested have the appropriate interest or status in the mediation, so the weaker parties don't feel that they have less power or influence than other parties involved in mediation," says Ron Kanter, a former provincial and municipal politician and counsel with Macdonald Sager Manis LLP in Toronto, where he does arbitration and mediation in municipal and planning matters. "In a mediation, it's very much a challenge for the mediator to try and ensure that all parties to the mediation are on an equal a basis as possible."
While lawyers are the drivers in the traditional litigation process, mediation is about encouraging the parties to speak for themselves, he points out. So, the role of a lawyer changes in mediation and the role of the client becomes a focal point.
Gary Fitzpatrick's work in mediation came early and rather quickly, intensifying when a perfect storm of issues collided, resulting in Vancouver's leaky condo crisis in the mid-1990s. Several years earlier, in the late 1980s, he had "stumbled across mediation" after attending a session presented by a group from Denver. He then started doing commercial mediations.
Construction of condominiums in Vancouver then picked up and building overhangs, important in diverting water, were eliminated. Builders were also using plaster or spackle on the outside, which made the building envelope susceptible to leaking.
When the buildings did start to leak and the claims started coming in, insurance companies conducting work in different aspects of construction found they had a lot of files where they were the insurer for the contractor or developer as well as subtrades, and they became attracted to the less expensive option of mediation, says Fitzpatrick.
The leaky condo mediations started slowly but grew in such volume that Fitzpatrick would sometimes find himself doing three a week, squeezing out other work. He says that in more than a decade, there have been more than 1,500 leaky condo mediations and he was involved in about 700 of them. Of all those disputes, he adds, only one went to trial.
Over that time, the mediation process evolved and adjusted to fit the leaky condo issues and that crisis put mediation on the radar.
"When you come out the other end, the familiarity with mediation and the confidence in mediation had grown exponentially because of what happened in the leaky condos," says Fitzpatrick, who had a full-time mediation practice in Vancouver from 1993 until his retirement in March.
Fast-forward two decades and more than 95 per cent of disputes settle, with most in Vancouver ending in mediation when the dispute "is ripe enough," says John Logan, a founding partner of Jenkins Marzban Logan LLP.
"Over time, a lot of disputes became so expensive and so time consuming that clients and their lawyers kind of drove the pursuit to alternate dispute resolution," he says. "All of the rule changes in the courts have been intended to make things easier and fairer," resulting in a more comprehensive process.
With court cases becoming more complicated and the high cost of lawyers, there has been more of a drive to the alternatives. Logan says, in mediation you can choose your dispute resolver, often with special expertise, come to a resolution quickly and achieve the desirable cost savings in a confidential process that is not as likely to be appealed.
McCutcheon says he expects to see the use of mediation in real estate grow as those involved in disputes see the benefits.
"It's growing organically now because people now realize that early mediation of these commercial disputes probably gets you a better net solution than having a big fight about it either in the courts or by arbitration," he says.