Legal departments help support tenants in creative ways as business strengthens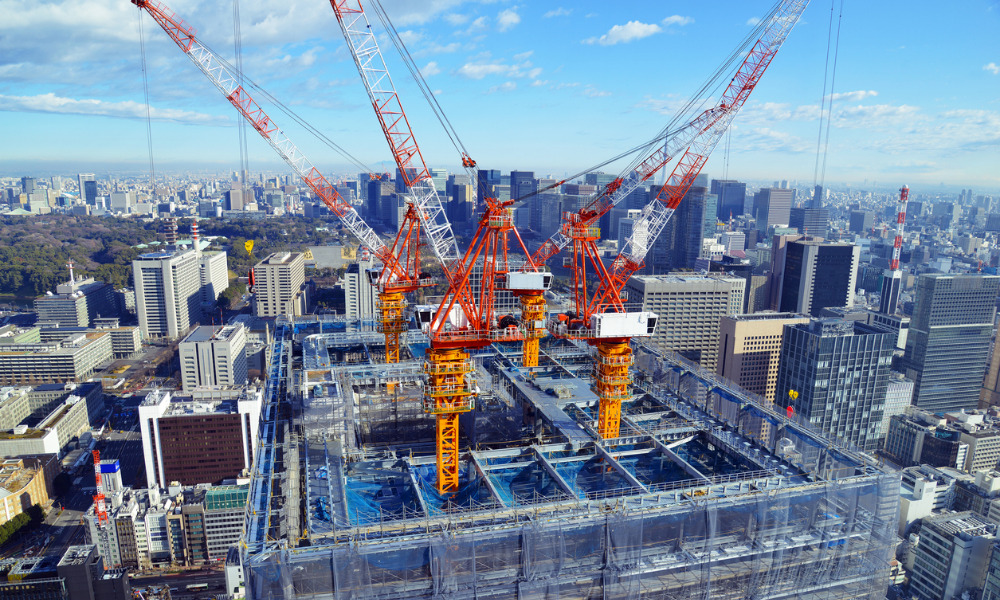 Commercial real estate in Canada has seen an upswing in momentum this year after a downturn during the pandemic. Although investors remain circumspect and lenders are more cautious in the post-pandemic era, the outlook for Canadian commercial real estate is positive, says Bavia Bisetty, a partner at Osler, Hoskin & Harcourt LLP.
"Transactions are progressing, but LOI [letter of intent] deal terms are taking longer to negotiate, and there's a general slowness in terms of how these discussions are moving along," says Bisetty. The shortage of industrial space for land and stabilized assets continues to create challenges for Bisetty's clients, as do significantly higher acquisition and construction costs. As supply diminishes, demand increases and transactions become more complicated. These deals often require regulatory approval, thus taking longer to complete.
"There is more attention being given to the long-term outlook and complexity," says Bisetty. "Some investors are finding that this requires pricing and resources that they aren't willing to consider in the current market, so they are just going to wait it out."
Bisetty predicts that foreign capital will continue to be attracted to Canada as geopolitical challenges shift the focus to more stable socioeconomic environments. "Real estate is a significant vehicle for that capital," she says.
In-house counsel at real estate companies and their external counsel partners are facing new challenges.
"We are now negotiating terms and conditions that we didn't have to previously consider, or didn't have visibility or access to, and this means being nimble and creative as we deal with new issues," says Bisetty.
At CT REIT, the priorities for the legal department this year have been supporting an executive transition as the CEO retired and maintaining a solid relationship with Canadian Tire, their anchor tenant and controlling unit holder. The legal team is also building up the role of the associate vice president VP, legal – real estate, Diana Pegoraro, who was a real estate associate at Torys until she joined the team in April.
Because of CT REIT's unique relationship with Canadian Tire, its occupancy rates remained high throughout the pandemic. The REIT also collaborated with other tenants to assist them with solutions during the pandemic.
"We're seeing more construction costs in our development contracts, and we're also seeing some expanded force majeure clauses and provisions being added to contracts to address things like health emergencies, so negotiating that new reality has been interesting and requires a new legal lens," says Pegoraro.
Having joined the REIT recently, Pegoraro focuses on building relationships with business teams. Together with general counsel Kimberley Graham and external counsel partners, she is preparing to launch a legal education seminar series in the fall. The company will invite all employees of the REIT to participate in learning about and asking questions relating to lease forms and administration.
"We're hoping it will provide an open forum for discussion and really connect different departments," says Pegoraro. She and the small legal team also focus on streamlining the document collection and organization process.
"As the REIT has grown in recent years, in terms of both properties and employees, it has become increasingly important to ensure that we have a fast method of collecting legal documents and managing them," says Pegoraro.
She anticipates increased interest in commercial real estate companies' environmental, social, and governance (ESG) matters. CT REIT is currently constructing its first net-zero distribution centre in Calgary, and Pegoraro expects the 350,000 sq ft centre to resonate with tenants with their own sustainability objectives and initiatives.
ESG is also top of mind at First Capital REIT, so the legal department is supporting the business in its goal to integrate it into every aspect of the company.
"Legal plays a very critical role in ensuring that we're reporting on everything from the design and construction of our properties to the mix of tenants and retail offerings to the biodiversity of our sites, and ensuring that we have publicly accessible green spaces," says Alison Harnick, senior vice president, general counsel and corporate secretary at First Capital.
Tenant relations are at the forefront for the legal team at First Capital, so Harnick and her team collaborate with the leasing development and construction teams to ensure that new tenants are in a position to occupy space as soon as possible and to ensure seamless transitions of tenants.
According to Harnick, the importance of the legal team supporting tenant relations has been amplified in the past two years.
"Our portfolio is actually stronger now than prior to the pandemic, and the role that legal has played in ensuring that the terms are in place for that success has been critical," says Harnick. "We focus on supporting our internal teams to ensure that our tenants are in the right place to succeed."
For tenants forced to close during pandemic lockdowns, Harnick's team negotiated terms and provided tools to help them succeed and strengthen their position when they re-opened. For example, the legal team helped develop a support program for small businesses. They worked with independent restaurant operators to help them connect with food delivery and ordering services typically reserved for national chains.
"All of that work has really put us back to a business-as-usual position in the sense that our leasing activity has resumed at normal or in excess of pre-pandemic activity," says Harnick.
The legal department at First Capital is currently working on a project that will enable data to be extracted from its leases for automated tests, creating a wholly integrated database with other departments to provide accurate and easily accessible information.
Harnick maintains a positive outlook, as tenants at First Capital are in a stronger position than in pre-pandemic times.
"The mix of necessity-based tenants in our portfolio sets a good tone for the future and has put us in a position of strength going forward," she says.