As Ontario prepares to enact the second phase of its construction lien legislation, the other provinces are considering or implementing a similar new prompt payment and adjudication regime.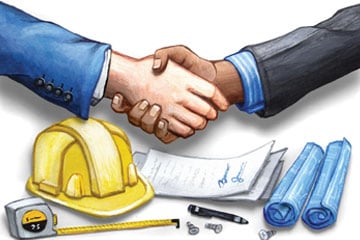 As Ontario prepares to enact the second phase of its construction lien legislation, the other provinces are considering or implementing a similar new prompt payment and adjudication regime. There is also movement afoot for a national initiative as Public Services and Procurement Canada explores legislation to improve the timeliness of payments for federal construction contracts through all tiers of the construction industry.
Industry groups have been calling for intervention as money in the increasingly complicated construction projects is slow to trickle down through the many layers of services in the industry, particularly to subcontractors and the trades.
Public Services and Procurement Canada sought industry input on the possibility of national legislation that would ensure that money cascades down the construction pyramid more efficiently, which resulted in the "Building a Federal Framework for Prompt Payment and Adjudication" report by Canadian construction and infrastructure law firm Singleton Urquhart Reynolds Vogel LLP. It acknowledged a need for contractors to avoid the disruptive effects of delayed payment, prevent trade contractors from needing to add contingencies to their bid prices based on perceived risks of delayed or nonpayment and reduce the risk of insolvencies in the construction industry.
The report recommended legislation like that introduced in Ontario — which is the only province so far to have prompt payment and adjudication legislation — to create more of a national alignment.
Ontario, meanwhile, is preparing to implement the second phase and largely considered the most significant part of its newly named Construction Act this October, after living with the first phase, involving lien modernization, since July 2018. The second phase introduces a prompt payment scheme as well as a mandatory adjudication system.
But it took three tries for Ontario to get legislation in place, says Richard Wong, chairman of the construction and infrastructure group at Osler Hoskin & Harcourt LLP in Toronto. Earlier iterations introduced since 2012 were considered unduly harsh from the owners' perspective. This prompted expert reviews and canvassing of the industry, resulting in a report that recognized competing interests but acknowledged a need for a mechanism to allow payment to move through the construction pyramid while providing a means to resolve disputes more quickly.
"Projects have become bigger and more complicated over the years," he says. "The size of projects now are in the billions of dollars when they used to be in the hundreds of millions of dollars. Projects are becoming much more multi-faceted.
"There's so many layers. What has happened is that the payment process has bogged down as a result of having to filter all of these layers."
In "Building a Federal Framework for Prompt Payment and Adjudication," Singleton Urquhart Reynolds Vogel LLP concluded: "[T]he existing prompt payment policies and/or proposed voluntary codes are inadequate to achieve prompt payment, particularly at the trade contractor level and below, such that the implementation of prompt payment legislation at the federal level makes sense" and recommended that the federal legislation be like Ontario's. The report suggested the federal government enact legislation for the timely building of construction projects by ensuring cash flows through the various levels quickly, avoid increased costs by addressing contingencies added to the bid price and reduce the risk of disruption on projects related to insolvency of contractors and subcontractors.
Wong sees the federal initiative as a harmonization of the federal and provincial regimes to encourage consistency, which is helpful when similar projects are carried out in different jurisdictions. The report discusses a potential model law for the provinces, an intergovernmental agreement between the federal and provincial governments to co-ordinate payment and a rule that would see the federal legislation apply in provinces that have no prompt payment legislation.
Ontario, unlike many other jurisdictions that have introduced prompt payment legislation, added adjudication to the process to ensure more timely and efficient resolution of disputes.
"I think now that the genie is out of the bottle for adjudication of prompt payment in Ontario, there's a good prospect that other provinces will follow suit," leading the federal government to look for consistency across Canada for federal government projects, says Matthew Alter, head of the Construction Group at Cassels Brock & Blackwell LLP in Toronto.
While some foreign jurisdictions have adopted lien and prompt payment legislation in recent years, the United Kingdom introduced adjudication in the 1990s because of the many trade insolvencies, says Alter, who co-wrote The Ontario Construction Lien Act: Kirsh and Alter - A Guide to Construction Liens in Ontario with Harvey Kirsh. The number of civil contract disputes and arbitrations involving construction projects in the U.K. is believed to have dropped off as a result.
The impact of Ontario's new statutory mechanism to ensure payments are made within a certain timeframe from the owner on down and an expedited binding dispute mechanism process is expected to be significant, says Howard Krupat, a partner with the focus of practice on construction and infrastructure dispute resolution with DLA Piper (Canada) LLP in Toronto.
"From a practical point of view, I think what it will mean is construction industry participants really have to get ready for pretty significant changes in the way they administer the payment process and the way that they administer their construction contracts, generally," he says. "The big picture changes are: getting money to all participants in the construction industry — suppliers, subcontractors, contractors — the idea is to get payment to them; plus, more quickly than they've been accustomed to."
Looking at the experience in the U.K. and other jurisdictions that have adopted prompt payment legislation, he is hopeful that Ontario's solutions will be effective. But, he says, Ontario has added an element, which may serve as a testing ground for other provinces.
"One of the unique things in Ontario is we're going to continue to have a robust construction lien regime alongside of prompt payment adjudication, which is different than what other jurisdictions around the world have. So, we'll see how liens and prompt payment and adjudication all work together," he says. "I think Ontario will be a good test case, generally, for how this system will work, and other provinces will be watching closely to see what the impact of this is here.
"This is going to be something that lawyers are going to really have to be attuned to, and it's going to have a big impact on the advice they give to their clients in terms of managing construction disputes in the most efficient manner possible. Changes will likely be required to construction contract documents to accommodate these changes, and I think there's going to be an adjustment period in the construction industry and it will be very exciting to see how it all plays out."
An adjudication regime is part of Saskatchewan's draft lien legislation, along with prompt payment. And it's closely aligned with what Ontario has implemented, says Jared Epp, a partner at Robertson Stromberg LLP in Saskatoon.
The way specific aspects of the legislation are rolled out, however, could differ from place to place. Ontario, for instance, has bonding provisions as part of its prompt payment legislation, while this is not being included in Saskatchewan's. And because Saskatchewan is a much smaller province with a smaller construction industry, how the adjudication regime is implemented could differ from the process in Ontario. But he sees a very similar framework, which could well become the foundation for prompt payment legislation across the country.
"Saskatchewan, like Ontario, is conceiving of a very broad adjudication regime as part of this new legislation and it would allow a lot of the interim disputes and disputes before the project is completed to be put in front of someone, probably from someone in industry, just to make some sort of a decision," he says. "There are still quite a few disputes in construction projects that wind their way through the courts, but there's really no need for them to go that way. In a lot of cases, parties simply need someone to make a decision."
An adjudication regime hasn't yet been completely defined or assigned in Saskatchewan. Perhaps, he says, that might come out of the federal initiative.
New Brunswick is another province considering prompt payment legislation. Its law reform notes from May 2018 included the question of whether the province's lien act needs to be modernized and then whether prompt payment needs to be addressed. The challenge is whether any initiative will gain traction given the minority government, which has already been replaced through a nonconfidence vote since October's election.
"I'm not sure what the answer is on prompt payment and adjudication," says Conor O'Neil, a construction lawyer at Stewart McKelvey LLP, who works in Saint John. Despite that, he says it is inevitable, given the need to update the province's lien legislation. And there had been some discussion about adopting the same framework as Ontario. "If you look at the lien acts across the country just in terms of enactment dates, I think New Brunswick is the oldest one."
He points to the inclusion of dowry in the Mechanics Lien Act of New Brunswick and reference to registering a lien by updating a book that essentially no longer exists as indications for the need for an update to keep up with the current practices of the industry.
That claims can really choke the cashflow of a project and slow things down is an indication, he says, that you can't have prompt payment without adjudication.
"The problem in New Brunswick is a logistical one" given its small bar, which is bifurcated by English and French practitioners, he says. "If I need to engage a third-party adjudicator in a construction dispute my options are few and far between.
"It's a real problem that might be able to be dealt with in the fullness of time" if the federal government creates a federal nominating authority, he says.