The growing popularity of short-term rentals has brought a host of new legal issues.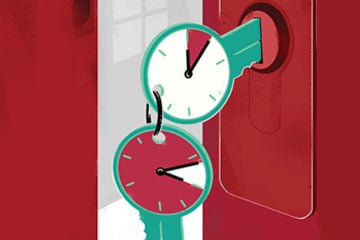 The growing popularity of short-term rentals has brought a host of new legal issues.
Oscar Miklos attended a Vancouver strata meeting armed with two bylaws he had drafted — one to prohibit short-term rentals and another that would allow the board a semblance of control over them. But a lengthy discussion resulted in no conclusions and neither bylaw could attract the 75-per-cent support required.
Some of the unit owners, fearing their complex was being converted into a hotel, wanted short-term rentals prohibited. But others wanted to preserve the ability to rent out their units to offset their home ownership costs.
"Because they were so divided and because it does require a three-quarter vote to change or amend the bylaw, they could not agree on anything and they just couldn't get anything passed, unfortunately. That's an illustration of how divisive this issue of Airbnb has become that you literally have people in condos who are going up against each other and cannot agree on just about anything when it comes to this because their interests are so diametrically opposed," says Miklos, whose real estate practice at Haddock & Company Lawyers includes a great deal of work in condo law.
The City of Vancouver has its own concerns. Fearing that its extremely expensive and limited housing stock is being lost to short-term rentals, it adopted new rules that were to go into effect in April. They permit homeowners or renters to rent out their principal homes for less than 30 days at a time. But they are prohibited from renting out secondary homes or suites for short periods. The expectation is that about 1,000 of the more than 6,000 units or homes currently used for short-term rentals will return to the long-term market as people adapt to the new rules.
The possibility of renting out a condo unit for a few weeks or nights has opened new opportunities for both those looking for an alternative way to vacation and others in search of new sources of income. But the new sharing carries with it some inconveniences as well as legal concerns.
As condominium boards increasingly allow or prohibit short-term rentals through their declarations and bylaws, particularly in the overheated Toronto and Vancouver markets, courts are also being asked to resolve disputes and are setting precedents. Municipalities are also imposing regulations, often to preserve permanent housing stock and prevent its transformation into tourist accommodation.
In Quebec, the provincial government has brought in its own legislation. Short-term rentals have served as a lightning rod of sorts in the province, with a very vocal tourism sector crying foul as it finds increasing competition with individuals who don't pay the same taxes and fees as it does while listing its units at competitive rates. Simon Chénard at Langlois lawyers LLP in Montreal points to the large volume of case law emanating from these disputes.
Quebec's regulations require those wanting to rent out their premises for fewer than 31 days on a regular basis in exchange for money to get a certificate of classification and abide by a series of rules. Some municipalities view short-term rentals as being more akin to commercial use of premises than residential use and have layered in another set of restrictions through their zoning bylaws.
For unit owners and condo boards, problems often stem from the declarations of co-ownership for condo units, which are often silent on the issue.
"There's a lot of variations through the cities. Some have changed their zoning bylaws to ensure the right to short-term rentals is clear; some are in the process of doing so," says Chénard.
There is some discussion in Nova Scotia where hotels and the traditional hospitality industry also feel short-changed and disadvantaged, says Lauren Randall, who works in real estate law in the Halifax and Darmouth areas with BoyneClarke LLP.
"We do have a lot of condo boards and developers who are starting to consider whether or not they want to include in their declarations and bylaws something that would prevent people from renting on Airbnb," she says. "I don't know if there's any clear-cut answer, because there are people who want to buy condos for their homes [who] don't want people coming and going [and] strangers there. But there are lots of people who buy condos as rental and income properties and they're going to want this option."
The province's Residential Tenancies Act allows one-month rentals and there are concerns that shorter periods are not consistent with residential use.
In Alberta, there is a feeling that it's only going to be a matter of time before the courts are asked for clarification about what is and isn't permitted. Laurie Kiedrowski says there's a disconnect between the existing Condominium Property Act, which prohibits restrictions in condominium bylaws, and restrictions allowed by the courts. Kiedrowski, a partner at McLeod Law LLP whose practice in Calgary focuses on multi-family development and governance, awaits judicial clarity on short-term rentals in Alberta.
"Right now, it's an uncertain area of the law for legal counsel in Alberta," she says. "Use and occupancy restrictions have been upheld by our courts for many, many years. For instance, we can have restrictions on pets in condominiums. Even though pets are perfectly legal, we can have bylaws that prohibit or restrict having pets in your condominium project. The courts have consistently upheld use and occupancy restrictions such as those.
"Similarly, they've upheld use and occupancy restrictions such as commercial use in condominium projects. When you have a set of legally registered bylaws, which constitute a contract between and amongst all owners in accordance with the act, those bylaws are the contract that everybody in that project needs to live by."
There is no indication that the issue will be specifically addressed in existing legislation, which is in the midst of revision. That leaves the issue to the courts.
Kiedrowski says some buildings, particularly in the downtown core, do permit short-term rentals. And developers use that as a marketing tool, often developing condo bylaws permitting them. But she expects that after the developers leave, owners occupying their units may not wish to allow short-term rentals. And that provides a challenge, given that approval for changes to condo bylaws require 75 per cent approval from unit owners in Alberta.
Changing condominium bylaws is difficult to accomplish in most provinces. In Toronto, condo lawyer Greg Marley, a partner with Deacon Spears Fedson + Montizambert, has seen some complexes designed for the investor market in recent years. The problem occurs when purchasers don't familiarize themselves with the declaration permitting short-term rentals. A board that doesn't want short-term rentals in the building can try to have the declaration changed, but that requires 80-per-cent written consent from all the owners.
A downtown Toronto board, unhappy that its declaration allowed for short-term rentals in its building with more than 800 units, tried to change its declaration to forbid them, but it was unsuccessful. Instead of pursuing a challenge through the courts, the condo board decided, instead, to find a means to control it without adding significantly to the condo corporation's responsibilities and costs.
"These condominium boards are looking at: 'How do we change our documents to prohibit it?' Some of them have been successful in amending their declarations, and you need 80-per-cent consent of all the owners. So, you change it and you say: 'We're prohibiting short term; you need minimum-lease terms,'" says Toronto condo lawyer Denise Lash of Lash Condo Law. "But there are others, and some of the larger condominium corporations, where it's virtually impossible to get your 80 per cent because there are a lot of owners who are not on site and you have to get their consent."
Since the condo corporation had no choice but to accept the fact that short-term rentals in the complex are perfectly legal, the board decided to try to make the best of the situation and found what it thought was a reasonable solution: Airbnb's Friendly Building Program. By working together, issues such as noise, damage, legal concerns, management time and the additional wear and tear on common elements are addressed.
The complex became Canada's first Friendly Building for Airbnb, which takes on the job of dealing with complaints as well as damage to public areas through its insurance. It also allows for a portion of the rental revenues to go to the condo corporation to cover the costs incurred through the increased use of common areas.
Toronto will also be introducing regulations that will assist complexes that don't want units used for short-term rentals. The municipal regulations will only allow unit owners who use their unit as a principal residence to rent out their units for short periods.