A Managing Partner of the Year speaks about her leadership role and evolving with the times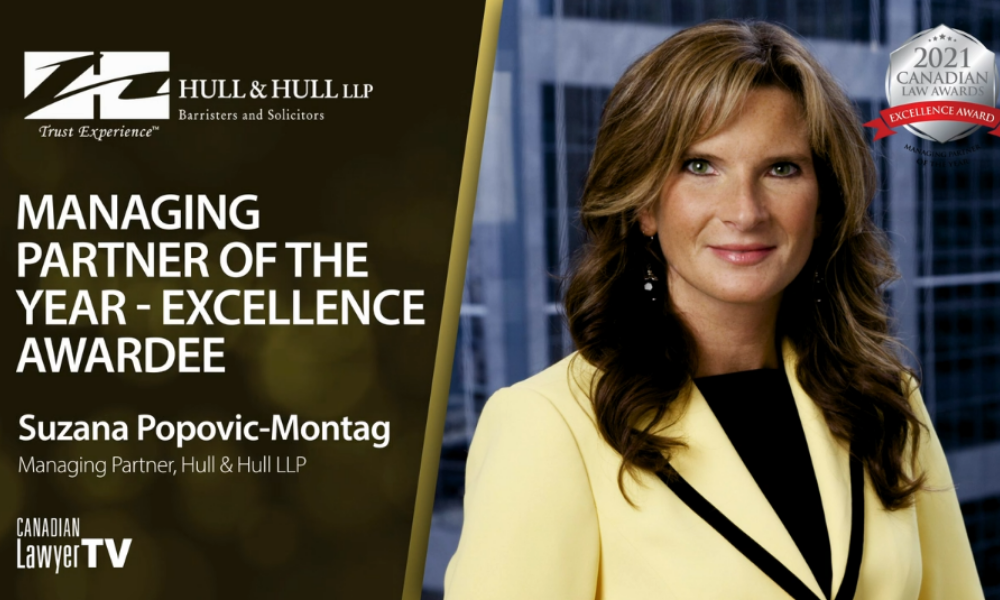 Suzana Popovic Montag, managing partner at Hull & Hull LLP, has been recognized as Managing Partner of the Year at the 2021 Canadian Law Awards. Tim Wilbur, editor-in-chief of Canadian Lawyer, recently had a conversation with the awardee about her career progression and her firm's successful evolution to an adaptable, innovative workplace.
Having been in the legal profession for 25 years, Montag likens her transition from litigation to mediation practice to a change from "being a gladiator to being a mediator" and acknowledges "the benefits of a negotiated rather than the adjudicated resolution to a conflict, whether it be a real challenge or capacity dispute or a fight over powers of attorney and who should be in control of someone else or their finances".
Hull & Hull consists of 20 lawyers with expertise in estates, trust and capacity litigation, as well as mediation and estate planning. Founded in 1957 by Rodney Hull and his son Iain, the law firm has focused on assisting clients in "emotionally charged and financially significant" situations.
"How has your role as managing partner evolved over the last 15 years?," Wilbur asks. Montag says the firm's growth over the years has "added some complexity to overseeing more lawyers and supportive staff while still trying to maintain the integrity of a family firm environment". Although Hull & Hull's vision and mission have remained constant, the supervising, monitoring and planning processes have changed. To create a collegial and collaborative environment, the firm has set up a "synergy room" that enables the lawyers to learn from one another through a process that resembles osmosis. In this concept, each law partner is initially in one corner of a large boardroom with a group of associates, staff and students who provide valuable feedback. Hull & Hull also maintains an open-door policy and promotes efficient mentorship.
Asked how the firm has managed through the pandemic, Montag says the circumstances have reshaped Hull & Hull's strategic planning and law practice. "[In] retrospect, we were lucky that we had the infrastructure from both technology and personal perspectives," she adds. She explains that even before the COVID-19 outbreak, Hull & Hull's lawyers were able to access the office remotely, so transitioning to a hybrid setup was not extremely challenging for them. The transition was made easier by the firm's IT team and the clients who appreciate new, flexible ways of legal practice.
Montag expects most firms to pursue a hybrid work model in the foreseeable future. She emphasizes that "[Hull & Hull] will develop regular lawyer and staff check-ins to [keep] everyone connected and engaged with their work families… [We] know that every individual is experiencing the pandemic in their own way right now, so it's important [to listen] and accommodate [our members' concerns as we move] forward in a post-pandemic work environment."
Wilbur further asks, "What are you most proud of in your role leading the firm over the last 15 years?" Montag appreciates that, aside from Hull & Hull being honoured as one of the top 10 wills, trusts & estates boutique law firms by Canadian Lawyer for several years, her work enables her to be a role model to her daughters.
"When I entered law, there were very few female managing partners, so I was so proud to have become one of them. And at a relatively young age compared to most, I honestly believe that there are no boundaries to unbridled passion. If you love what you do, you will excel at it," she affirms. She considers her role as a labor of love that inspires her colleagues to act in accordance with their firm's vision. Her advice for lawyers who are starting in a leadership role is to observe what others are doing, implement effective processes in their firms, ask for help and continue improving the way they work.