Jump to winners | Jump to methodology
Embracing change and pushing through the pandemic
If there was ever a time to test a law firm and how to try and prepare for the unknowns of the future while coping with today's problems, it was 2020. COVID-19 challenged lawyers to figure out how to best keep best their practices going while finding the mental resources to deal with the added stress of a pandemic that kept them and their families at home as they tried to continue working.
But winners of Canadian Lawyer's top Ontario regional law firms for this year all say that, while last year will go down as one of the toughest ever, they managed to stay focused. In the process, it embraced the technology that has allowed the legal system to function, even if that means doing things differently.
"They certainly didn't teach us how to deal with this stuff in law school," says Wayne Egan, managing partner at Ontario regional top 10 firm winner WeirFoulds LLP. "Nobody was really ready for any of this, but we all learned to adapt pretty fast."
Adds Michael Slan, managing partner at winning firm Fogler, Rubinoff LLP: "For us and a lot of other firms, it was learning as we went along, and adopting technology at a much faster pace than we had thought of before – — because we had to. I see a lot of solutions that will make things happen faster, and cheaper," he says. "It is all about being nimble."
As Beard Winter LLP managing partner Victoria Winter says, "it is now more important than ever to have the relevant technology to allow lawyers and staff to work efficiently and effectively from home." The good news, winning firms say, is that a silver lining emerges from the chaos of COVID-19 in the guise of using technology more effectively in the legal system. "We've learned in this past year that not only can we survive, but we can [also] do better than that," says Samantha Prasad, who sits on the executive committee of Minden Gross LLP. What the firm's growth during COVID-19 has demonstrated "is that we need to continue to create the support for that growth, and so we have to continue our investment in technology."
Jeffrey Cohen, managing partner at Torkin Manes LLP, which took top spot this year, says: "Once the initial shock was done, the profession actually really stepped up. And I think the justice system and the court system embraced the technology."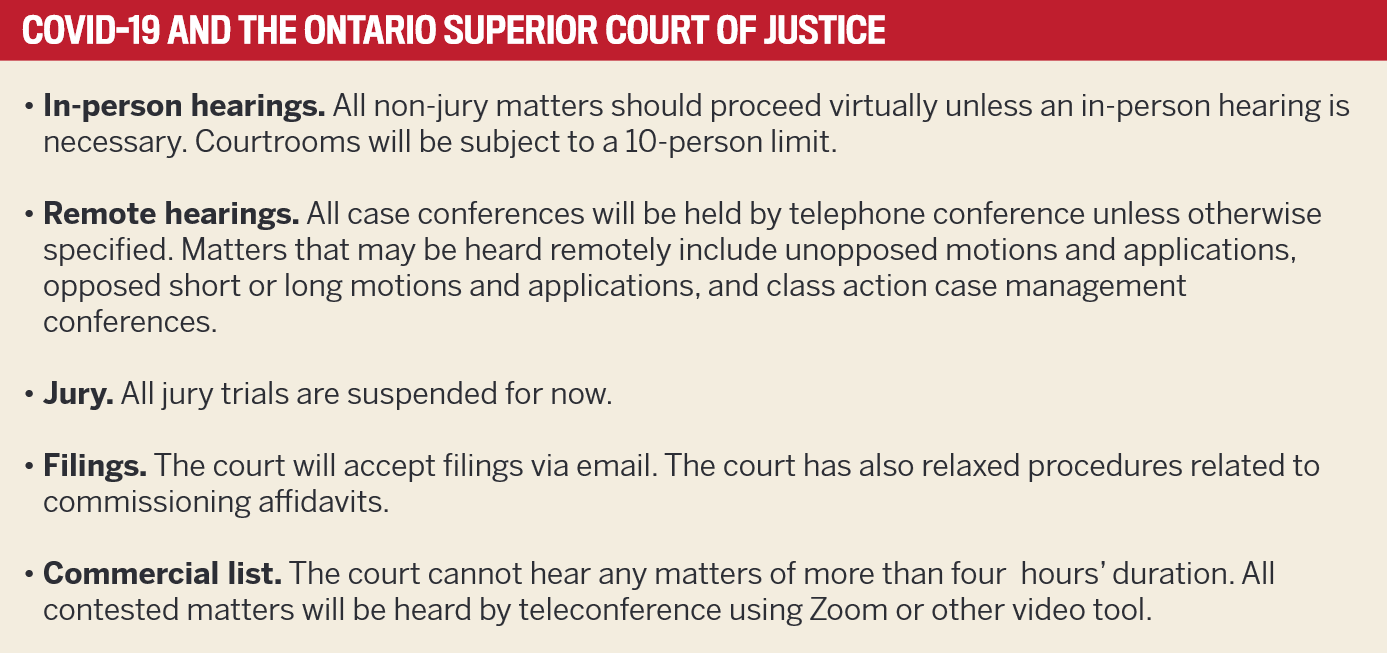 John Russo, managing partner at Pallett Valo LLP., another winning firm, says that the most significant trend to have emerged is "the move to embrace and enhance technology in all areas of practice." Noticeable changes have been in areas related to litigation: commercial, construction, insurance, and trust and estates.
"Virtual hearings and examinations, virtual meetings with clients [have] caused a dramatic change in how we do business.," Russo says. "This has also led to increased focus on the importance of the right technology and infrastructure to provide stability and safety."
Cost efficiencies and saving time
Maria Scarfo, managing partner at Blaney McMurtry LLP, says she believes that law firms will keep all the efficiencies that have been picked up during COVID and build on them. "The fact that we can have more remote hearings, that documents can be handled more electronically for legal purpose will just make it more beneficial to both law firms and clients," she says. "It will drive down some of the costs associated with providing legal services, and I think that the clients are going to continue to enjoy that, and I think lawyers will like it, too, because it can make them more productive."
Lawyers at the winning firms say the use of technology won't necessarily work for all types of legal proceedings, but it will certainly cut down on much of the back-and-forth to court for brief appearances that Zoom or other video means could handle.
"I'm especially talking about those short hearings that take about 10 minutes, but you have to travel to court, and then wait, and it takes up a lot of time," says Egan. "I can see using what we've learned about technology during COVID-19 to deal with many of the court backlogs that we've had for a long time."
Egan envisions a hybrid system developing where some proceedings, like most trials, would be done in courthouses, while other types of hearings could be handled by remote and virtual means.
Business better than expected despite COVID-19
While COVID-19 threw the legal system for a loop, especially in the early stages, most of the winning firms acknowledge that while they hoped for the best and prepared for the worst, business was better than expected, picking up steam as 2020 went on.
"We were surprised at what thought would happen, and what did happen," says Fogler's Slan. "Momentum built throughout the year on the corporate side, with low-interest rates helping," he says, and many matters that might have been litigated in the past were instead resolved by negotiation.
Scarfo says she noticed the employment and labour law practice being accessed more by clients. Commercial real estate and leasing issues, for both the tenant and land-lord sides of the equation, also became more prevalent. Queries on insurance coverage for business interruption increased, as did estates and trust work. Scarfo has even noticed an increase in claims relating to long-term care homes related to COVID-19. What she has not seen as much as she first thought are cases dealing with bankruptcy and insolvency, thanks to patient lenders and creditors and government emergency relief.
Adds Cohen from Torkin Manes: "The fears that we had ultimately never came to fruition and our revenue numbers rebounded. And, in fact, [they] not just rebounded, but accelerated dramatically in the fourth quarter, to the point where, we made up virtually all that we had [lost]."
Egan says that, although his firm noticed some drop-off in the municipal law practice and construction law, "it came roaring back" as the year went on. He, too, says he noticed an uptick in estate and trust work as the pandemic "made more of [us] look inward, and we perhaps had more time to [look into]these things."
Winter says her firm saw the health group expand its life and critical illness retainers, in addition to its traditional defence of short-term and long-term disability policies. The estate planning practice saw an increase in the volume of files "in response to the threat of the virus and as a result of clients having more time at home to address their estate planning needs."
Family law also saw an uptick in volume as individuals in long-term relationships elected to cohabitate during the shut-downs. In other cases, relationships "did not survive the external stress imposed by the pandemic."

Diversity, equality and inclusion top of mind
While the pandemic was top of mind at Ontario law firms, there's been increasing importance on equality, diversity and inclusion concerns.
The Ontario Bar Association and its president, Charlene Theodore have been providing an array of tools to achieve diversity benchmarks through the association's Not Another Decade initiative. Theodore says it is about "making sure that the headlines we saw about the legal profession in 2020 are different a decade from now."
"The OBA is throwing our hat over the wall on ending racial inequality and then providing a road map for going after it," says Theodore. Lawyers have a critical role to play to work together "on the problem of anti-black racism, on the need for reconciliation with Indigenous people and on equality for people of colour."
John Russo at Pallett Valo says his firm is rising to the challenge, with initiatives taken including firm-wide training to fight unconscious bias, setting up a diversity and inclusion committee and broadening outreach efforts when it comes to recruiting.
Prasad at Minden Gross notes that her firm is also taking on the issue of diversity and inclusion. "We want to make sure that our firm is diverse and inclusive in our hiring practices," she says. "It's also about recognizing what outside factors are there that are affecting our lawyers." Getting a handle on the challenge means looking at issues ranging from gender, disability, race and colour to those surrounding parenthood or other family obligations."
This year's Ontario top regional boutique winners also say that, if there is one message to come out of the pandemic, it is the need for empathy.
"We need to understand what people are going through and how do we assist them if we can," says Slan. "And we need to appreciate our lawyers, our staff, and how they get the job done, even under sometimes challenging conditions.
3. Blaney McMurtry LLP


blaney.com
5. Lerners LLP


lerners.ca
8. Gardiner Roberts LLP


grllp.com
10. McKenzie Lake Lawyers LLP


mckenzielake.com