Jump to winners | Jump to methodology
WINNING PRAIRIE FIRMS ARE EVOLVING ALONGSIDE AN EVERCHANGING ECONOMY AND SOCIETY
Persevering — and thriving — during a pandemic
We can all agree it has been a tough 18+ months for everyone. However, firms on the Prairies have also had to wrestle with some particular circumstances related to the pandemic, dealing with ever-changing protocols for what is allowed — sometimes being among the provinces with the highest COVID-19 caseloads relative to population — and taking on the tricky questions of vaccine "passports" and mandates.
All of these COVID-19 related issues have led to changes for Prairie firms — both in how they operate and the type of work they take on. Remote work, or a hybrid model of working from home and some days in the office, have generally become the norm, while new technology (Zoom or Teams calls, electronic document signing) are now commonplace when dealing with clients.

As for the types of cases confronting firms, lawyers are increasingly dealing with the fallout of COVID-19, such as employment and labour issues, and helping businesses or individuals who have fallen on hard times due to the pandemic.

Of course, life goes on and there have been many other areas of practice beyond those related to COVID-19 that have seen changes. As Aaron Runge, managing partner at MLT Aikins LLP, a Top Prairie Firm winner in both the Manitoba and Saskatchewan categories, puts it, "Over the past year, we've seen a number of trends emerge that have impacted the legal landscape from the carbon tax to accelerated technological advancements in the [agriculture] sector and a growing awareness of Indigenous rights."

This year's top 10 list — five winners for Manitoba, five winners for Saskatchewan — contains a lot of familiar names. Indeed, most of our winners have been on the list since at least 2011. It's a sign of how these firms have won a place in the hearts and minds of survey respondents, many of whom commented on the winning firms' expertise and professionalism.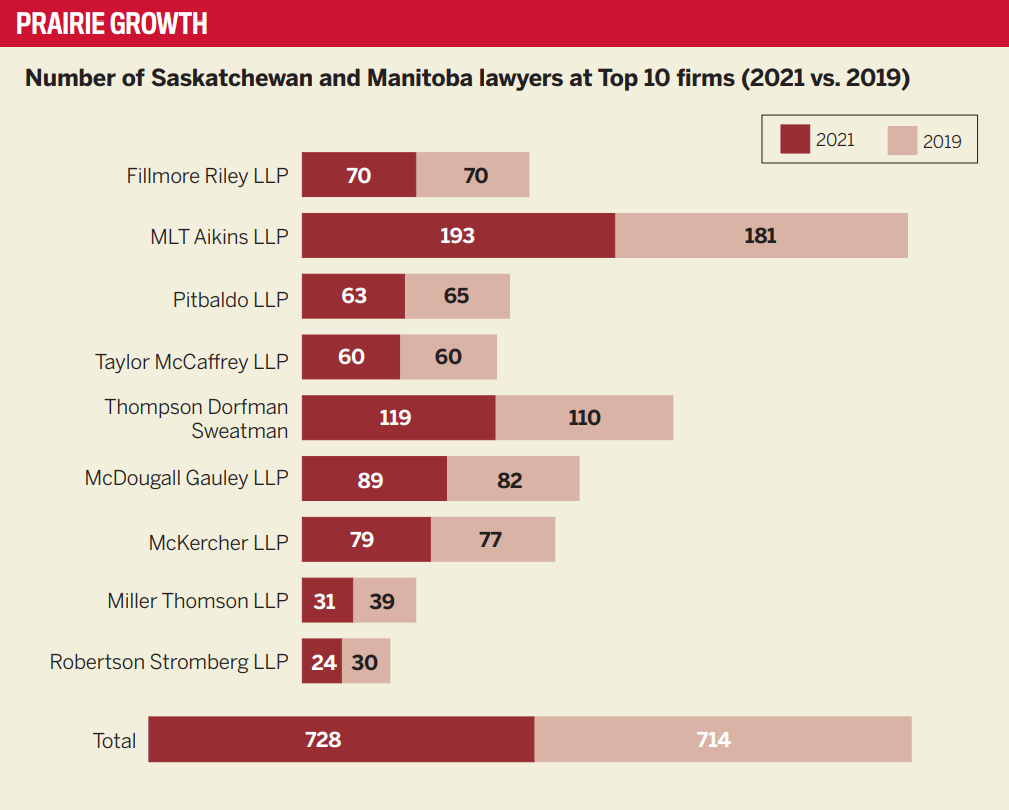 An evolving agriculture sector
Jennifer Pereira, Q.C., at Robertson Stromberg in Saskatoon, says a changing climate — above average snowfall in winter and an exceedingly hot and dry summer — "have led to a number of issues."

She says the firm has seen "an increase in the provision of advice to municipalities as they grapple with water and fire issues. Likewise, on the agricultural front, a poor growing season has led to an increase of legal services relating to debt collection and commercial transactions."

Keith LaBossiere, CEO and managing partner of Manitoba winning firm, Thompson Dorfman Sweatman, agrees that the agriculture sector has taken a blow thanks to the weather. The result is that many farms, most family-owned, are multi-million-dollar operations that need sound advice when it comes to areas such as tax issues, consolidation and succession planning. "There [are] a lot of farms suffering because of the drought, so they are keeping a lot of our corporate commercial lawyers really busy."

As well, winning firm lawyers point to innovation that will shape the future of agriculture. One example involves companies such as Regina Protein Industries Canada, an innovation supercluster focused on plant-based proteins. It provides advice regarding research consortium structure, research funding agreements, data management, member agreements and policy direction.

Another example is the Roquette Pea Protein Manufacturing Plant in Portage la Prairie, Manitoba. The plant processes yellow peas into powdered fibres, protein and starch, which have applications in pharma, nutrition and food sectors. LaBossiere says "companies are looking to diversify and grow, and it's putting in a lot of money into rural Manitoba, which is fantastic, and lawyers are there to help things along."

The carbon tax and the evolution of the energy sector
MLT Aikins' Runge notes that The Supreme Court of Canada ruling earlier this year in favour of the carbon tax is a decision that will accelerate investments in clean technology. It will require law firms to have a strong knowledge of technologies such as carbon capture and storage.

Runge points to his firm's involvement in the $1.24-billion Boundary Dam Integrated Carbon Capture and Storage Demonstration Project, SaskEnergy's underground gas storage program, as well as the Petroleum Technology Research Centre's Midale-Weyburn CO2 Enhanced Oil Recovery Project among the types of innovative work for which law firms in the Prairies will need expertise.

Dealing with COVID-19
From transitioning to remote work and appearing before all levels of court virtually, COVID-19 was the number-one issue that Robertson Stromberg has faced in recent months, says Pereira.

"As information about the virus evolves, our office has seen an increase in employment law and insurance inquiries," she says. "We augmented our procedures to allow our lawyers to continue to provide legal services to our clients. This has meant changing the way we conduct client meetings, arrange for the signing of documents, and how we conduct mediations and questionings."

Bernice Bowley, chair of the litigation practice at Fillmore Riley, says that her firm has seen a major uptick in business interruption insurance-related litigation — including class-action claims related to the pandemic — and anticipates that the "trend will continue."

The firm has also observed a pronounced rise in professional liability litigation. Professionals working in fields subject to enhanced COVID-19 safety protocols and business advisors — for example, commercial insurance brokers — are seeing greater exposure to potential negligence claims.

Norm Snyder of Top Prairie Firm Taylor McCaffrey LLP, based in Winnipeg, says the firm's corporate commercial litigation, tax and employment and labour practices have seen a sharp uptick in business.

"Our lawyers are spending an incredible amount of time helping businesses here walk through various pandemic responses, vaccine policies and privacy issues, as well as any tax and corporate or insolvency issues that have arisen from the pandemic," says Snyder, who was until recently the firm's managing partner.

Luckily, he says, Manitoba has always had a "stable, steady" economy that doesn't have huge swings compared to places such as Saskatchewan and Alberta.

Nicholas M. Cann, Q.C., Partner at McKercher LLP, says that law firms, like most others, have had to "adapt to new ways" of doing things.

"We were on our way to make some of those changes prior to COVID-19 but the pandemic certainly prompted quicker change. We are, however, most definitely seeing the results of greater efficiency in systems."

He adds that emerging areas such as cyber security, data protection and coverage issues have also increased in frequency and complexity — likely given the huge uptake on virtual platforms, meetings and events that have taken the place of in-person, face-to-face matters.

Growing awareness of issues faced by Canada's Indigenous population
In June, the Senate passed a bill to harmonize Canada's laws with the United Nations Declaration on the Rights of Indigenous Peoples. That same month, a bill declaring September 30 the National Day for Truth and Reconciliation received Royal Assent. MLT Aikins was among many firms that decided to close its offices on September 30 in "observance of this important day."

Many of our Top 10 Prairie firms have represented Indigenous governments in matters before the courts, as well as federal and provincial regulatory tribunals. Lawyers have played a leading role in landmark land claims settlements, self-government negotiations, constitutional accords and the development of inter-governmental relations protocols.

MLT Aikins' Runge says the firm has represented Indigenous governments and Indigenous-owned entities in structuring projects and partnerships across a broad range of industries. These include energy, hospitality, gaming, food processing, agribusiness, property development and leasing, construction, transportation and natural resources.

LaBossiere at Thompson Dorfman Sweatman LLP points to the development of "urban reserves" such as the one Peguis First Nation has established in Winnipeg. "It's a huge land project," he says, adding it is a "busy legal space" now that reflects the growing importance of Indigenous groups and their economic development ambitions.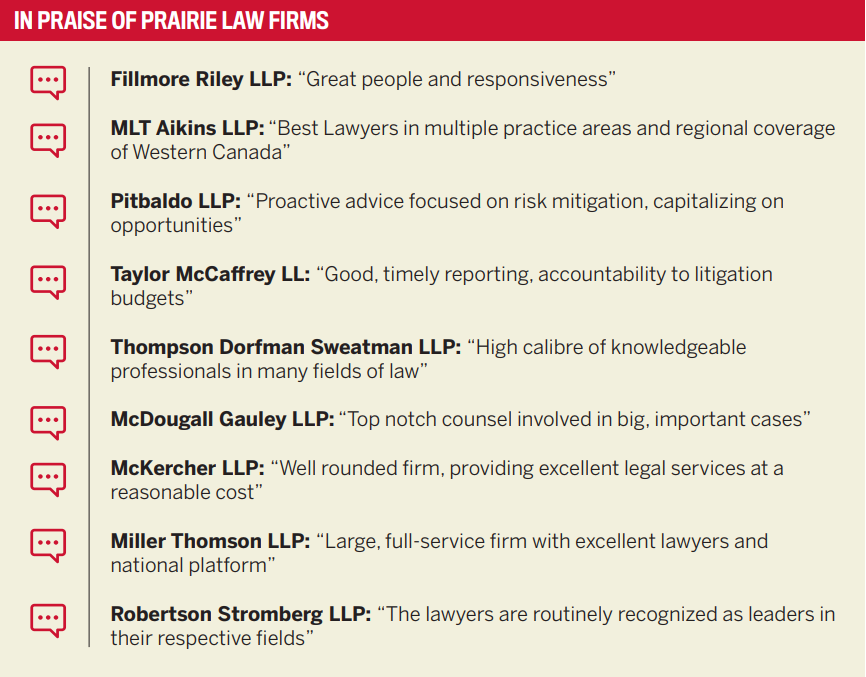 Growing and keeping a strong talent pool
The pandemic has not only had an impact on how lawyers deal with clients, but it has also had ramifications for how lawyers interact with other lawyers and their firms. Law firms these days, our Top Prairie winners included, recognize that there is a "war for talent" to attract and keep the best and brightest. This comes as COVID-19 has created what has been called the "Great Reset," where many of us, lawyers included, are looking at our lives and thinking about making big changes in career or lifestyle.

Sherry Fitzsimmons, partner at McDougall Gauley, says there has been "ongoing and focused development" of legal talent within the firm through the building of "retention projects aimed at maintaining and building a diverse pool of legal talent in each practice area." This includes the provision of internal education opportunities to help ensure that the firm's "legal talent pool has the skills, expertise and technology best suited to deliver legal services to clients in the manner preferred by clients."

Benjamin Hecht, managing partner at Pitbaldo LLP, notes that he has seen an uptick in the hours worked by the firm's lawyers, "partly because of the pandemic, because they had nowhere to go." Only recently, he noted, have his colleagues thought much about taking vacations.

Hecht adds that during the pandemic, his firm had lawyers coming to the office every day. "It was never closed," he says, but notes that the number of people coming in on a particular day was never more than 50 per cent of the total.

"We've seen that we can run a firm pretty much completely remotely, but then you have to ask the question, 'are you really a law firm?' Are you not just a bunch of people on islands that never see each other?"

Hecht worries that without regular contact, there is less of a feeling of being part of a cohesive firm identity, and a potential lack of mentoring for articling students and young lawyers from senior members of the firm.

"I think the new normal, whatever it will be, will require law firms to have some flexibility," he says. "But let's not continue on in a world where mostly people aren't in the office and aren't available for water cooler chats and visits and going for lunch and having drinks after work, when that is available."
Manitoba
Fillmore Riley LLP
MLT Aikins LLP
Pitblado LLP
Taylor McCaffrey LLP
Thompson Dorfman Sweatman LLP

Saskatchewan
McDougall Gauley LLP
Miller Thomson LLP
MLT Aikins LLP
Robertson Stromberg LLP