Jump to winners | Jump to methodology
Forces for change
Canadian Lawyer celebrates the Top 25 Most Influential Lawyers of 2023, all of whom are legal game changers embodying the highest aspirations of the profession.
Out of hundreds of notable nominees, this year's influential lawyers emerged through a remarkable 22,000 votes cast.
Their exceptional achievements and meaningful contributions have made a lasting impression, garnering them the prestigious recognition as the most influential lawyers in the country.
The 2023 cohort consists of lawyers who display a passion for justice, human rights advocacy, and societal equity, and are all influencing standards and attitudes with their outstanding professional abilities.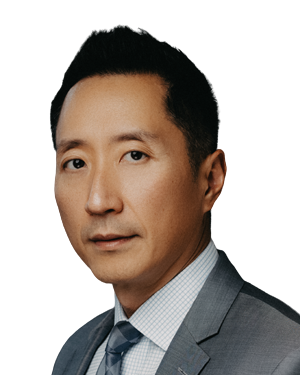 "We can all be impactful without aiming to be influential; be positive, diligent, authentic, and cultivate the trust and respect of the courts, profession, and the public"
Daniel J. Song
Pringle Law
Social change champion – Daniel J. Song
With a focus on preventing miscarriages of justice, the Pringle Law criminal defence lawyer has pushed the boundaries of criminal law and social justice.
His immense contributions to important cases have pushed the boundaries of Charter applicability and the law of consent. At the same time, other legal work will undoubtly impact some of the most vulnerable people in the criminal justice system.
"For me, it was the experiences with some of the injustices I watched my parents go through, and that gave me a broader motivation to pursue a career in law and in trying to help these individuals," explains Song.
"When I observe people suffer injustice, it strikes a chord with me, and that's where some of that passion for my work comes from," he continues. "I don't think you can teach someone to be provoked by a miscarriage of justice; some lawyers will inherently respond."
Song has earned a reputation for being a powerful force for change, driven by his exceptional legal expertise and strong advocacy in the following ways:
Participation in the legal team in the precedent-setting case of Director of Civil Forfeiture v. Angel Acres at the British Columbia Court of Appeal, testing the constitutionality of the province's civil forfeiture laws


A commitment to access to justice, as evidenced by his pro bono work in representing the British Columbia Civil Liberties Association and the Criminal Defence Advocacy Society


Taking a public stand condemning a petition challenging the Law Society of Alberta's course on promoting reconciliation with Indigenous peoples

"There are many deserving lawyers from historically disadvantaged groups who haven't been recognized and probably should be due to our profession being slow to recognize," explains Song. "Without question, I think we need to put those lawyers in those spaces, and I just hope I can contribute to that by helping some of them find those spaces."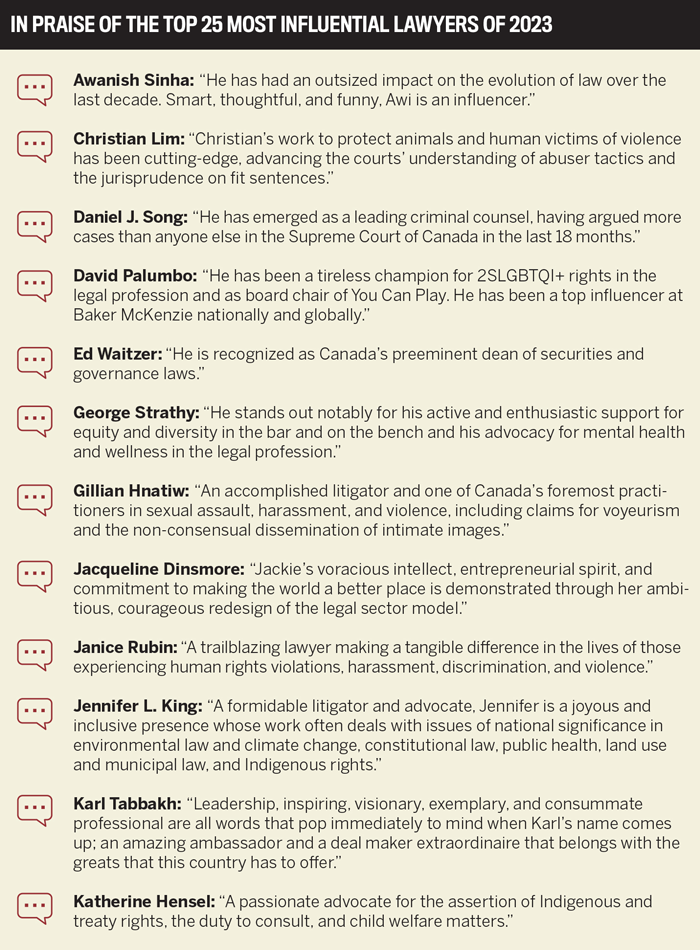 Indigenous rights advocate – Katherine Hensel
Once the partner and Indigenous practice group co-chair at Fogler, Rubinoff LLP began to appreciate fully the colonizing role of Canadian courts, she shifted her specialized litigation practice. Hensel dedicated herself to working on behalf of Indigenous communities to emphasize the inherent jurisdiction of Indigenous peoples.
Hensel has substantially contributed to Indigenous nations, families, and communities through her determination to actualize and defend inherent jurisdiction.
"I was trained to do this by some of the people I've worked closely with at the Ipperwash Inquiry," she explains, who served as that inquiry's assistant commission counsel. "I was also taught by many of the elders, other community members, and leaders that I have worked with and served throughout the years."
Her passion and advocacy accelerated to include children and family well-being, areas of expertise where she has also gone above and beyond to help community members heal from the painful history of residential schools.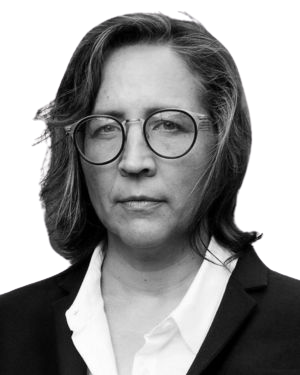 "Every case, file, or role you take on, keep your long-term objectives in mind, but fully serve in the role you've been given the privilege of occupying with as much integrity as you can"
Katherine Hensel
Fogler, Rubinoff LLP
Hensel has built a reputation as a lawyer who genuinely cares about and is dedicated to her clients, earning respect as a passionate advocate who is at the forefront of Indigenous peoples' rights in complex matters ranging from:
Indigenous and treaty rights, governance, public inquiries, and the exercise of inherent jurisdiction by Indigenous communities over child and family well-being


As counsel to Tk'emlúps te Secwe̓pemc, supporting the investigation into the Missing and Murdered Indigenous Women and Girls, and the unmarked graves at the site of the former Kamloops Indian Residential School, which is being carried out pursuant to Secwe̓pemc jurisdiction


Improving the legal profession's understanding of applying Canadian law to Indigenous nations, families, and communities

"I've had some tremendous losses, and many of those losses had profound impacts on the individual clients; the worst losses I've had involved Indigenous children and the inability to return them to their communities after sustained litigation and appeals, which had catastrophic consequences for them, their families and communities," explains Hensel.
"But it highlighted first to the communities, and me, how unsafe it was to place these decisions before Canadian courts," she continues. "And then the work that followed brought us to where Canada is today, not my work exclusively, but I'd like to think I played some role in it."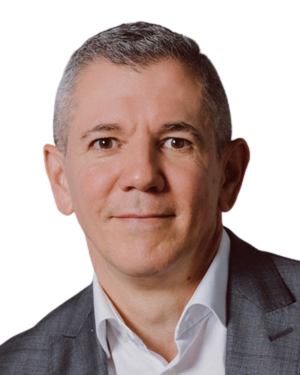 "Lean into what you're doing and what you're passionate about; what you can achieve comes over a long period that you build upon"
David Palumbo
Baker McKenzie
Redefining professional limits – David Palumbo
The Baker McKenzie principal inspires those around him to believe in an inclusive future where 2SLGBTQI+ Canadians belong, whether in the legal profession, society, or sports.
Palumbo has been a pioneering catalyst for change, recognizing the importance of keeping the momentum going in the right direction and leading with unmatched passion and drive.
"Everything that I've done is about always seeking to progress while acknowledging there's a danger in terms of the perfection we may strive for, that it has to be 100% or nothing," remarks Palumbo.
"It's about recognizing that you must act and adapt," he adds. "I've always been mindful of the pragmatism and the practicality, which has been equally applicable in my legal practice, the non-profit space, and the inclusion work I've done for Baker McKenzie as part of the global effort for the firm."
Palumbo's leading advocacy for the inclusion of 2SLGBTQI+ individuals within his firm, the legal community, and the sports world include:
You Can Play board chairperson, dedicated to creating a culture of inclusion and belonging in sports for all, regardless of sexual orientation or gender identity/expression


Co-chairperson of AIDSbeat/CANFAR Rocks, raising nearly $5 million for the Canadian Foundation for AIDS Research


Global chairperson of BakerPride + Allies business resource group, ensuring a true sense of belonging for members of the 2SLGBTQI+ community within the firm

"We have 76 advocacy offices around the world because sometimes we have to focus on the safety of our people in certain challenging jurisdictions and, hopefully, society has benefited from those efforts," he explains.
"I can say that I belong at the firm, and it's a great place for that, but I know not everybody is there yet; hopefully, we can continue to deliver further impact."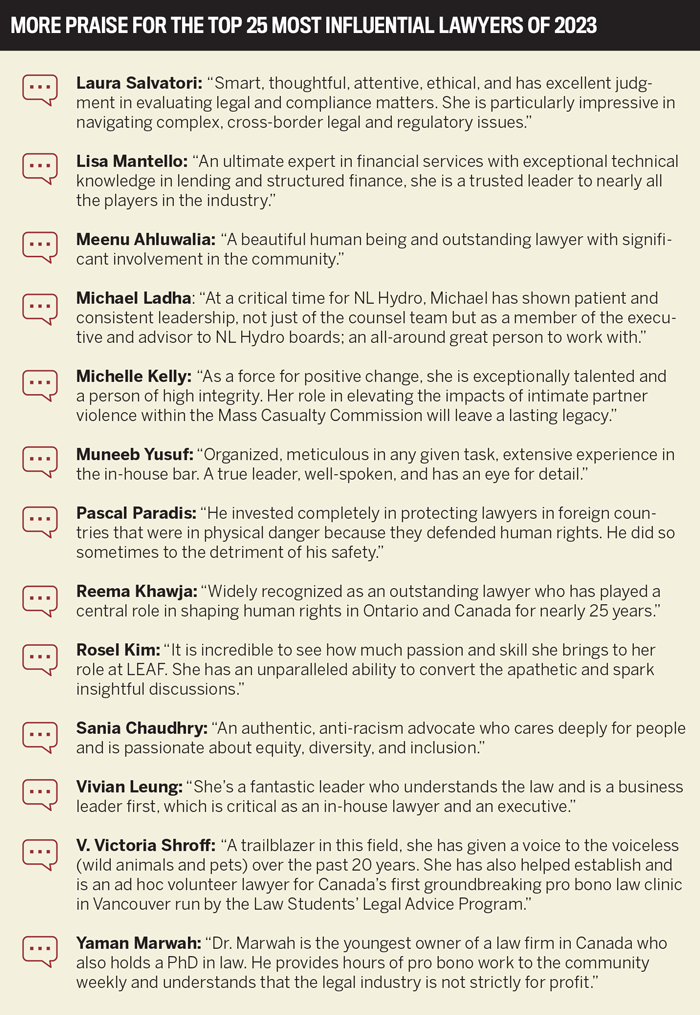 Disrupting norms and empowering women –
Jacqueline Dinsmore
Her zest for disruption has pushed the boundaries of traditional legal norms within her law practice and as a role model for other women aspiring to impact the legal and business worlds positively.
As co-owner and managing partner at Caravel Law LLP, Dinsmore has led technological change and instituted novel approaches that catapulted the firm through all-time highs in growth and revenue.
"In everything I do, I'm a bit of a pot stirrer, and I love the disruption that comes with that because, without disruption, there can't be innovation," she explains.
"The disruption we've done at Caravel has made clients and lawyers look at our profession differently," she continues. "I like to think that we have made the profession better for women, in particular, which excites me."
Dinsmore prioritizes women's success and generously shares her expertise, knowledge, and time in a variety of ways, including:
Opportunity International Canada board member, providing microfinance loans, training, and support to women entrepreneurs in developing countries


World Vision's Power of Her board member, focusing on eliminating the barriers women and girls face in achieving equality


Co-founded the prosperous children's clothing line, FlapJackKids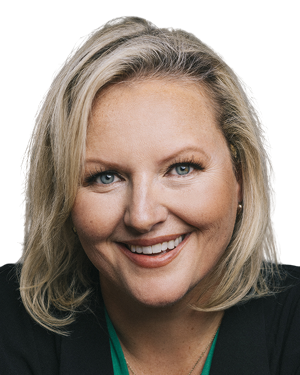 "It doesn't matter if you're a senior or junior lawyer, you always have to innovate, think about the next step, and have the confidence to be forward-thinking"
Jacqueline Dinsmore
Caravel Law LLP
"In all my activities, I'm always thinking of how we can change to make it better, how can we disrupt it," notes Dinsmore. "And with the cause that is near and dear to my heart, how we can make things better for women, whether they are lawyers or entrepreneurs."

CHANGEMAKERS
Michelle Kelly, KC


Partner




Cox & Palmer

Sania Chaudhry


Lawyer




Forte Workplace Law

V. Victoria Shroff


Managing Partner at Shroff & Associates




Instructor at University of British Columbia and Capilano University
HUMAN RIGHTS, ADVOCACY, AND CRIMINAL LAW
Gillian Hnatiw


Principal




Gillian Hnatiw & Co.

Reema Khawja


Senior Counsel




Ontario Human Rights Commission
BUSINESS
Awanish Sinha


Partner and Co-Lead, Public Sector




McCarthy Tétrault LLP

Ed Waitzer


Principal




Waitzer Law

Jennifer L. King


National Co-Lead, Administrative Law Practice Group (Canada)




Gowling WLG (Canada) LLP

Karl Tabbakh


Managing Partner, Region of Quebec




McCarthy Tétrault LLP

Lisa Mantello


Partner, Financial Services




Osler, Hoskin & Harcourt LLP
GOVERNMENT, NON-PROFITS, AND ASSOCIATIONS
Christian Lim


Senior Crown Counsel




Alberta Justice

George Strathy


Arbitrator




Arbitration Place

Pascal Paradis


Executive Director




Lawyers Without Borders Canada

Rosel Kim


Senior Staff Lawyer




Women's Legal Education and Action Fund

Yaman Marwah, BA, LL.B., LL.M., PhD


President and Managing Lawyer




Marwah Law
IN-HOUSE
Laura Salvatori


General Counsel




Anson Funds

Meenu Ahluwalia


Legal Counsel




Department of Justice

Michael Ladha, KC, ICD.D


Vice President, Chief Legal Officer and Corporate Secretary




Newfoundland & Labrador Hydro

Muneeb Yusuf


Chief Legal Officer and Corporate Secretary




League Inc.

Vivian Leung


General Counsel




Magnet Forensics